(*Nostalgia Alert!!)
Can you still remember staying up all night before your birthday morning, secretly investigating what planning is happening outside the door?
From the birthday cards to the balloons, fairy lights, an enormous cake, and uncountable gifts – all the little details play big roles in every birthday bash!
There are so many different themes to choose from when it comes to planning your kid's next birthday party!
However, when it comes to kids who are diehard players of video games— you can't underestimate the value of Fortnite to them!
Fortnite first came out three years ago, back in 2017, and this online video game has been taking the world by storm ever since.
From kids, teens, and even adults, stocking up on Fortnite-themed t-shirts, accessories, stationeries, and more is a growing craze that knows no age!
All we mean to say is if you are planning your kid's upcoming birthday party but aren't sure what exactly will blow their minds – an absolute way to impress your child and all their friends is a Fortnight-themed birthday celebration!
We all have obsessed kids in the house who won't just stop talking about Fortnite, but as elders who get to plan everything, we hardly know anything about how the video game works compared to the kids.
There, no worries!
Coming up next are some of the best innovative ideas to incorporate Fortnite into a birthday party that will blow your kids!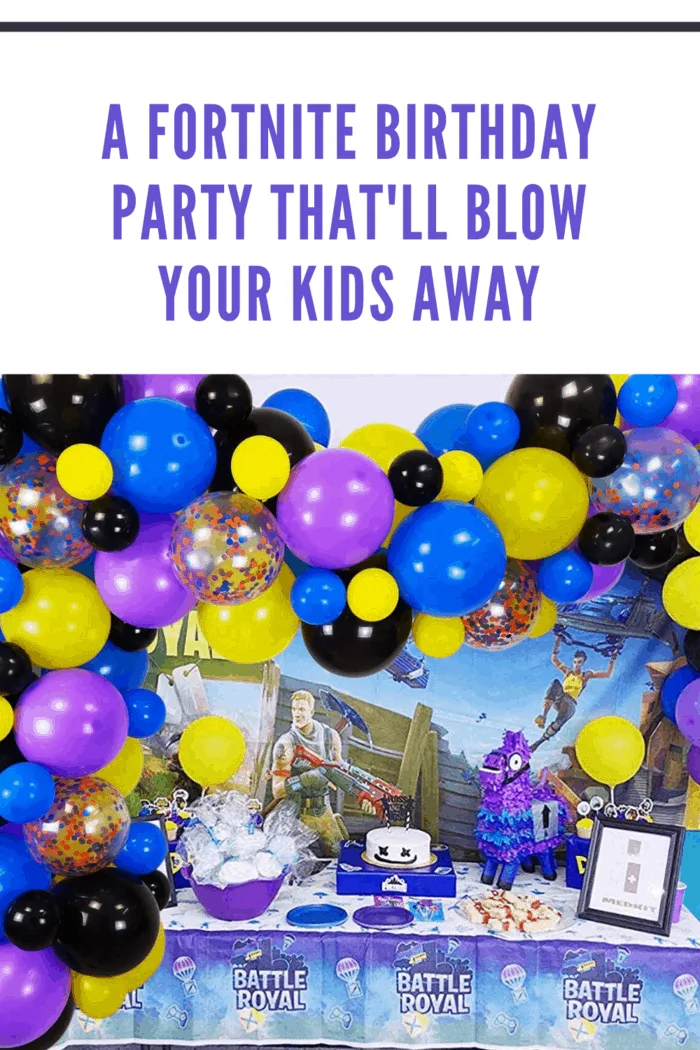 SLEEPOVER SET-UP
Why go for the ordinary and plain-looking regular cushions when you can afford cute little adorable Llama Pinata Pillows to decorate the sofas and beds!
Llama Piñatas are the main loot boxes and primary mascot in the game, and not to forget, they should be at the top of your to-arrange list for the birthday decorations!
You will also find Fortnite beddings and curtains to add more fun to the celebration.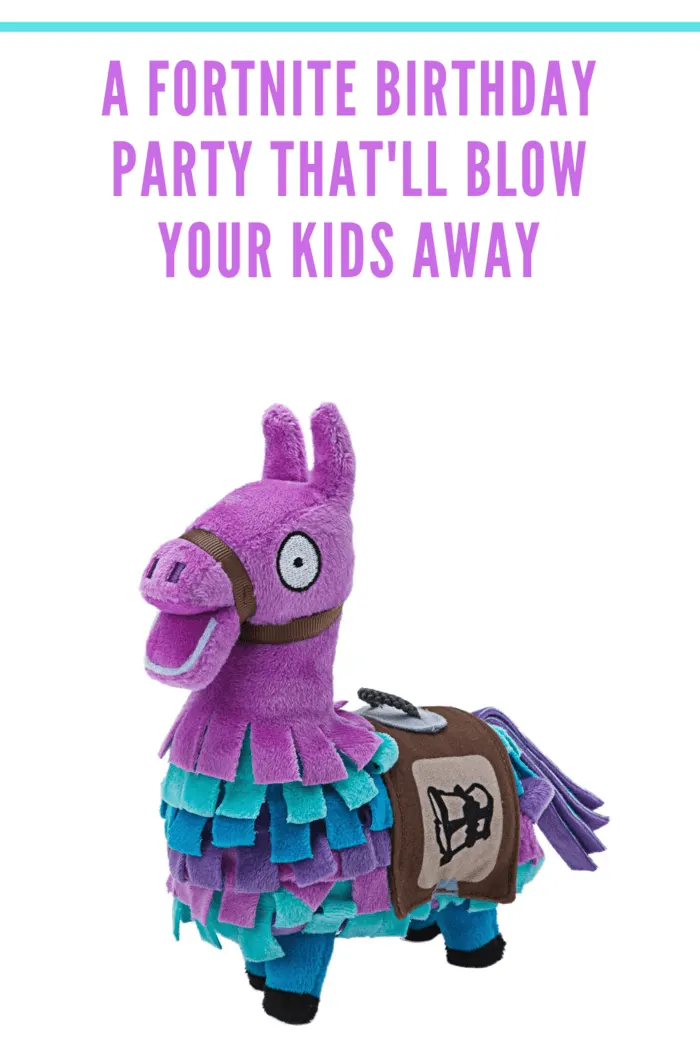 FORTNITE BALLOON GARLAND
Say no to the regular "Happy Birthday" written balloons for a birthday party.
You can make a garland of balloons at every corner of the house, ensuring they are going well with the Fortnite theme.
You can choose colors like blue, green, purple and teal.
And if you happen to have good painters in the house, you may ask them to sketch Fortnite characters on the front side of the balloons to step up the game.
FORTNITE TREATS
Kids are always mad about food!
That's why we suggest the tableware be connected to the fortnight theme too.
While the children are nibbling snacks on that table, it will change their mood.
Moreover, from plates and napkins to table covers – make sure everything gives off a Fortnite vibe!
Setting the right atmosphere for a Fortnite birthday battle royale plays a significant role!
You need to make sure the birthday snacks are as delightful as your decorations.
You can serve cupcakes with green frosting on top or "V-Buck cookies" to the children alongside a green pistachio milkshake.
The cookies only sound fancy; in reality, they are the normal everyday sugar cookies we bake at home.
Frost the cookies with white cream and blue gel frosting; they will taste great!
Square-shaped Rice Krispie treats that appear like medic bandages will double your kid's excitement.
You can make a special order for Fortnite cake pops in any five-star bakery shop, which will be a hit on the snacks table, or you can make them in your kitchen!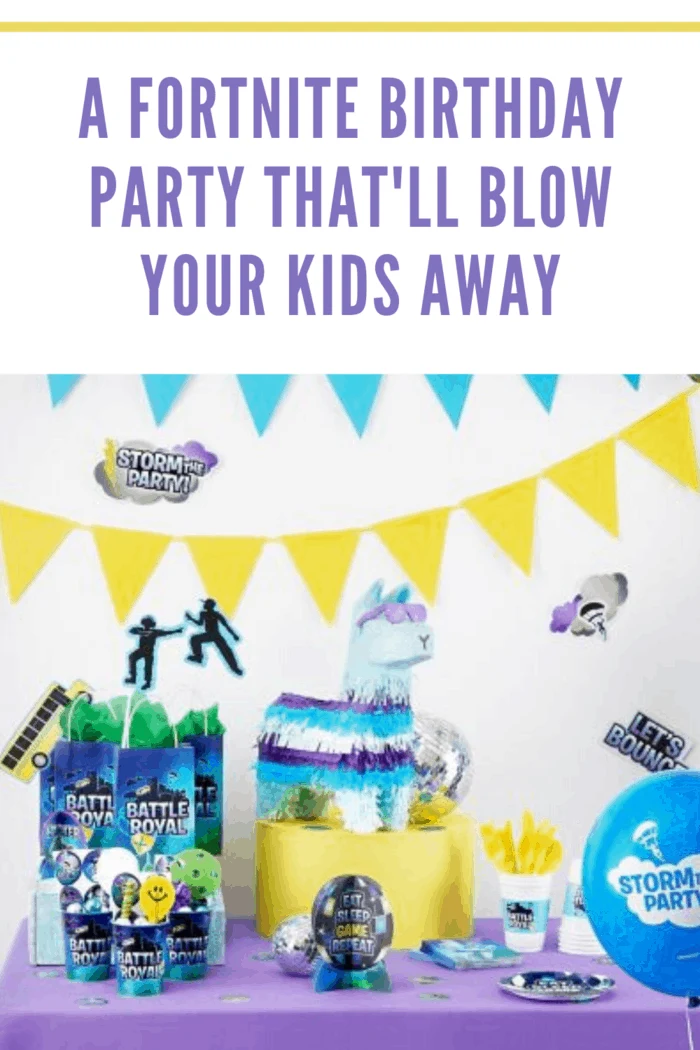 FORTNITE CAKE
The absolute joy of a birthday party has to be the cake!
Without a birthday cake, the entire celebration becomes dull and incomplete!
Homemade fortnight cakes are too easy to make, or you can order from bakeries too.
A campfire theme would be magical!
A two-layered chocolate cake surrounded with toasted marshmallows – who wouldn't love that?!
You can also top the cake with chocolate sticks to make them look like a bonfire.
However, if your little girl is having a birthday, she wouldn't find a campfire-themed cake that amusing.
In that case, you can make a unicorn-shaped cake and frost it with different colors that go with Llama Piñatas!
Or ask your child a week before the birthday party what their favorite character is from Fortnite!
Discovering your favorite superhero on your birthday cake is like a dream come true!
SIDE ARRANGEMENTS
When everyone is feeling exhausted by the end of the birthday party, the gamer children will be running low on life force.
Loot drops can come to the rescue.
Small blue-colored bags with "DROP" written in bold letters can be a great finishing touch to the celebration.
You can fill chocolates and candies inside the loot drop bags!
To make it more professional to the theme, you can arrange Fortnite-themed bags or containers bound with yellow latex balloons.
You can also step up your game by personalizing the favor bags with tasty treats and your children's favorite Fortnite characters.
How about adding more glamour to the party by recreating the look of the game characters by making all the children wear game suits inspired by Fortnite!
You can set up a party Item Shop at one corner of the house where the little guests can come and choose their favorite costumes to change into for the party.
GAMES TO PLAY
To keep off boredom as much as possible, the children can play "Boogie Hide And Seek."
The rules and steps are all the same as the one we usually play, just that when the seeker has found a hidden player, both the gamers have to dance for at least 10 seconds!
And guess what?
The dance steps have to be inspired by Fortnite characters!
These DIY birthday party ideas will bring Fortnite to life.
As the party host, your challenge is to keep your target guests in your mind and gamify the ambiance as much as possible.
Boom!
Let the Fortnite storm rage on!