My children love Gamewright games. I never really gave it much thought, but we have a lot of Gamewright games and they are the games my children tend to drag out over and over. Now they've added a new favorite FlipOut, which is now my seven-year-old's favorite game.
It took us a few rounds to get the gist of the game. Once it clicked, we have never looked back. FlipOut is like Concentration meets Go Fish. It's a game where you match patterns by switching, swapping, and flipping cards, trying to create matches of four, five, or six cards.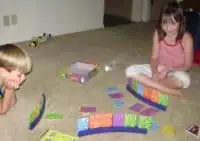 Each player gets two actions per turn. The actions (taken from the rules):
Flip: You can flip a card around in any holder (yours or an opponent's), so that the back (outside) becomes the front (inside).
Switch: You can switch the position of two cards in your or any other player's holder.
Swap One: You can swap any one of your cards with another player. To swap, take (or request by number) any one card from another player's holder and replace it with one from yours.
Swap Two: You can swap two adjacent, same-color cards from your holder with two adjacent, same-color cards in another player.
Score: Collect a set from your holder. This must be a set of 4, 5, or 6 cards.
Swipe: Collect a set from an opponent's holder, and as with the Score action, it must consist of 4, 5, or 6 cards.
The game ends when the draw pile does not contain enough cards to refill a holder back up to the six required cards.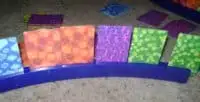 Li'l Man absolutely loves the game holders. They are plastic and come in two parts, attaching in the middle and numbered 1-6 for slot reference (this makes keep track of cards easy when calling out for swaps and swipes. My kiddos also have adapted the holders to hold other cards.
FlipOut is 90 double-sided cards. There are five different patterns on each side. The Divine Miss M thinks they look like Hippie cards. The patterns and colors are indeed fun.
As we worked through the different actions, my learning curve was obvious–my kiddos picked it up quickly. Me? Not so much. Reading was far less effective than the children telling me. They broke it down, "Get more cards than everyone else, Mom."
FlipOut is for ages 8 and up and designed for 2-5 players. We have found that the more players the more strategy comes into play. The game moves fast. Two players work, but it's a little more lop-sided.
This game is fun and relies on memory as well as strategy. Li'l Man is five and he enjoys playing it. I think it's a hoot and love that the cards are unpredictable. The patterns are not the same on every card. It's a great family night game!
Check out all of Gamewright's games. They're sure to make anytime game time!
*I received FlipOut in order to facilitate an honest review. The opinions, where expressed are my own and were in no way influenced by the sponsor. Other experiences may vary.