Stay on top of the holiday stress and find a new you with Feosol Complete.
When my siblings were away at college, my mom's concern was that they were iron deficient. As a mom, I worry about this in my children on their own and look to set an example by trying to balance my own iron needs. According to several studies, a staggering 7.8 million women in the United States are iron deficient. Putting that number in perspective, it's almost the entire New York City population!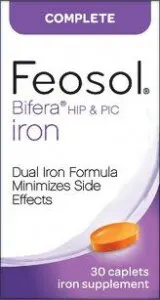 While seniors, athletes, pregnant women, vegetarians, and women experiencing menses are at an increased risk, according to the National Institute of Health, everyone should do their best to balance their diet and include iron. Feosol Complete is a great way to start. Unlike any other iron supplement, Feosol Complete is the ONLY over-the-counter iron supplement utilizing two different types of iron (heme and non-heme). It offers two different types of iron, giving optimal iron supplementation!
I have been taking Feosol Complete for twenty days and feel much better. I love that it is gentle on my tummy and doesn't cause constipation issues like other iron supplements that I have taken. It's giving me a jump start when I can't consume those dark green veggies, poultry, and iron-rich seafood.
It has been a gradual improvement in energy and helping combat fatigue. I'm still doing my part and eating a balanced diet, but with Feosol Complete, I'm adding 28 mg of elemental iron with each tablet!
Feosol Complete at a Glance
High Absorption Iron Supplements for Women, Men, and Children Over 12: Each Feosol Complete caplet is a patented form of iron that is gentle on the system and helpful for those that have an iron deficiency
Bifera Iron: This Bifera iron supplement contains heme and non-heme iron from animal and plant-based sources, which enhances absorption, is gentle on your digestive system, and minimizes side effects such as constipation and nausea
Blood Builder Benefits: Just one Feosol Complete Iron Supplement caplet every day helps support red blood cell production, energy, and a healthy immune system*
Easy to Swallow: Feosol Complete small coated iron caplets are easy to swallow and may be taken with or without food
Made in USA: Feosol has been a trusted leader and innovator of iron supplements for over 70 years
Warning: Iron may interfere with the absorption of certain antibiotics; these products should not be taken within two hours of each other. If pregnant or nursing, consult a physician before using this product.
WARNING: Accidental overdose of iron-containing products is a leading cause of fatal poisoning in children under 6. Keep this product out of reach of children. Call a doctor or poison control center immediately in case of accidental overdose. WARNING: Cancer and Reproductive Harm – www.P65Warnings.ca.gov This product is labeled to United States standards and may differ from similar products sold elsewhere in its ingredients, labeling, and allergen warnings
Ingredients
Julee is a quirky, dorky, Utah native with an appetite to taste the world, meets its desserts and blog about them. When she's not behind the computer you can find her playing with her family, reading a good book and celebrating the little things.
Disclosure of Material Connection: I received one or more of the products or services mentioned above for free in the hope that I would mention it on my blog. Regardless, I only recommend products or services I use personally and believe will be good for my readers. I am disclosing this in accordance with the Federal Trade Commission's 16 CFR, Part 255: "Guides Concerning the Use of Endorsements and Testimonials in Advertising.".Julee Morrison