I'm a Sex and the City Fan. I liked the character of Carrie Bradshaw. She was unique. She is also something in my past that the creators of the movie "I Don't Know How She Does It" is trying to recreate and it just doesn't work.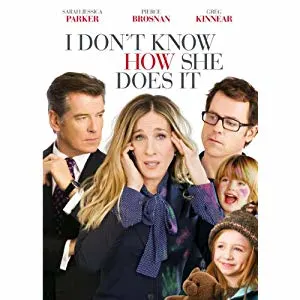 About I Don't Know How She Does It
The movie is taken from Allison Pearson's novel about a woman who seems to be living a life of having it all. She has a beautiful family a successful career, and she seems to be balancing it all with flair.
Kate (Sarah Jessica Parker) is a Boston investment manager. Her husband, Richard (Greg Kinnear), is an architect who struggles in his line of work and takes on more of the responsibility with the children as Kate's career becomes more successful.
Like
Carrie Bradshaw
, Kate is often narrating this movie. It begins in the opening as Kate returns to Boston at 1:30 in the morning and needs something for her daughter's bake sale. Her husband comes into the kitchen, and we're told there's still heat in this marriage. As Richard is showering in anticipation of the "heat," Kate falls asleep.
As the movie stammers on, we follow Kate as she negotiates work projects, deals with a backbiting rival (Seth Meyers), a cold and self-serving boss (Kelsey Grammer) and builds a business relationship with a New York power-house Jack Abelhammer (Pierce Brosnan). There's work, and then we follow her home and on her cell phone as she tries to juggle the schedule of two kids, a nanny, and her husband.
I Don't Know How She Does It Movie Review
There were no characters that I felt attached to in this story. I felt they were all stiff or roles that were so cliched that they were hard to believe anymore.
The storyline had potential until it came on my television. Kate does not have it all. This movie makes it look like she's unraveling faster than a spool of thread caught in a vacuum.
The only thing I could relate to was when Kate tries to fall asleep, her endless to-do list comes to life in animation. I've been there too many times.
There's a moment in the plot where Kate is on business for the deal of her life and discovers she has lice. I was disappointed that she went to a lice salon to be treated, and we failed to see the nightmare of these pests at home, especially with two children. It really made me feel disconnected from the character.
Rated PG-13 (Parents strongly cautioned). It has mild sexual situations.
It Fails to Do It
Don't bother with this movie. It's 1 hour and 30 minutes spent doing something better with your time.
*I received I Don't Know How She Does It to facilitate an honest review. The opinions, where expressed, are my own and were in no way influenced by the sponsor. Others experiences may vary.