There are nights we skip dinner and feast on appetizers. They offer fun and variety, and some of them are downright delicious! This past weekend, I drooled through 750 Appetizers by Judith Finlayson and Jordan Wagman.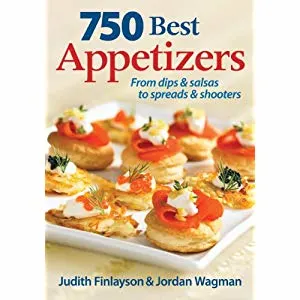 750 Appetizers Review
There are dips, salsa, spreads, and shooters all at your fingertips in the book.
I love the inspiration found in the pages of this book.
Backyard BBQs to various region and country themes are all possible, not to mention more elegant formal affairs.
For those seeking vegetarian-friendly options, this book identifies recipes with a statement in bold print.
I love reading "useful tips."
Here you find information about less familiar ingredients or insight into a technique to make the recipe successful.
I find these to be fun and educational most of the time.
The layout of 750 Appetizers is pleasing.
It has the traditional index that identifies the chapter; however, when you reach the chapter, the first page lists every recipe in that chapter. I love this!
Sadly, my trademark complaint finds its way into this review.
Pictures!
While 750 Appetizers offers a small section of colored pictures, I think cookbooks should include pictures of what we are making.
There have been a few recipes in my life that I have made, and the result had me pondering if it was successful or failure by appearance.
About 750 Appetizers
The quintessential book of appetizers for any occasion.
There are more than 750 recipes to choose from because we've tried to make sure home cooks have a selection to suit every possible occasion — from a dress-down backyard barbecue to the most elegant sit-down dinner. We've also considered the need to satisfy various dietary preferences, from the strictest vegans to wide-ranging omnivores. And since we know busy families are probably doing lots of things at once, many recipes can be prepared ahead of time or, if so inclined, made in a slow cooker while busy doing something else.
The book is structured to cover a broad range of options. There are 16 chapters built around specific dishes, such as dips and spreads, or specific ingredients, such as fish, seafood, or cheese. We've also categorized by presentation since it's an integral component of appetizers, so chapters are organized by categories, such as "Wraps and Rolls" and "Sticks and Picks."
With so many recipes to choose from, home cooks have got the basis to get any gathering off to a lively start:
The Recipes
Easy tahini dip, tuna tapenade, roasted beet, and goat cheese spread

Feta-spiked watermelon salsa with chili, apple salsa, Bloody Mary salsa

Watercress gazpacho, broccoli pesto shooter, shrimp bisque, cumin mint cooler

Pepper-wrapped chorizo, duck confit quesadilla, cannoli, beef sushi

Pancetta and potato bundles, buckwheat blini, spinach, and artichoke tarts

Uptown croque monsieur, pinwheel party sandwiches, salmon sliders

Spicy sizzling shrimp, smoked salmon and avocado tartare, beer-battered oysters.
No matter how easy or difficult they may be to prepare, a tray of appetizers always seems celebratory, and there is nothing like home-cooked food to make people feel welcome. Home cooks can use this book to create hors d'oeuvres that will delight their family and friends — then relax and enjoy the party themselves.
About the Authors:
Judith Finlayson is a bestselling author whose life-long love of cooking has translated into sales of over 1 million copies of her books. Chef Jordan Wagman has received national recognition from the James Beard Foundation and was nominated as a "Rising Star in North America."
*I received 750 Appetizers to facilitate an honest review. The opinions, where expressed, are my own and were in no way influenced by the sponsor. Other experiences may vary.