This Chicken in Port wine recipe combines chicken, cream, and mushrooms. Ask me and I will confess to you that is one of the great food combinations. It's the kind of dish you serve as comfort food or when entertaining guests.
It's an old family favorite. I have shared this recipe many times and it continues circulating through our dinner schedule.
I think originally, its inspiration came from my mom watching Julia Childs' cooking show. My mom made chicken and port wine many times throughout my youth. It is rich and full of flavor.
The sauce is made using Port Wine, a Portuguese fortified wine made exclusively with distilled grape spirits. This sweet, red wine is often served as a dessert wine. It is dry and does have a white variety, but red is the traditional color.
To ensure quality, look for Port Wine labeled "port" or "Porto" as they are only the product from Portugal. Other generic wines are labeled "Oporto" ad "Vinho do". You can also use these substitutes for port wine, according to Chew the World.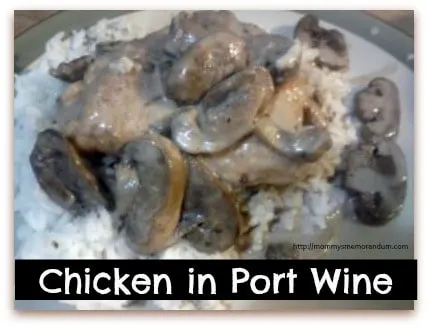 Chicken in Port Wine Recipe Ingredients:
2 chicken breasts, skinned and pounded out
1/2 cups flour
1 tsp. salt
1/4 tsp nutmeg
1/4 tsp. pepper
6 T. butter
1-1/2 cups cream
1/4 c. port wine
1/2 lb. fresh mushrooms, sliced
Chicken in Port Wine Recipe Directions:
Combine flour, salt, nutmeg, and pepper in a ziplock baggie or dish for dredging.
Coat chicken breasts thoroughly in flour mixture.
Melt 1/4 T butter in medium pan.
Brown Chicken.
Remove chicken from pan.
Add to pan 1 cup cream and wine.
Return chicken to pan and cover.
Allow simmering, with a lid, for ten minutes.
While the chicken is simmering, melt the remaining butter in the pan and saute the mushrooms.
Stir in the remainder of the cream.
When the chicken is done, pour mushrooms and cream into the pan.
Serve with rice or noodles or alone.