I was sent an evenflo precise read thermometer in exchange for this post. All opinions remain my own.
Evenflo Precise Read Thermometer: Quick, Contactless, Reliable. Keeping families safe, one touchless temp reading at a time.
Touchless Temperature Tracking: Evenflo's Precise Read Thermometer
The Evenflo Precise Read Touchless Forehead Thermometer is a handy device for quickly and accurately measuring body temperature without physical contact. Whether you're a concerned parent monitoring your child's health or an adult keeping tabs on your own well-being, this thermometer is a reliable choice.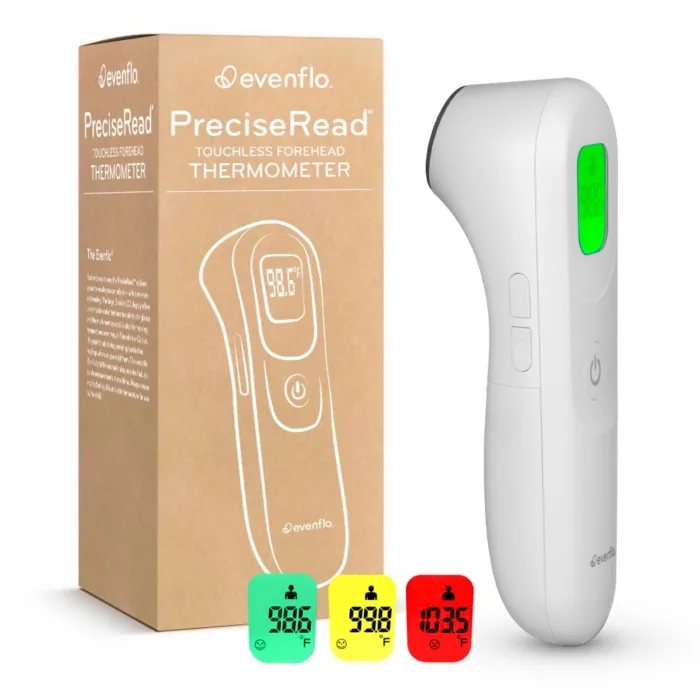 Key Features:
When it comes to taking care of your family's health, the Evenflo PreciseRead Touchless Forehead Thermometer is a game-changer. Here's why this thermometer is a must-have in every household:
Accurate and Precise Placement:
This thermometer employs the patented Infrared PreciseRead Proximity Sensor. It ensures perfect forehead placement for precise temperature readings. Whether you're using it for kids, infants, or adults, you can trust in its accuracy.
Trustworthy and FDA Cleared:
Rest easy knowing that the Evenflo PreciseRead Thermometer meets rigorous ASTM accuracy and regulation standards. It's fully cleared by the FDA, guaranteeing its reliability and safety.
Versatile Multi-Use:
This thermometer is a 2-in-1 wonder. Not only does it measure body temperature with ease, but it also works seamlessly on food, beverages, and even bathwater. It's a versatile tool for various temperature-checking needs.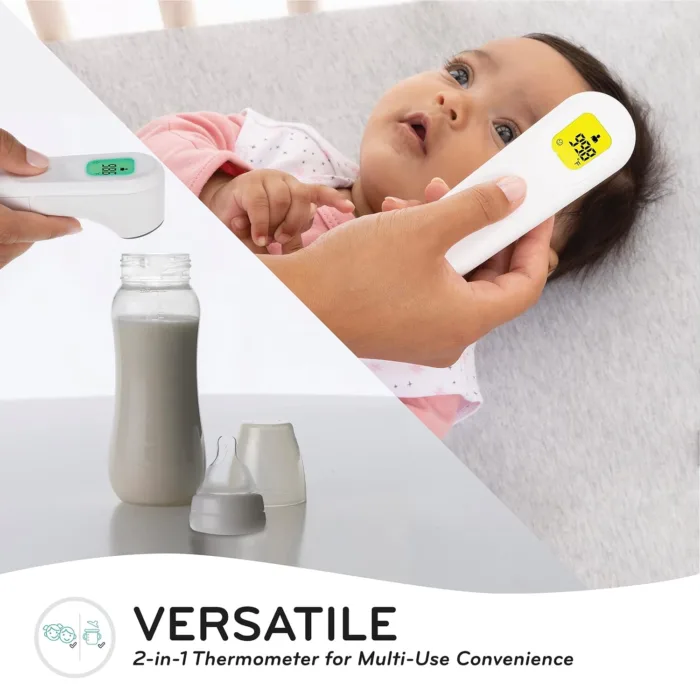 Lightning-Fast Results:
In the world of parenting, every second counts. The Evenflo PreciseRead delivers one-second readings, providing rapid results. Its multi-memory recall feature helps you keep track of changes in your child's temperature readings. Plus, the auto-shut-off and low battery indicator ensure that it's always ready when you need it.
Clear and Convenient Display:
Say goodbye to squinting at tiny screens. This baby thermometer boasts a large 3-color LCD display. It offers quick and clear visual temperature alerts, making it easy to interpret the results.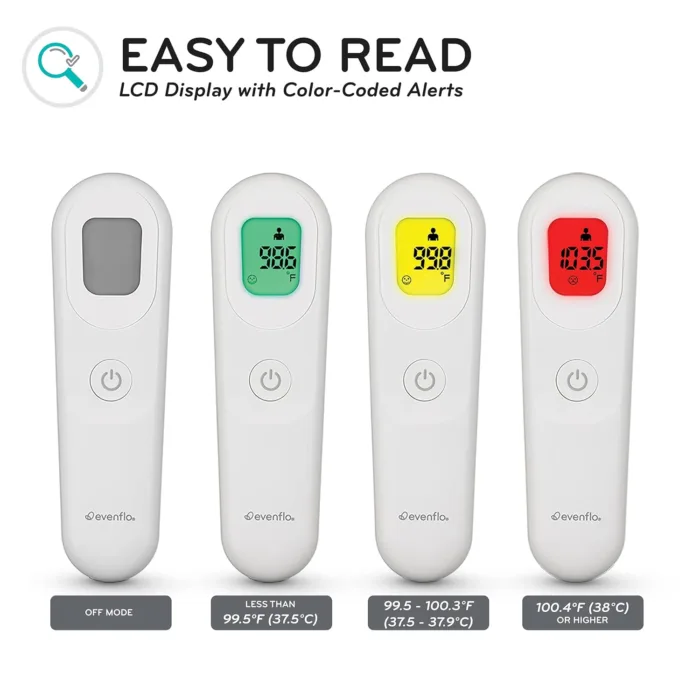 Peaceful Temperature Checks:
With the quiet mode, you can measure your little one's temperature without the risk of waking them, especially during those late-night checks when peace and quiet are paramount.
On-the-Go Ready:
Its compact design makes it a perfect travel companion. Tuck it effortlessly into any diaper bag, and you'll have the convenience of accurate temperature readings anytime, anywhere.
Quality Assurance:
Evenflo believes in the quality of the PreciseRead Touchless Forehead Thermometer. That's why it's backed by a 1-year limited warranty. Should you have any questions or concerns, Evenflo's ParentLink Resource Center is here to assist you.
Specifications:
Measurement Method: Touchless Infrared
Measurement Time: 1 second
Temperature Range: 93.2°F – 109.4°F (34°C – 43°C)
Display: Backlit LCD
Memory Capacity: 35 readings
Auto Shut-off: Yes (30 seconds)
Battery: 2 AAA batteries (included)
Dimensions: 6.3 x 1.6 x 1.7 inches (16 x 4 x 4.3 cm)
Weight: 2.4 ounces (68 grams)
Invest in the Evenflo PreciseRead Touchless Forehead Thermometer, and you're not just getting a thermometer; you're getting a reliable, versatile, and essential tool for your family's health and well-being. It's a game-changer in the world of temperature monitoring.
History:
Touchless forehead thermometers like the Evenflo Precise Read have become increasingly popular due to their convenience and non-invasive nature. They have evolved from earlier temperature measurement methods, such as oral, ear, or rectal thermometers, which can be uncomfortable, especially for children.
Different Versions:
While the Evenflo Precise Read is a reliable choice, there are various touchless forehead thermometers available on the market, each with its unique features and designs. Some offer additional functionalities like Bluetooth connectivity for smartphone apps, which allow you to track temperature trends over time.
What Makes the Evenflo Precise Read Touchless Forehead Thermometer a Must-Have for Families?
In a world where health matters most, discover why this thermometer is an indispensable tool for every household.
Effortless and Hygienic: No more struggling with traditional thermometers! The Evenflo Precise Read Touchless Forehead Thermometer provides contactless temperature measurements, making it super easy to use, especially with children who might be a bit squirmy. Plus, it's hygienic as it doesn't require physical contact, reducing the risk of germ transmission.
Speedy Results: When your little one isn't feeling well, every second counts. This thermometer gives you precise temperature readings in just one second, so you can quickly assess their condition and take appropriate action.
User-Friendly Display: The large, backlit display ensures that you can read the temperature even in dimly lit rooms or during late-night checks. No need to fumble around with a tiny screen.
Fever Alert System: Worried about fever? This thermometer has a built-in color-coded fever alert system. It turns green for a normal temperature, orange for a mild fever, and red for a high fever, making it crystal clear when something's not right.
Memory Function: Keeping track of temperature trends is a breeze with the memory function. It stores up to 35 previous readings, allowing you to monitor changes over time and share important information with your healthcare provider if needed.
Versatile Use: It's suitable for all ages, from infants to adults. So whether you're checking your child's temperature, your own, or even a family member's, it's got you covered.
No-Hassle Maintenance: With just two AAA batteries, it's easy to keep this thermometer powered up. No need to worry about recharging or hunting for special batteries.
Peace of Mind: Having a reliable thermometer at your fingertips provides peace of mind. You'll always be prepared to monitor your family's health, catch early signs of illness, and act swiftly when needed.
Healthcare at Home: With the Evenflo Precise Read, you can be proactive about your family's health. It's like having a mini health clinic right in your home, ready to assist whenever you need it.
Family-Friendly Design: It's compact, lightweight, and easy to handle. Plus, it's designed with the whole family in mind, ensuring that even the littlest members can be checked without discomfort.
In short, the Evenflo Precise Read Touchless Forehead Thermometer is a must-have for families because it simplifies temperature monitoring, enhances accuracy, and provides valuable information for maintaining your loved ones' well-being. It's not just a thermometer; it's a tool that brings peace of mind to your family's healthcare routine.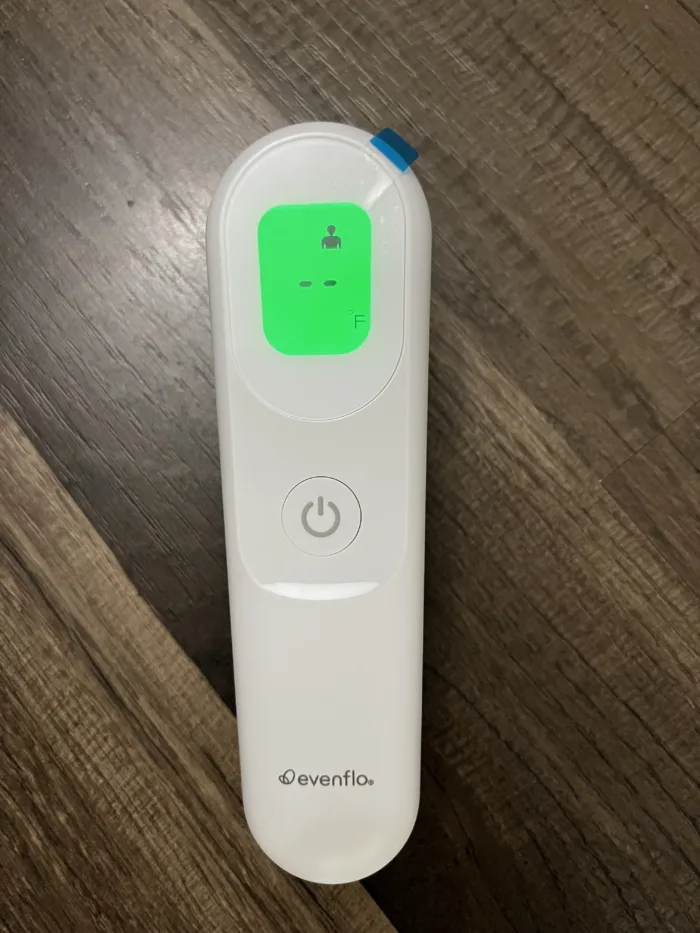 Expert Tips:
Ensure the forehead is clean and dry before taking a measurement for the most accurate results.
Keep the thermometer at a consistent distance from the forehead (usually around 1-2 inches or 2-5 cm) while taking readings.
If you suspect a fever or unusual temperature, consult a healthcare professional for further guidance.
Storage:
Store the Evenflo Precise Read thermometer in a cool, dry place, away from direct sunlight, extreme temperatures, or humidity. Keep it out of reach of children when not in use.
FAQs for the evenflo Precise Read Touchless Forehead Thermometer:
Can I use this thermometer on infants? Yes, this thermometer is suitable for all age groups, including infants, toddlers, children, and adults.
How do I clean the thermometer? Wipe the probe with a soft, clean cloth or cotton swab dipped in alcohol. Do not submerge the thermometer in water.
What is the warranty for this thermometer? Check the product packaging or manufacturer's website for warranty information, as it may vary by region.
Can I use this thermometer for medical diagnoses? While this thermometer is a valuable tool for monitoring body temperature, it should not replace a professional medical diagnosis. Always consult a healthcare provider for medical concerns.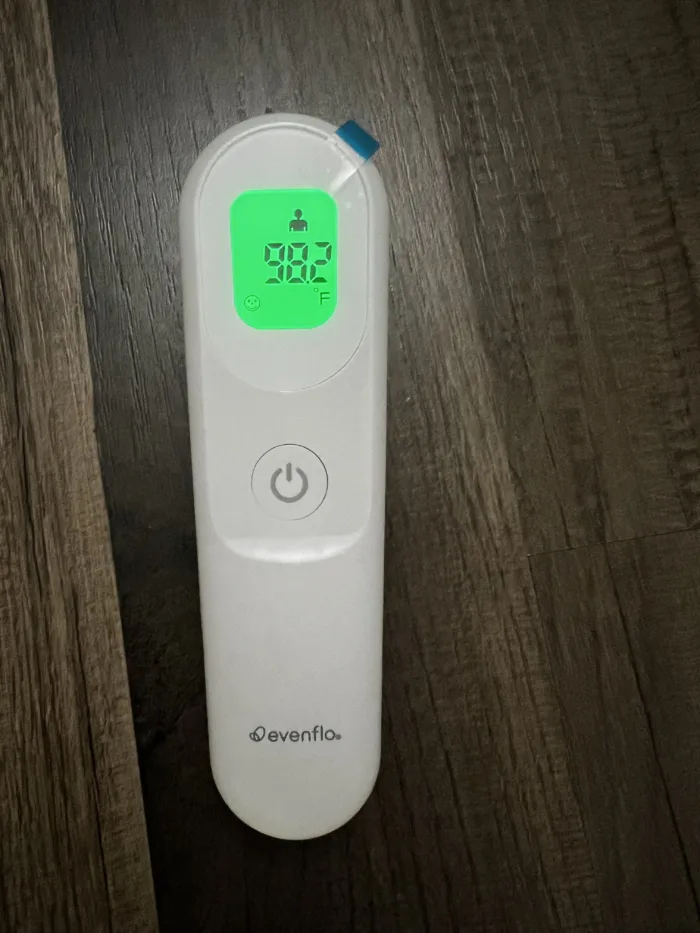 Evenflo: A Trusted Name in Baby and Child Products
From Safety to Convenience, We've Got You Covered!
About Evenflo:
For over a century, Evenflo has been a household name, synonymous with safety, quality, and innovation in the world of baby and child products. As a company deeply committed to child safety and the well-being of families, Evenflo has left an indelible mark on the parenting landscape.
History:
Evenflo's journey began in 1920 when they introduced their first baby feeding product, a feeding nipple designed to help mothers transition from breastfeeding to bottle-feeding. Since then, the brand has continually evolved and expanded its product range to meet the changing needs of parents and caregivers.
Product Range:
Evenflo's product line encompasses a wide range of essential baby and child products. Here are some of the key categories they specialize in:
Car Seats: Evenflo is renowned for its top-tier car seats designed to keep infants and children safe while traveling. Their car seats consistently meet or exceed rigorous safety standards.
Breastfeeding and Feeding Solutions: Evenflo offers a variety of breastfeeding and feeding products, including breast pumps, bottles, and nipples, to make feeding time easier for both babies and parents.
Strollers and Travel Systems: Evenflo's strollers are designed with convenience and safety in mind. They offer a range of options to suit different lifestyles.
Baby Gates: Safety is paramount, and Evenflo's baby gates provide peace of mind by creating secure barriers to keep little ones out of harm's way.
High Chairs and Boosters: These products are designed to make mealtimes enjoyable and safe for babies and toddlers.
Baby Monitors: Evenflo's baby monitors allow parents to keep an eye and ear on their infants, ensuring their safety and comfort.
Baby Care Accessories: From diapering essentials to baby carriers and more, Evenflo provides a comprehensive range of baby care accessories.
Commitment to Safety:
Safety is at the core of Evenflo's mission. Their products are rigorously tested and engineered to meet or exceed industry safety standards. The brand is dedicated to providing parents with the tools they need to create a safe and nurturing environment for their children.
Innovation and Quality:
Evenflo continually strives to innovate and improve its products. They focus on enhancing convenience for parents while prioritizing the comfort and well-being of children.
Parent-Friendly Support:
Evenflo understands that parenting comes with its unique challenges. That's why they offer customer support and resources, including the ParentLink Resource Center, to assist parents with questions and concerns related to their products.
A Trusted Choice:
With a history spanning over a century, Evenflo has earned the trust of generations of parents. Their commitment to safety, quality, and innovation makes them a go-to choice for families worldwide.
Conclusion:
Evenflo is not just a brand; it's a trusted partner in parenting. Whether it's ensuring the safety of your child in a car seat, making feeding time a breeze, or simplifying your daily routines, Evenflo products are designed to make the journey of parenthood smoother and more secure. With Evenflo, you're choosing a name you can rely on for all your baby and child needs.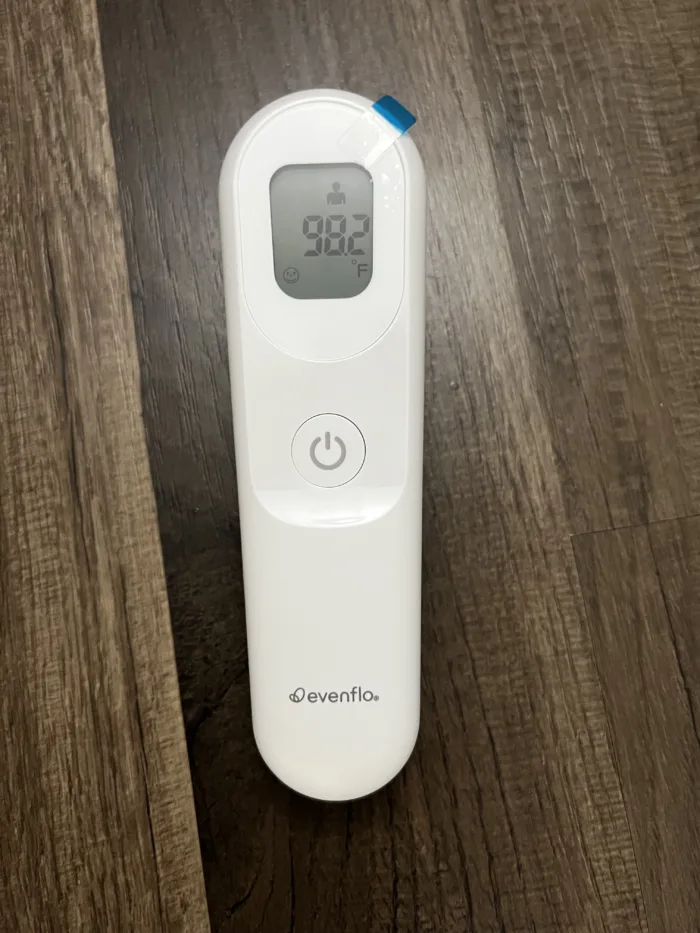 Known Alternate Names:
Touchless Forehead Thermometer
Infrared Forehead Thermometer
No-Contact Thermometer
Digital Forehead Thermometer
The Evenflo Precise Read Touchless Forehead Thermometer is a reliable and user-friendly device for monitoring body temperature. Its touchless technology, quick measurements, and fever alerts make it an essential tool for maintaining your family's health.