Introducing Two Heartwarming Adventures with Ella the Elephant!
These delightful stories of friendship, love, and self-discovery will capture the hearts of both children and parents alike. Ella the Elephant is the perfect companion for every young reader, offering valuable life lessons with a dash of magic and whimsy.
Dive into the wonderous world of Ella the Elephant with "Ella's Got Talent" and "Ella and the Mother's Day Surprise." These two enchanting tales will inspire, entertain, and fill your heart with joy. Order now and let the adventures begin!
Our Ella the Elephant Book Review:
I received Ella The Elephant Books in exchange for this post. All opinions are my own.
Disney Junior fans of Ella the Elephant animated hit show can now enjoy Ella and her adventures in book form! Two bright and colorful books have been released just in time for spring!
The kind and generous little elephant who solves everyday problems with her magic red hat is featured in books for the preschool age range of 3-5.
Ella's Got Talent
Join Ella the Elephant in her most enchanting journey yet! Uncover a world where dreams come alive and talents shine bright. Ella, the lovable and spirited elephant, discovers her extraordinary abilities that make her truly unique.
From a bustling circus to a grand talent show, Ella's captivating journey will inspire young hearts to embrace their inner talents and believe in themselves. With her unwavering determination and a trunkful of courage, Ella shows us that everyone has something extraordinary to share with the world.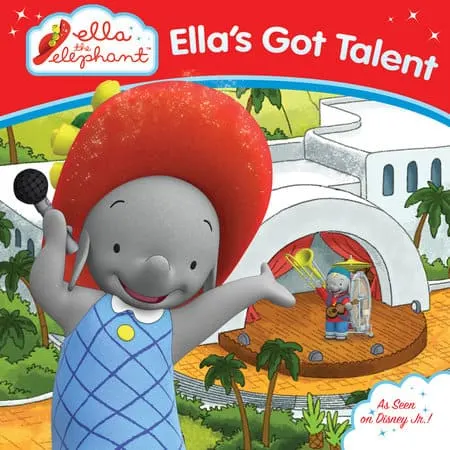 Ellas' teacher announces some exciting news–their class will be putting on a talent show! Everyone has a special act to perform, except Ella. She doesn't know what her talent is. Ella tries the other children's talents but nothing fits her quite right. But when her teacher asks Ella to come up with introductions for each act in the show, she realizes that she has an exceptional talent after all.
Ella and the Mother's Day Surprise
The second book Ella and the Mother's Day Surprise is just as fun!
Celebrate the magic of love and the joy of family with Ella the Elephant in this touching tale! As Mother's Day approaches, Ella is on a mission to create the most unforgettable surprise for her beloved mama.
Join Ella as she embarks on a heartwarming adventure, spreading love and joy throughout the jungle. With the help of her animal friends, she learns the true meaning of gratitude and the warmth of giving from the heart.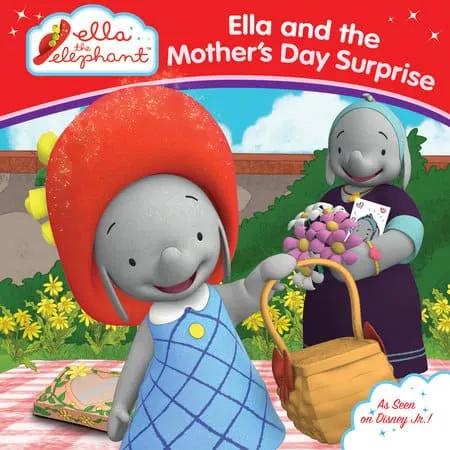 Ella and Frankie are set on planning the BEST Mother's Day EVER! Unfortunately, an unexpected storm knocks their plans off-course. Ella and Frankie instead have to find another way to celebrate Mother's Day.
These are adorable books, and I love that they are short enough to hold attention. The illustrations are very much like the animated series, making Ella and Frankie, and friends easily identifiable to young children. This is a great series.
About Ella the Elephant:
Ella the Elephant is a beloved children's book character who has captured the hearts of young readers worldwide. She is a cute and kind-hearted elephant known for her endearing personality and unwavering determination. Ella's adventures take place in a colorful and magical jungle setting where animals of all shapes and sizes live together in harmony.
The stories of Ella the Elephant often revolve around important life lessons such as friendship, self-discovery, courage, and the value of embracing one's unique qualities. Each book follows Ella's escapades as she navigates through various challenges, learning and growing along the way.
Ella's character is relatable and relished by children for her positive attitude, willingness to help others, and her ability to turn every obstacle into an opportunity for growth. She is often accompanied by a lovable cast of animal friends who share in her adventures, adding a touch of whimsy and charm to the tales.
The series featuring Ella the Elephant is not only entertaining but also educational, as it imparts essential values to young readers while sparking their imaginations. The books are written in a heartwarming and engaging style, making them perfect for bedtime stories, classroom reading, or cozy afternoon adventures.
Ella's enduring popularity has led to the creation of merchandise, animated adaptations, and various educational materials that further extend her reach and impact. As a character cherished by both children and parents alike, Ella the Elephant continues to inspire and delight readers with her timeless tales of friendship, kindness, and the joy of exploration.