Introducing Instant Pot Mushroom Risotto: The Perfect Comfort Food Made Easy!
Are you craving a delectable, creamy risotto but don't have hours to spend stirring and simmering? Look no further! With our Instant Pot Mushroom Risotto, you can enjoy the rich flavors and velvety texture of this classic Italian dish in a fraction of the time.
Imagine tender Arborio rice perfectly cooked to perfection, infused with the earthy essence of savory mushrooms, and enriched with a luxurious blend of herbs and spices. Our Instant Pot Mushroom Risotto is a one-pot wonder that brings gourmet dining to your table with minimal effort.
Why choose our Instant Pot Mushroom Risotto?
Time-saving Magic: Thanks to the wonders of the Instant Pot, you can have a restaurant-quality risotto on your plate in just minutes. No need to constantly stir or worry about the rice sticking to the bottom of the pot. The Instant Pot does all the work, leaving you with more time to relax and enjoy.
Foolproof Perfection: Our specially crafted recipe ensures foolproof results every time. Say goodbye to undercooked or mushy risotto! The Instant Pot locks in moisture, allowing the rice to cook evenly and perfectly absorb the flavors.
Irresistible Flavor: Each bite of our Mushroom Risotto is bursting with incredible flavors. The earthy, umami-rich mushrooms combine harmoniously with the creamy rice, while delicate herbs and spices add depth and complexity. It's a symphony of taste that will delight your palate.
Versatile Delight: Our Instant Pot Mushroom Risotto serves as a versatile base to create endless variations. Customize your risotto by adding your favorite ingredients such as grilled chicken, asparagus, or sun-dried tomatoes. Let your culinary creativity run wild!
Family-Friendly and Nutritious: Our Mushroom Risotto is a wholesome and satisfying meal that the whole family will love. Packed with nutritious ingredients, it provides a balanced blend of carbohydrates, proteins, and essential vitamins.
Stress-free Cleanup: With the Instant Pot, cleanup is a breeze. The non-stick inner pot ensures easy release; most parts are dishwasher safe. Spend less time scrubbing and more time savoring the flavors.
Don't miss out on the ultimate comfort food experience! Treat yourself and your loved ones to the convenience and deliciousness of our Instant Pot Mushroom Risotto. Elevate your weeknight dinners or impress guests with a gourmet feast.
Order your Instant Pot Mushroom Risotto today and embark on a culinary journey that will redefine your love for risotto!
Supple grains of rice delicately aromatic with the wine's sweet notes (Decanter) and mildly pungent Parmesan, and, of course, butter.
It's no stirring.
No ladling of stock.
One.
Cup.
At.
a.
Time.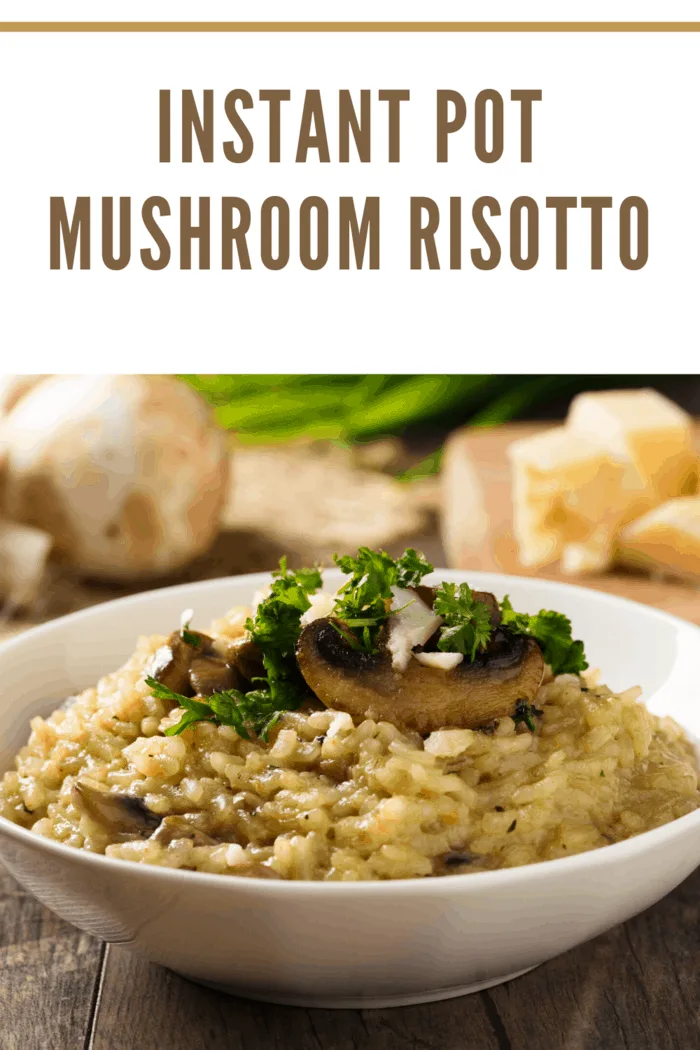 Just an Instant Pot on the counter, with the timer set, and the cook walks away to enjoy reading or doing what they love.
The finished result is one that deserves a deep bowl.
A big spoon.
And a person ready to eat bite after bite of the delicious, creamy comfort.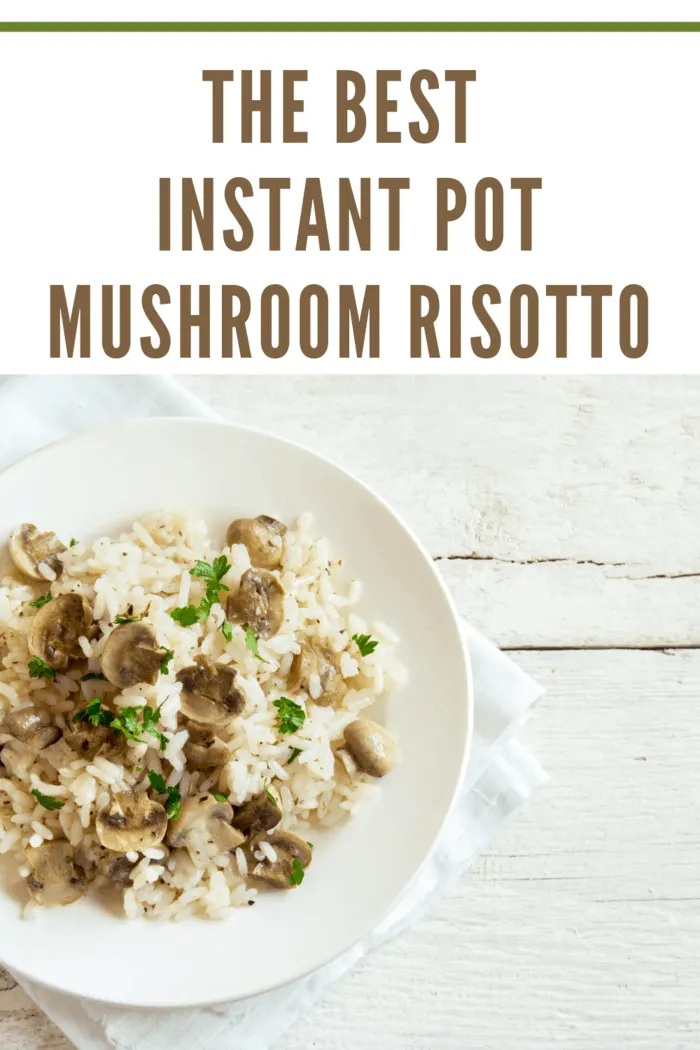 When Chef Ramsey came on television, his signature staple was Risotto.
Why not?
It's a dish associated with the high-end restaurants his name is attached to.
Risotto is also the epitome of Italian home cooking.
It's the Italian grandmother's comfort food.
It's a dish every cook, regardless of skill, should know how to make.
It satisfies.
It's easy to make.
It's impressive.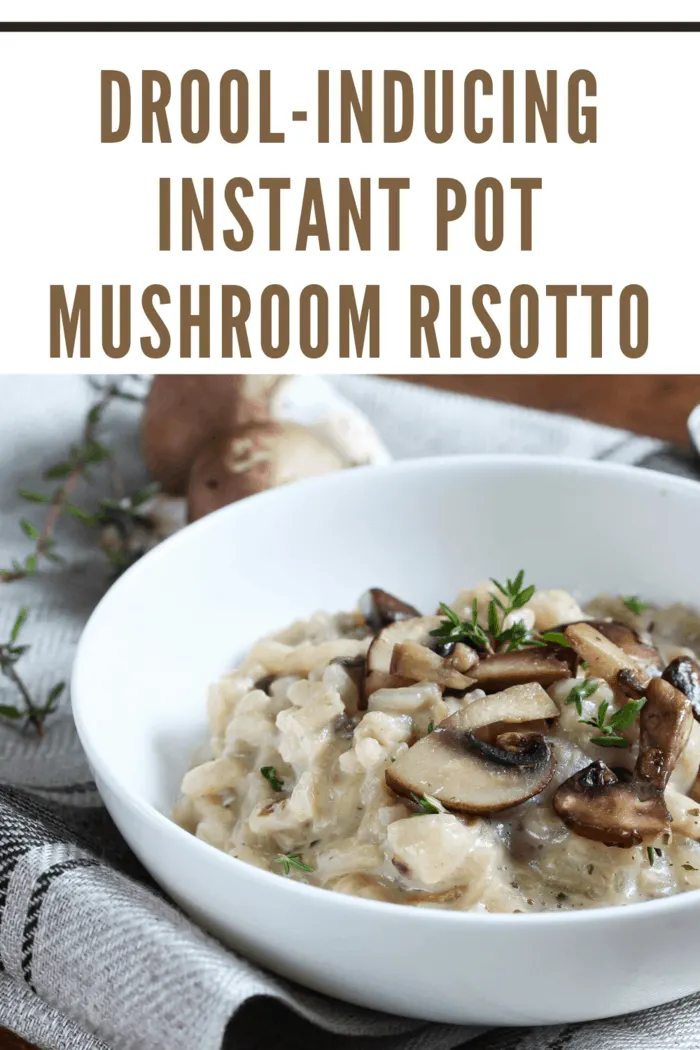 Gone are the days the tarnished Risotto's reputation of being time-consuming and finicky.
Wave farewell to the Risotto, your mom, told our required constant attention.
Watch that "Takes-30-minutes-to-make" label fade in your rearview mirror.
Start to finish; the best Risotto takes 45 minutes, including the time to bring the Instant Pot to pressure.
Thank your Instant Pot.
One of the reasons it's said every cook should learn to cook Risotto is the technique.
It's the basics like making a soffrito, adding the broth one scoop at a time, toasting the rice just so.
Deciding if you'll be adding caramelized onions or bits of sausage, or maybe it's wild mushrooms that strike your fancy.
This Instant Pot Mushroom Risotto is a game-changer.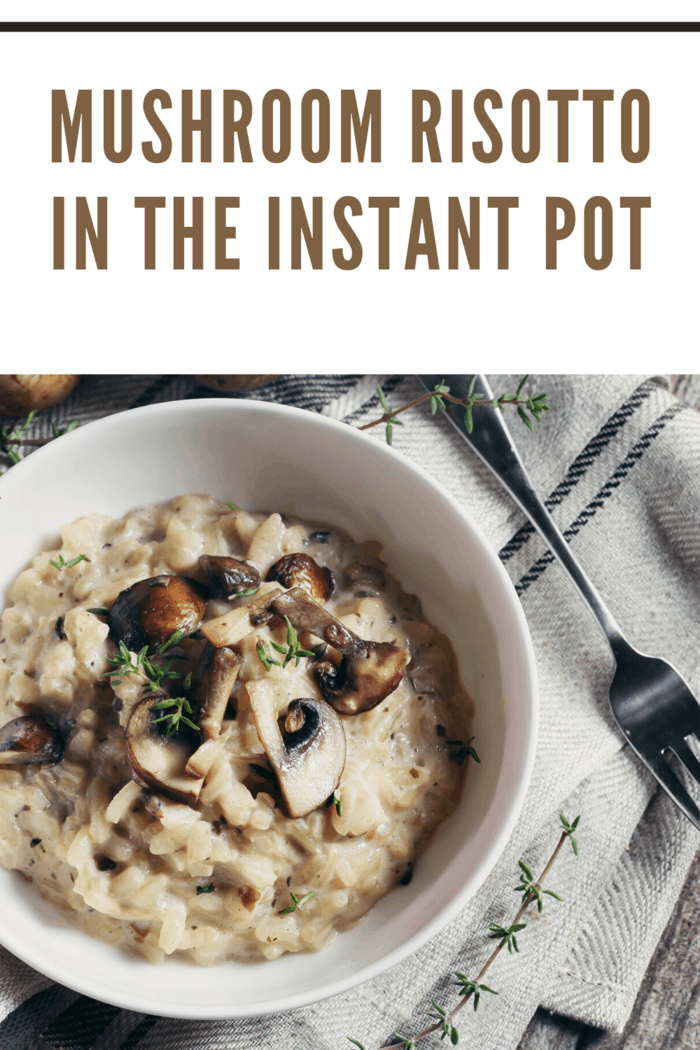 I recommend using the best rice you have available.
At our house that is arborio.
Arborio rice is relatively hard to overcook.
If you want to really gussie up the dish, you can order vialone nano rice and serve silky, perfected Risotto.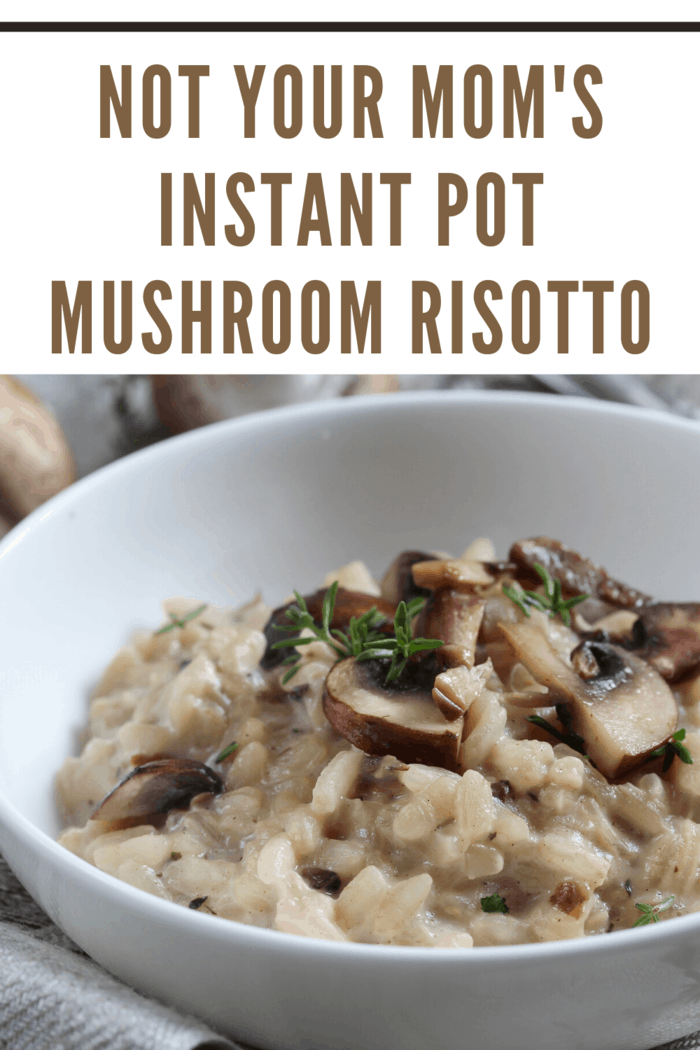 Prep Time: About 10 minutes
Come to Pressure: 10 minutes
Cook Time: 29 minutes
Total Time: 45 minutes
Makes about 5.5 cups
Easy Instant Pot Mushroom Risotto ingredients
2 Tablespoons Olive Oil
1 Pound Mushrooms*, trimmed and sliced
1/2 teaspoon salt
1/4 teaspoon ground black pepper
1 medium onion, chopped
2 cups arborio rice
1/2 cup white wine
4 1/2 cups chicken stock
Garnish with freshly chopped parsley and grated Parmesan
*wild mushrooms will elevate the flavor and make this Risotto truly a feast!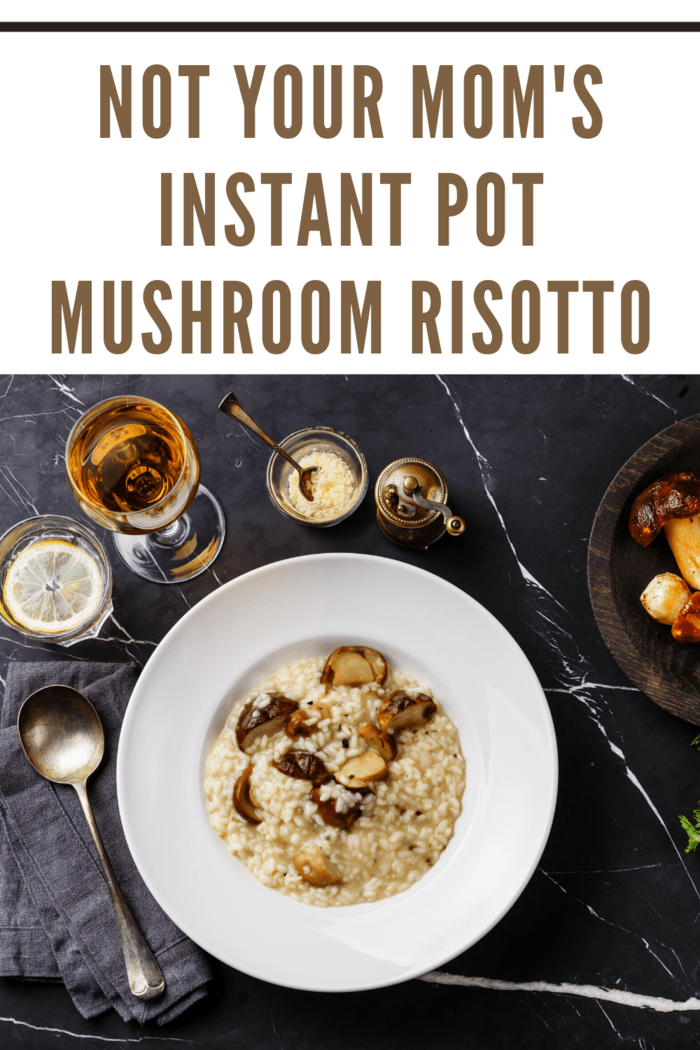 How to Make Easy Instant Pot Mushroom Risotto
Prepare the Mushrooms:
Set the Instant Pot on "Saute" and add olive oil.
Add mushrooms and cook about ten minutes, or until they begin to brown.
Season with salt and pepper.
Add onion and cook 8 minutes, or until translucent, stirring to combine onions and mushrooms.
Add the Rice:
Once onions are translucent, add the rice to the mushroom/onion mixture and still for three minutes.
Add white wine and cook for 3 minutes, stirring until the liquid is mostly evaporated.
Add chicken stock to the pan and stir.
Place lid on Instant Pot, turn to lock position, and turn to steam-release value is SEALED.
Set Instant Pot to Manual for high pressure at 5 minutes.
Finish the Risotto:
When Instant Pot beeps, turn off Instant Pot.
Do a Quick Release and unlock the lid.
Stir and season with salt and pepper.
Serve.
Garnish with freshly chopped parsley and grated Parmesan.