Be Happy Bags Review
We've been over it before, one of my 2010 Resolutions is to be more "eco-friendly". I'm inherently frugal and typically minimize the waste in our home. One of the area I immediately identified that could use some work on my part is grocery shopping bags.

Let's face it, you go grocery shopping you come home with bags. LOTS of plastic bags. It's shocking when you really pause to look at how many accumulate! Here's a picture of my plastic shopping bags collected over just a two-week time span!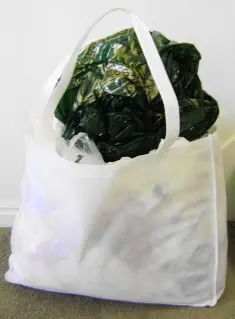 Appalling isn't it? While these will be repurposed into items in our home, it's still shocking.
Back in the 1990s, I was *really* eco-friendly. I kid you not! I recycled; I boycotted businesses. I wore Birkenstocks. Then my mom told me about polypropylene glycol and…well, that's another post. Anyway, back to the present! In the 1990s we used cloth tote bags. They were convenient and durable. I still have a couple. The problem with most reusable totes is they just aren't stylish.
I want a bag that reflects me. After all, I'm going to be using it a lot! Why not?
Meet B. Happy Bags. These bags are my new favorite item!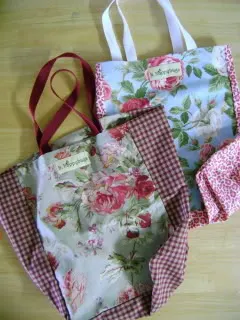 Happy Bags story of how they came to be is eye-opening. It's something we should all be aware of as we unpack our groceries and throw the bags away.
I received two B. Happy Bags for review. The "June" and the "Rose". It was no easy choice in selecting the pattern. B. Happy Bags has an amazing selection of stylish prints that easily reflect our style.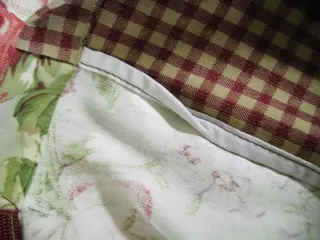 This is the "June" bag. I absolutely LOVE this one most. I love the color combination of burgundy and beige and peonies are breathtaking to me.
The June features a beige with burgundy, pinks, and a smidgen of lavender flowers on the front and back panels. The sides and bottom are a beige and burgundy checkered print. A burgundy nylon strap finishes it off. They coördinate impeccably!
The "Rose" print is the sister to "June".
This bag features a blue background with pink and white roses on the front and side panels. It's accented with a pink leopard print on the sides and bottom. The straps are heavy-duty nylon, in white.
All of B. Happy Bags Totes are spacious: 15″x12″x8″. I found this size to be delightful. They each held an entire case of organic broth with room for two boxes of crackers!
B-Happy Bags are durable.
The interior seam is reinforced with grosgrain binding.
The material is a heavy upholstery fabric
the handles are a heavy-duty poly webbing
the stitching is secure and well-done
These bags have been used for groceries, library trips, a trip to the swimming pool and as a general bag. I am impressed by the quality of the B. Happy Bags and love that they have eye-appeal. It's more than a bag, they are an accessory!
Happy Bags doesn't stop at making just tote bags. They also offer Wine Bags, with six bottle compartments, Yoga Bags and make Custom Bags.
Disclosure: No monetary compensation was offered or accepted for this post. I was sent the items mentioned in this post by the sponsor for review purposes. The opinions above are my own and were not in any way influenced by the sponsor. Other's experience may vary.
We appreciate your subscription to Mommy's Memorandum