Are you looking for a delicious, easy cheesecake dessert dip? Want it to be a movie theme? This Dragon Cheesecake Dessert Dip is inspired by My Father's Dragon, which is now streaming on Netflix and is a great choice!
Click the photo below for the fun movie-themed treat–perfect for a family night while you enjoy My Father's Dragon.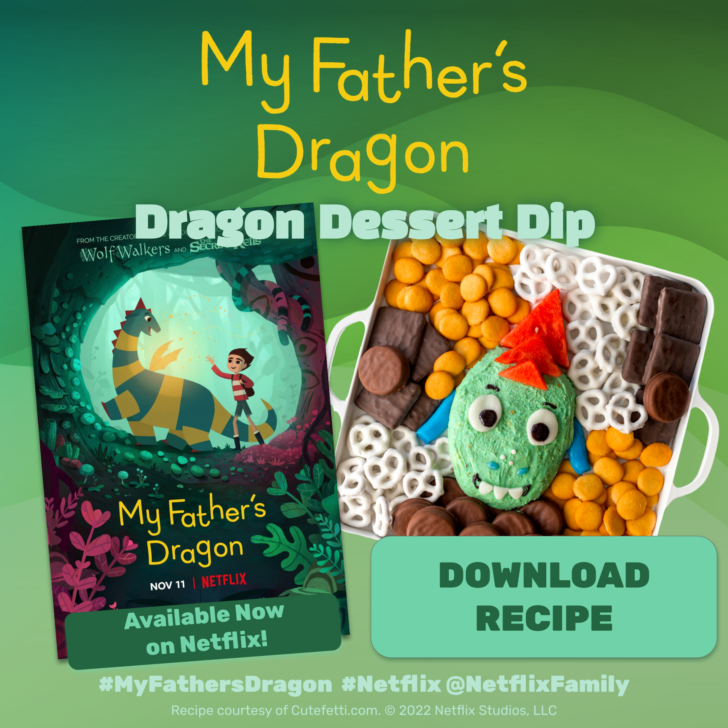 Check out the full recipe and instructions for My Father's Dragon inspired Cheesecake Dip
MyFathersDragon_Recipe_Instructions4

My children love movie nights. They especially love themed snacks about the movie we were watching. It's fun to create snacks together as some no-screen family time.
Watch the My Father's Dragon Trailor to learn more:
RELEASE DATE:
On Netflix on November 11
BASED ON THE BOOK:My Father's Dragon by Ruth Stiles Gannett
DIRECTOR: Nora Twomey
WRITER: Meg LeFauve
PRODUCERS: Bonnie Curtis, Julie Lynn, Paul Young
CAST: Jacob Tremblay, Gaten Matarazzo, Golshifteh Farahani, Dianne Wiest, Rita Moreno, Chris O'Dowd, Judy Greer, Alan Cumming, Yara Shahidi, Jackie Earle Haley, Mary Kay Place, Leighton Meester, Spence Moore II, Adam Brody, Charlyne Yi, Maggie Lincoln, Jack Smith, Whoopi Goldberg, Ian McShane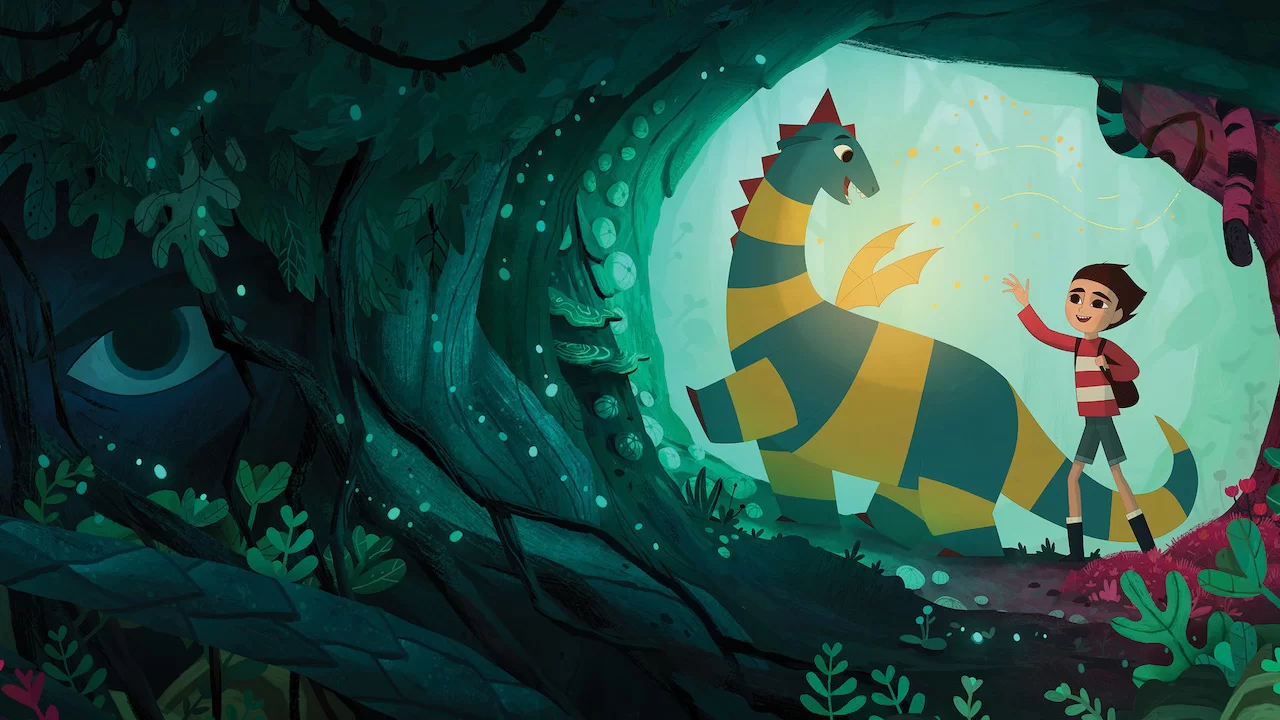 SYNOPSIS:
From five-time Academy Award®-nominated animation studio Cartoon Saloon (The Secret of Kells, Song of the Sea, Wolfwalkers) and Academy Award®-nominated director Nora Twomey (The Breadwinner) comes to Newbery-honored children's book exquisite film inspired by the Newbery-honored children's book from author Ruth Stiles Gannett. Struggling to cope after a move to the city with his mother, Elmer runs away in search of Wild Island and a young dragon which waits to be rescued. Elmer's adventures introduce him to ferocious beasts, a mysterious island, and the friendship of a lifetime.
My Father's Dragon Concept Art
The concept art looks like it is from the pages of a magical storybook!
MY FATHER'S DRAGON – FROM FIVE-TIME ACADEMY AWARD®-NOMINATED ANIMATION STUDIO CARTOON SALOON (THE SECRET OF KELLS, SONG OF THE SEA, WOLFWALKERS) AND ACADEMY AWARD®-NOMINATED DIRECTOR NORA TWOMEY (THE BREADWINNER), COMES AN EXQUISITE FILM INSPIRED BY THE NEWBERY-HONORED CHILDREN'S BOOK FROM AUTHOR RUTH STILES GANNETT. STRUGGLING TO COPE AFTER A MOVE TO THE CITY WITH HIS MOTHER, ELMER (JACOB TREMBLAY) RUNS AWAY IN SEARCH OF WILD ISLAND AND A YOUNG DRAGON CALLED BORIS (GATEN MATARAZZO), WHO WAITS TO BE RESCUED. ELMER'S ADVENTURES INTRODUCE HIM TO FEROCIOUS BEASTS, A MYSTERIOUS ISLAND, AND THE FRIENDSHIP OF A LIFETIME. CR: NETFLIX © 2022
My Father's Dragon Official Trailer
About Netflix:
Netflix is the world's leading streaming entertainment service, with 221 million paid memberships in over 190 countries, enjoying TV series, documentaries, feature films, and mobile games across various genres and languages. Members can watch as much as they want, anytime, anywhere, on any Internet-connected screen. Members can play, pause and resume watching, all without commercials or commitments.