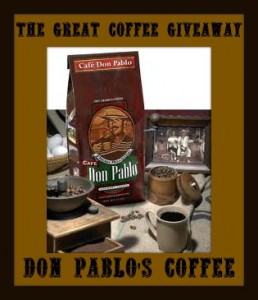 Indulge in Don Pablo's Fair Trade Coffee
Treat yourself to at least 16 ounces of fair trade coffee and stimulate the part of the brain that processes positive words, according to German researchers. Let's face it who couldn't use a little more optimism in their inner self?
Indulge away…drink one more cup than usual and increase your ability to spot grammatical errors, according to a recent Tufts University Study.
Add some sugar! Subjects at the University of Barcelona who consumed a caffeinated beverage with sugar scored higher on attention and memory tests than those who had water or a drink with the caffeine or sugar alone.
Cafe Don Pablo has reincarnated coffee, offering a versatile, all-day drinking cup of Joe. Read my Don Pablos Coffee Fair Trade Coffee review.
It's good coffee. It's fair-trade coffee. Find it online or at Costco.