If you missed the Friday premiere of Disney's Descendants, fear not. It's available on DVD and still playing on the Disney Channel. Based on the villains featured in the Disney animated film franchise, this fun movie features a cast of Disney's favorite actors: Dove Cameron, Cameron Boyce, Booboo Stewart, and Sofia Carson.
Miss M has watched it, at least, seven times already!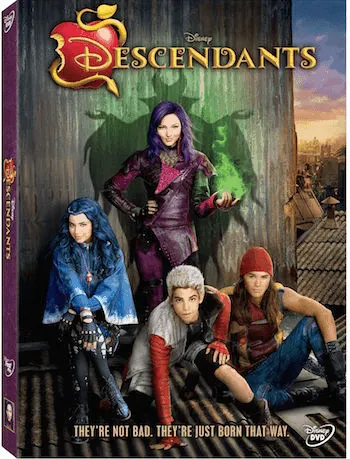 Disney's Descendants Synopsis:
After their defeat, the villains, sidekicks and accomplices are forced to live imprisoned on the Isle of the Lost, when King Beast (Dan Payne) and Queen Belle (Keegan Connor Tracy) marry, unstinting the Disney kingdoms into the United States of Auradon. All the villains, sidekicks, and accomplices are forced after their defeat to live imprisoned on the Isle of the Lost, a forbidden island surrounded by a barrier that also inhibits magic.
The teenage son of King Beast and Queen Bell, Prince Ben (Mitchell Hope), is about to ascend the throne. In his first official proclamation, he selects trouble-making teenage children of villains and offers them a chance of redemption. Among the selected trouble-makers are Carlos (Cameron Boyce), son of Cruella De Vil; Jay (Booboo Stewart), son of Jafar; Evie (Sofia Carson), daughter of the Evil Queen; and Mal (Dove Cameron), daughter of Maleficent. For redemption, the villainous descendants are able to attend the prep school, Auradon, alongside the teenage children of iconic Disney heroes. The villainous parents pressure the children to help regain the villains' power by stealing the magic wand of the Fairy Godmother.
The plan is set into action and the children set out to steal the wand. Using Evie's magic mirror they head to the nearby museum where the wand is being kept and find statues of Jafar, the Evil Queen, Maleficent, and Cruella de Vil. Mal is the first to question good and evil. Will they sway and leave their villainous ways?
From the Emmy Award-winning director and choreographer Kenny Ortega ("High School Musical" franchise) comes a new epic universe featuring the untold story of Disney classic characters in Descendants on Disney DVD July 31st! As you're eagerly preparing for the face-off between the villainous offspring who must choose between following in their parents' footsteps to help all the villains regain power or embrace their innate goodness to save the kingdom we have an awesome party package for your viewing parties.
Download the Descendants Party Package
Or print from the .pdf below.
Descendants Viewing Party Printables

_________________________________________________________