It was a fast a furious Disney Press Junket. Late nights and I was on the west coast with a body who insisted we keep to our East Coast time.
In the middle of the three days, I received a text from my work counterpart that read, "I hope you're not flying Delta."
Of course, I was.
I replied back, "No worries, they have 24 hours to fix it."
At one o'clock on the third afternoon, I boarded a shuttle for LAX.
Delta had not fixed the delays.
I knew going into this that my flight had been delayed.
I watched email after email notification on that freeway to the airport my outbound flight become later and later.
I realized that Delta's system was not recognizing I was a connecting flight passenger. Nothing was happening with my final leg home.
At the airport there was chaos.
LONG lines.
I already knew I was going to need a connecting flight regardless of what time my outbound flight left LAX, so I resigned myself to a line that wrapped around the back-end of a customer service station for Delta.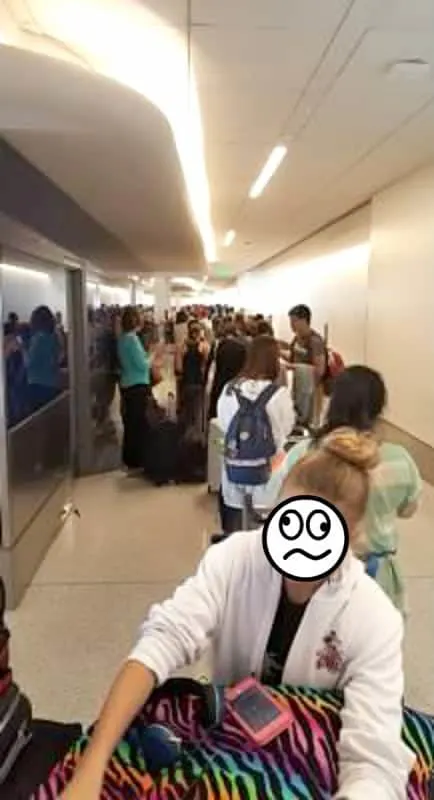 A line that stood still.
I went through two cell phone chargers, spent time direct messaging Delta on Twitter, taken two bottled waters and a few cookies from a woman walking through the airport lines offering them to passengers.
Three-and-a-half hours later, I had reached the Delta Representative.
I approached the counter with weary legs and aching back and I was greeted with a smile.
"Hello, Beautiful!" I greeted.
I explained the situation and asked if I could be routed through Salt Lake City. "I'd love to see my son, and I can stay with him until Delta gets this all worked out."
Sometimes, you get good customer service and sometimes, you get Patricia Williams. This woman was amazing. Her smile never ended.
She checked the system, told me there was "nothing to Salt Lake City tonight" .
She looked at what I had been routed on–there were four connections to get home and she told me that was "too many."
She gave me options that took me through Salt Lake City and said, "Look these over, I'm going to get you a hotel voucher for tonight. There's only one left."
When she had printed out the voucher she said, "Let's get you to that baby of yours."
I asked her if she minded if I called my son.
"Not at all."
I called my son, he was working the next day and told me if I could get there, he'd love to see me.
Ms. Williams' supervisor came over and she told him, "This Mama's gonna see her baby."
My throat swelled. My eyes poured tears.
Patricia Williams routed me through Salt Lake City with a layover. Ironically, this route took less time than the four connections I was going to be taking originally.
I told Ms. Williams that if there wasn't a counter between us I'd hug her.
That's when Ms. Williams told me, "I can come around."
She walked all the way around the counter. She opened her arms and just wrapped them around me.
I couldn't let her go.
I sobbed, "It's been four years since I hugged my boy. Thank you!"
She pulled me closer to her and told me,"I'm glad I could help!"
I spent the night at the hotel Delta provided.
I didn't sleep.
I thought of seeing my oldest child for the first time in four years.
I got up early, caught the hotel shuttle to the airport and checked in for my flight.
It was on-time until boarding was to begin. Then we had pilots but no flight crew.
My thoughts were, we don't need beverage service, let's just go.
Instead, we waited.
One hour and 15 minutes later, we were boarding.
It was easy to be angry that Delta's delays had now cut out half my layover in Salt Lake City. That was time I wasn't going to be hugging my son.
It was even easier to be thankful that in the darkness of delays, something amazing was about to happen.
We had takeoff!
When I landed in Salt Lake City, I was giddy.
I was trembling.
I ran through the airport, down the escalator until I saw him.
I hugged my boy.
He's my first-born. He's working full-time and putting himself through college.
He's proven time and time again in this gig called "adulthood" that he doesn't need his Mama.
I haven't been so acclimated.
I still need my boy.
My first-born.
The child whose siblings willingly admit is my favorite, though I love them all with the greatness and equality of the others.
His jaw was more square than I remembered.
He was perhaps taller.
His hair had wisps of gray.
He's filled out from his boyish body and looks more manly.
In spite of all the changes in his appearance, he still remained my boy. The child who rented my womb, heard my heartbeat unlike any other and gave me the moniker of Mom.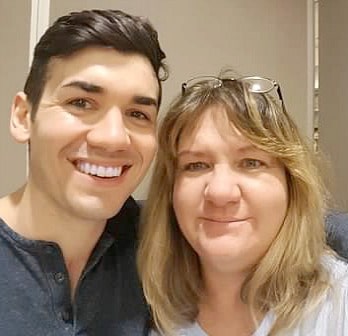 He arrived at the airport a little early and took the time to write me a "love letter". He brought me a sandwich he had made–turkey, avocado with roasted red peppers.
I was sleep deprived.
I missed a day of work I couldn't afford.
I was inconvenienced.
Every flight I was on was delayed.
I pulled into my driveway at 2am and reported to work at 6am.
It was a horrible 48 hours.
Yet, through the drama of Delta delays, I experienced customer service that was truly epic. A smile that I found calming and a human being who was compassionate and went above and beyond to provide superior customer service.
My son and I call Ms. Williams our angel.
Thank you Delta for empowering your employees–I needed to hug my son!