In the Frank G. Wells building, we gathered in a theater. It was a bullet point on our schedules that I had been looking forward to with childlike anticipation.
First, Inner Workings, a Short Film
Prior to the reason I was here, we were treated to a viewing of the new short film "Inner Workings". I found this short about the internal struggle between a man's pragmatic, logical side and his free-spirited, adventurous half to be hilarious!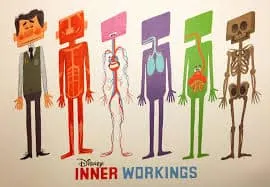 "Inner Workings" is both CG and hand-drawn animation and first-time director Leo Matsuda (story artist for Big Hero 6,Wreck It Ralph and Zootopia). The short will open November 23, in front of Walt Disney's Moana.
This short film is not only fun, but it is relatable. I could hear my mother telling me over and over, "It's all about choices." I also could not dismiss the realization that it was the battle between my husband and in the never-ending argument of brains (logic) over hearts (emotion).
While I found the short absolutely fun, the story of Matsuda, I think, is one that should be told.
Loving to draw for as far back as his memory goes, Matsuda pursued an animation career at the age of 16. He majored in character animation at CalArts, looked up to Walt Disney and Chuck Jones.
He is a native Brazilian of Japanese descent and comments that "my Japanese side is by the book, while my Brazilian roots bring out the partier inside."
He is one of 73 hopefuls who each pitched their idea to the Walt Disney Animated Studios Story Trust; Matsuda made the cut to ten. He then was in the top four, until ultimately being selected to direct his "Inner Workings."
We also watched clips on the highly anticipated movie, Moana.
There is so much to this amazing film. I am very excited to take my family to see it. It really captures the Polynesian culture I loved living in Utah and visiting Hawaii. Plus, it stars Dwayne "The Rock" Johnson as Maui.
Besides, Johnson, there are some fun characters.
KAKAMORA, an intense team of crazy, coconut-armored pirates who will stop at nothing to get what they want, and PUA, Moana's loyal pet pig with puppy energy and an innocent puppy brain–trust me PUA is adorable.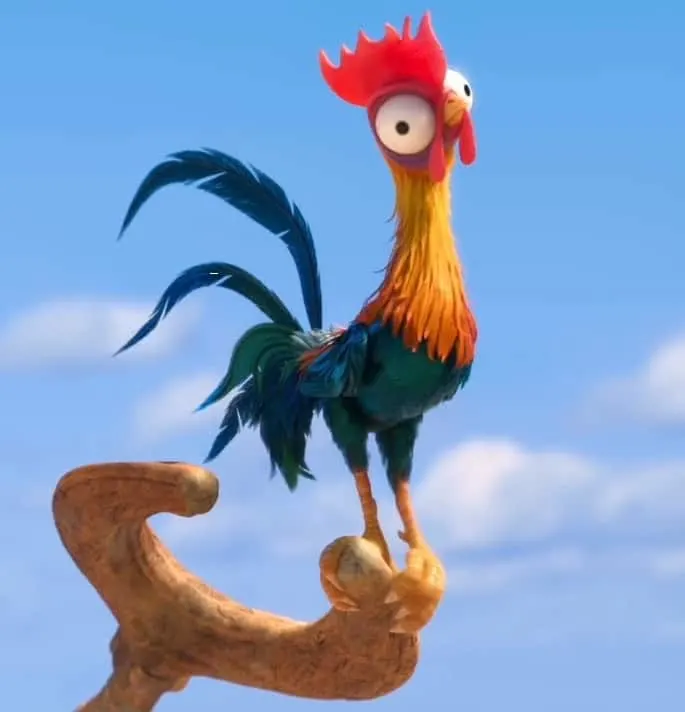 There's also a rooster.
Okay, I can't contain it anymore.
If you watched the trailer above, you HAD to notice the character at the 0:13-0:16 mark; right?
He's the tattoos on Maui.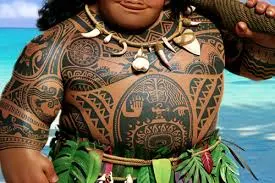 The tattoos are such a fun character in Moana. They are like Maui's conscience. They are known as "Mini-Maui".
That Time I Took An Art Lesson From Disney's Eric Goldberg!
And this, people, is the part I had waited for!
An art lesson by the amazingly talented Disney Animator, Eric Goldberg.
Not the brother in The Goldberg's.
This guy.
Who is Disney's Eric Goldberg?
You may not know his name, but you definitely know his work. He is the man responsible for the animation of the Genie in Aladdin.
His drawings are fun, technical, and full of emotion. It's one of the things that makes him stand out as an animator.
It was a short art lesson, but I was there. I followed his directions–though I admit I was enamored by watching his artwork transform on the overhead projector.
He's a pretty good teacher because of look at my Mini-Maui!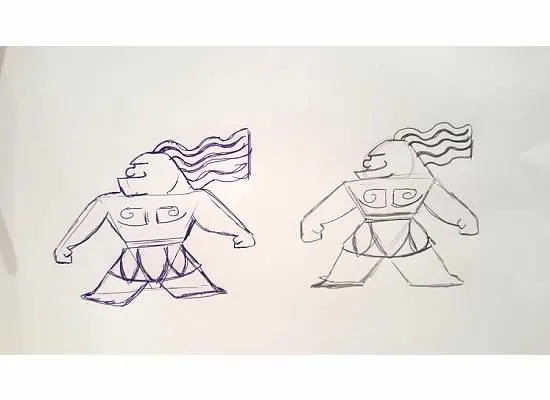 There's a lot to look forward to this November.
The short film Inner Workings, followed by the must-see Moana–complete with Eric Goldberg's brilliant Mini-Maui all arrive in theaters everywhere on November 23rd, 2016!