Cooking with my Curious Chef is one of my favorite weekend activities. It's quality time together learning fractions and telling time as well as some serious silliness! I love the moments of discovery. Little things like…vanilla smells REALLY good but tastes just AWFUL on their own, and that yeast is "magic"!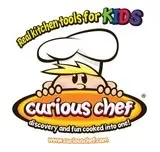 This past weekend we had the opportunity to experience Curious Chef products, and they are truly a favorite at our house!
Curious Chef makes kitchen tools for little hands.
My kiddos loved the colors and that they REALLY worked, "just like Mom's"!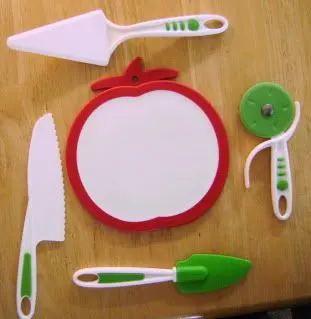 For this review, I called upon my THREE MOST CURIOUS CHEFS!
They LOVE to cook, and when I told them we were making brownies, Star Crunch Bars, and Pizza, they wasted NO time is putting on their aprons and washing their hands.
The first item we tried was the 17-pc measure and prep kit.
This is a great kitchen starter kit as it has the basics every Curious Chef needs: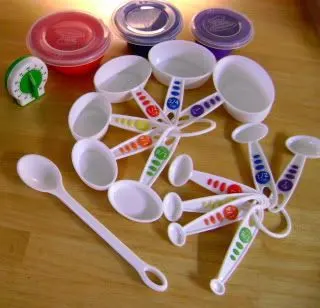 a large poly spoon, kitchen timer, 6-pc. Measuring spoons, 6-pc measuring cups, 3-prep bowls (with lids), shopping list, and stickers!
It's a bargain at the Manufacturer's Suggested Retail price of $19.99!
My kiddos really loved that these pieces were all "their size."
I appreciated the measuring cups.
They're Oval-shaped for easy measuring and pouring.
It was a much "cleaner" process than the standard round measuring cups we have on hand.
The measuring cups range in size from 1-cup to 1/8 cup.
They have vibrant colors and large numbers, and the Soft Touch Button Grips help little hands hang on.
They are designed with no-drip pouring edges and an easy fill oval shape.
The best part…they're dishwasher safe!
The measuring spoon set is made to match with the same colors, large numbers, and soft-touch button grips.
I had no worries about "accidents" and let the kiddos have at it!
My children love to crack open the eggs.
They aren't conscientious, so we sometimes end up with shells.
I love the prep bowls because they could crack the eggs into the bowls, and after making sure there were no crunchy shells, we just poured them into our batter.
The colors are bright and happy, and they have a great rim and are textured, so there were no worries about them slipping or dropping.
The lids that accompany this set are great.
They are clear and snap on easily.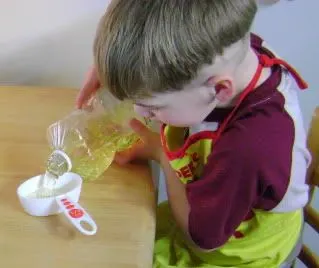 The poly spoon that comes with this set is awesome!
I might have to keep it in my own drawer!
It has a long, sturdy handle that's ergonomically made for little hands.
It's extra sturdy–you can feel it! It also has a great "spoon" indentation.
It is also safe for your non-stick pans and bowls.
My girls took turns using it to stir the brownie batter and then transfer the batter from the mixing bowl to the baking pan.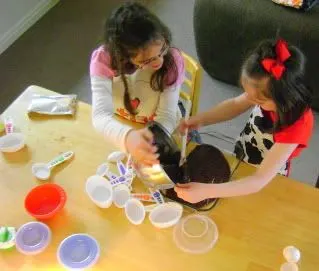 The other item we reviewed is the Curious Chef 5-pc Pizza Making Kit. We LOVE pizza at our house, so this was really a perfect set!
This set includes a large silicone spatula, Nylon Pizza Cutter, Nylon Pizza Server, Large Nylon Plastic Knife, Tomato shaped cutting board, Shopping List Pad, and stickers.
It has an MSRP of $19.99
Out of the box, both my husband and I had our doubts about the nylon plastic knife.
Was it really going to work, or were there going to be cries of frustration and disappointment?
To play it safe, we started the kiddos off with something soft–olives!
They're one of our favorite toppings!
There were giggles galore as the olives rolled around the tomato-shaped cutting board, and it was hushed as each child concentrated on cutting the olive into slices.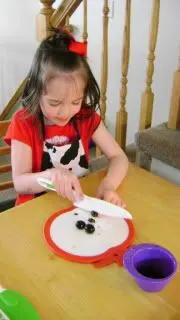 This knife did not disappoint!
While it isn't sharp enough to cut fingers, it did an excellent job slicing black olives.
It really was a boost for little egos!
Then it happened.
A small voice asked if they could chop the chicken!
Husband and I exchanged glances and prepared for whatever was about to happen.
Yeah, we had NOTHING to worry about!
The nylon knife made my daughter a shining star!
She effortlessly cut through the chicken and did a fine job of making chicken cubes to top the pizza!
This kitchen tool became an instant favorite!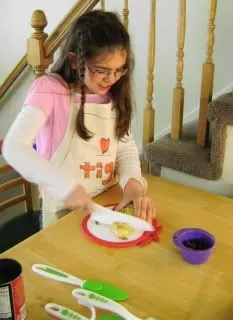 With all of our ingredients chopped and our dough rolled out, it was time to add the sauce.
We used a white alfredo sauce and called upon our helper to spread it evenly over the dough.
The tool chosen was the nylon spatula.
Its ergonomic design was a perfect fit in little hands, and it did the job well.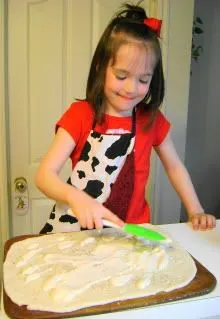 This silicone spatula uses the same soft-touch button grips as the measuring set and knife and is heat safe to 450 *F
We baked our pizza and had only one tool left to test—the pizza cutter.
Like the nylon knife, Husband and I had our doubts.
Again we were astounded.
The pizza cutter delivered!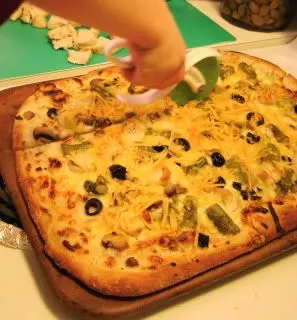 It fit my four-year old's little hand, and we could focus on "don't lean against the pan" entirely because we didn't have to worry about a sharp blade on a rotating circle!
Our weekend cooking will be so much more fulfilling now that the kiddos have their "own" tools that fit their hands and allow me to focus more on the moment than the safety issues "Mom's tools" create.
You can buy Curious Chef products locally through retailers or online through My Secret Pantry, Amazon, Cooking.com, Bed Bath and Beyond, Betty Crocker Store, and other great retailers.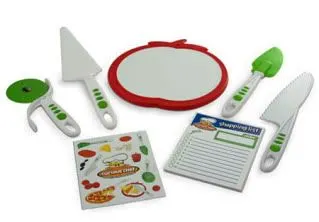 Disclosure: No monetary compensation was offered or accepted for this post. I was sent the items mentioned in this post by the sponsor for review purposes. The opinions above are my own and were not in any way influenced by the sponsor. Other's experience may vary.
We appreciate your subscription to Mommy's Memorandum