Does it feel as though you are more stressed than ever? If so, you are not alone. In a recent survey done by the American Institute of Stress and shared on stress.org, a whopping 33 percent of people reports feeling extreme stress. Further, 77 percent of people experience stress that affects their physical health. It is also not surprising that women, ethnic minorities, single parents, and people responsible for their family's health care decisions experience the highest rates of stress.
Parents of young children have always reported feeling stressed due to the constant juggling of caring for children, working, money problems, and family responsibilities. However, stress has become a significant problem because it leads to more severe physical and mental health problems. Stress can affect the entire body (SLMA) and may lead to very serious outcomes such as heart disease, high blood pressure, diabetes, depression, and anxiety.
Luckily, we have methods for dealing with everyday stress. We all know that eating right, exercising, meditation, or breathing exercises can help. Some of us practice yoga; others seek out help from friends and family.
Would you believe crocheting might reduce our stress and calm our bodies? Of course, crafters have known this for a long time. Still, now there is scientific research that is showing just how beneficial needlecrafts such as crocheting or knitting can be.
In a survey done by Pippa Burns and Rosemary Van Der Meer at the University of Wollongong, Australia, found that 90 percent of people said that crocheting made them feel calmer, and 82 percent said it made them feel happier. In addition, improved memory and concentration were reported in over 70 percent of the participants. The experts concluded that crocheting does provide many positive benefits.
People who report issues with sleep may also benefit from crocheting, according to American Counseling Association. According to the Craft Yarn Council, crocheting has also been shown to reduce anxiety simply by focusing on the repetitive nature of turning yarn into fabric.
Who's Crocheting These Days
There may have been a time when older women were the only crafters spending time working on their crochet projects. In some people's minds, the image of a grandmother type crocheting a granny square Afghan emerges. Others may remember their grandmothers creating projects for charity or little gifts for their grandchildren. While many older people love to crochet, the age of the avid crocheters has declined. The Craft Yarn Council reports that a third of women ages 25 to 35 now knit or crochet. Even children and men are warming to the hobby and picking up their hooks.
Benefits of Crochet
There are numerous benefits for learning to crochet, some of which have been mentioned above. But here is a list of benefits that might surprise you.
It has a soothing effect on people because it can be repetitive depending on the project
It promotes mindfulness
Increases self-esteem and self-confidence as one produces something of value from a ball of yarn.
It helps with body aches, headaches, restlessness, and tension as you forget these issues and focus on the crafting process
Decrease in heart rate and blood pressure
Improves brain health as it requires mental effort to remember the pattern and mathematical thinking as you count stitches.
Improves muscle and joint flexibility due to the repetitive movement of the fingers
It helps deal with chronic pain as you become engrossed in the crafting process, you forget your pain
It helps with insomnia as you crochet, you calm down, making it easier to fall asleep peacefully
It helps release dopamine that acts as a natural anti-depressant
May help delay memory loss in the elderly by learning something new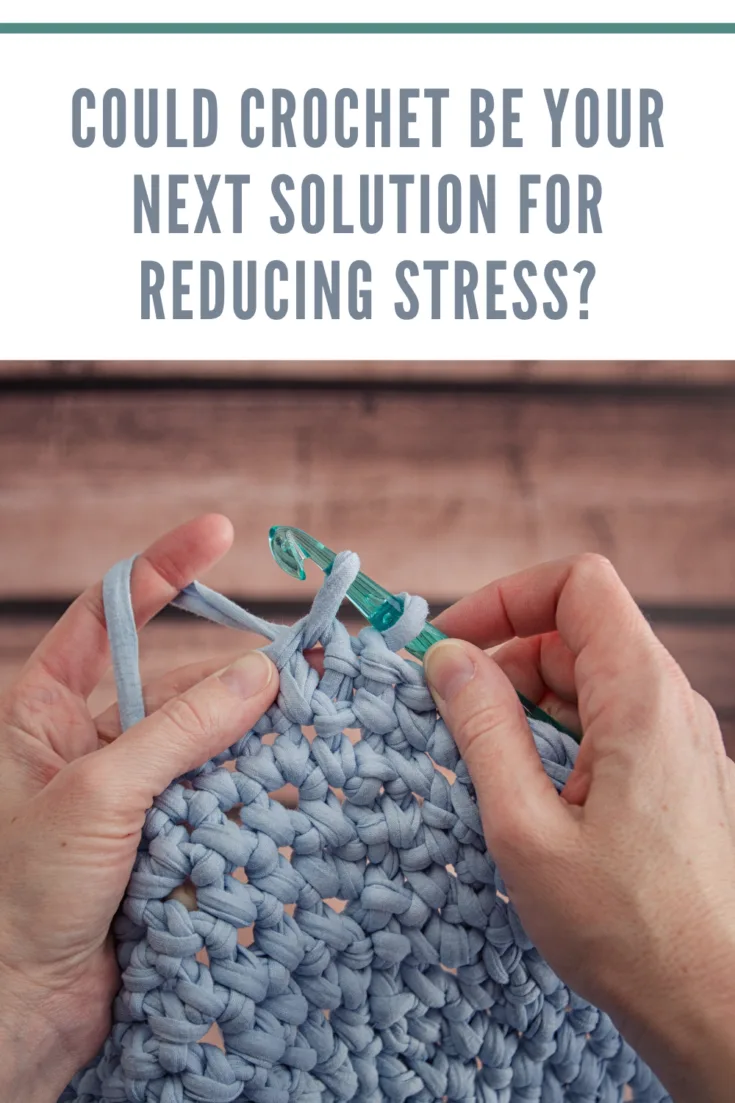 Why Crochet
It's clear that crocheting has a calming, soothing effect on the crafter, but why chose this craft? There are numerous reasons why one might decide that crocheting could be a great hobby to investigate.
Less Costly than Most Hobbies
Crochet requires few tools, and those tools are relatively inexpensive. All you need to get started is a skein of yarn, a crochet hook, a tapestry needle, and a pair of scissors. For less than $10.00, you can create a new needlecraft hobby and make something handy for yourself or a friend.
The Possibilities are Endless
Long gone are the days where crochet was reserved for making lacy tablecloths, doilies, and granny square afghans. Patterns today are not only trendy but extremely useful and beautiful, whether it be a colorful beach cover-up or a set of dishcloths for a home warming gift. People create sweaters, vests, scarves, skirts and dresses, shawls, and hats, all unique and made in the perfect color. Household items include blankets, placemats, plant holders, and cozies, to name a few.
The chance to socialize and give back to society
Once you've made everything your wardrobe needs and given gifts to all of your friends and family, you can begin to consider giving back to your community. There are numerous ways to do this, including creating blankets, scarves, and mittens for the homeless and toys and blankets for premises. The pandemic has also given us ideas such as ear savers for people who must wear face masks all day long to crocheting masks themselves.
Even better, why crochet alone when you can join a group of like-minded individuals who are also making a big difference in the lives of others. The crocheter feels confident that they are doing the greater good. They are also reaping the benefit of being around people and those social connections are invaluable.
The Learning Curve is not steep
If you have never crocheted a day in your life, you might worry that picking up a new skill make take months to years to master. The most complicated intricate patterns indeed require a skill. Still, there are so many different things you can make by just learning five simple stitches. Once you've mastered the basics, you can create blankets, scarves, potholders, washcloths, toys and baby items, and so many different projects. Five simple stitches are all you need to know to get started, says smart-knit-crocheting.com. Naturally, you can go on to more advanced tasks, but there is no need to do so unless you want to.
Where to Begin
Most people learn by doing and crochet or even knitting, which is quickly discovered by viewing videos and watching others perform these skills. There is a plethora of books available that can teach you how to crochet. Free videos on YouTube will walk you through the skills. There is also an abundance of online classes that will teach you how to crochet, one step at a time. Local craft stores and yarn shops typically have plenty of in-person courses to get you started for those who prefer a more hands-on, personal approach.
Last Words
We all have stress in our lives and need ways to reduce it before creating more significant problems. Yoga and meditation might be helpful for some. Still, they are not the only way to alleviate anxiety and produce inner calm. Crocheting or even knitting has been shown to improve mental and physical health in a way that is easy to master and very cost-effective.
Author Bio
Janice Jones is an avid knitter and crochet enthusiast who blogs at smart-knit-crocheting.com. When not crocheting, she is likely playing with her "herd" of Shih Tzu dogs, writing, or spending time with her family.