"From the Pocket of an Overcoat"
Score big with the little ones this festive season by gifting them the timeless children's book, "From the Pocket of an Overcoat" (Friendly Falls Press; Archway Publishing from Simon & Schuster), crafted by the talented author and illustrator Robert Vincent. Whether for classrooms, gift exchanges, stocking stuffers, or wrapped presents, this heartwarming tale of the adoption of a charming cat named Max Buckles is an enchanting addition to the holiday spirit. Catering to kids, parents, and animal enthusiasts alike, this acclaimed book is a gift that keeps on giving.
You can find "From the Pocket of an Overcoat" online at Amazon, bn.com, target.com, and the book's official website, maxbuckles.com, as well as select bookstores.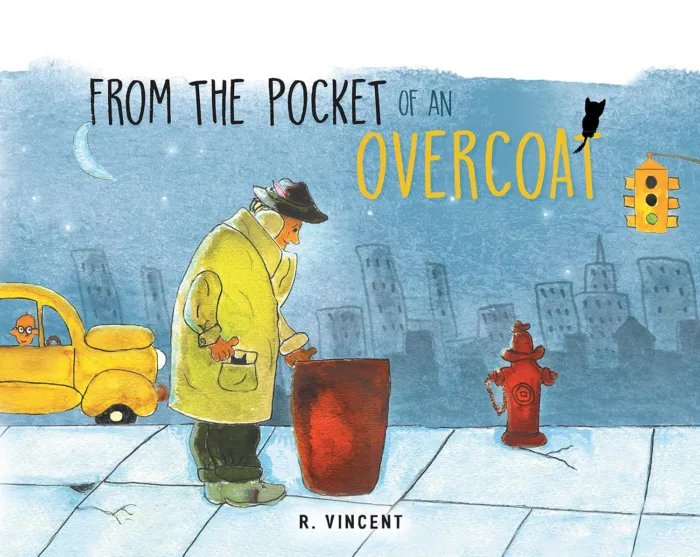 Based on A True Story:
Based on the true story of Max, a cat adopted by Vincent's son Matthew from a compassionate woman in Dallas, who discovered him as a tiny kitten nestled in the pocket of her overcoat, the narrative follows Max's journey from the city to the countryside, embracing the warmth of Farmer Buckles' home and befriending a menagerie of animals.
Through Max's adventures, readers delve into themes of self-identity, acceptance, animal rescue, and adoption, making it a delightful read for all ages. Vincent emphasizes the timely message of kindness, acceptance of differences, and the practice of compassion during the holiday season and beyond.
Our From the Pocket of an Overcoat Review:
"From the Pocket of an Overcoat" is a delightful children's book recounting the tale of Max, an endearing cat. Farmer Buckles discovered Max nestled in the pocket of Sally, an elderly lady, and after a friendly exchange involving apples, Max found himself at the Buckles Farm – a new home surrounded by various animals, including his newfound canine brothers. While the initial reception was hesitant, the dogs eventually embraced Max, fostering a warm and harmonious family dynamic.
I thoroughly enjoyed reading this book; its narrative is simple yet engaging. The font style is easy to read for older eyes and young readers. I found the illustrations to be charming, and vibrant and to carry on the story.
"From the Pocket of an Overcoat" is best suited for children in the age group of 4 to 8 years old. The simple narrative, engaging story, and vibrant illustrations make it an ideal choice for young readers who are beginning to explore and enjoy picture books.
Book Sales Support Animal Rescue and Adoption
A percentage of each "From the Pocket of an Overcoat" book sale contributes to supporting animal rescue and adoption through donations to The Humane Society and Best Friends. Fans of Max Buckles are encouraged to connect with the book on Instagram and Facebook, and by emailing [email protected] with proof of purchase, they can receive a special Thank You note from Max himself. Explore more about Max's adventures at www.maxbuckles.com or follow the hashtags: #maxbuckles, #maxbucklesbooks, #maxthecat, #readenjoysharemax, and #fromthepocketofanovercoat.
About Robert Vincent:
Robert Vincent, residing in Los Angeles with his wife Kathy, is not only a children's book author and illustrator but also the creative mind behind several other literary works. His son, Matthew, a violinist with the Oakland Symphony and Sacramento Philharmonic & Opera, played a pivotal role in the family's adoption of Max, the lovable black cat, in December 2009. The heartwarming journey of Max Buckles became the inspiration for this delightful tale, leaving an indelible mark on readers young and old.