We received Crazy Aaron's Thinking Putty in exchange for this post. All opinions and our love for Thinking Putty remain our own.
At our house, we love Crazy Aaron's Thinking Putty.
We recognize slime is trendy.
But once you've had to deal with the mess of making slime, getting it out of hair, clothes, carpets, and more, it becomes banned at our house.
This is where I will let you in on a bit of a secret.
I'm going to introduce you to my friend Crazy Aaron.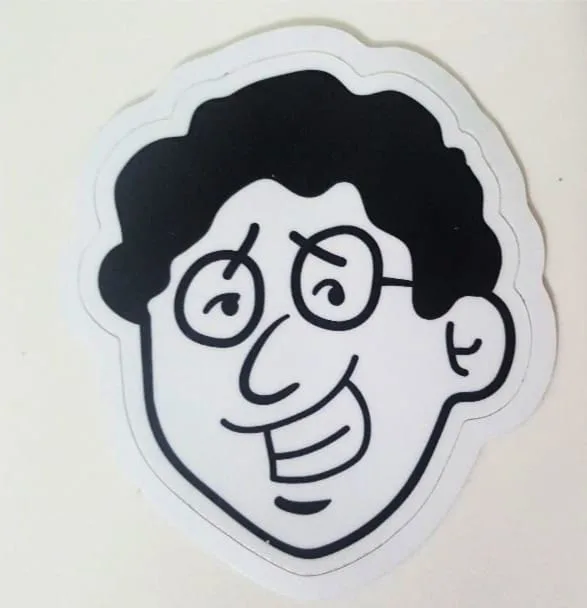 By day he's a computer programmer, and by night he is a mad scientist who learned enough chemistry to make what he calls Thinking Putty.
If you aren't familiar with Crazy Aaron's Thinking Putty, it is a high-quality, silicone-based putty that is safe, non-toxic, and will never dry out.
The kids like Crazy Aaron's Thinking Putty because it can be stretched, kneaded, bounced, molded, popped, and torn.
It also has a unique effect that includes glow-in-the-dark, heat-sensitive, magnetic, metallic, and scented putty.
All in all, Crazy Aaron offers 50+ amazing colors, and it's all made in the USA!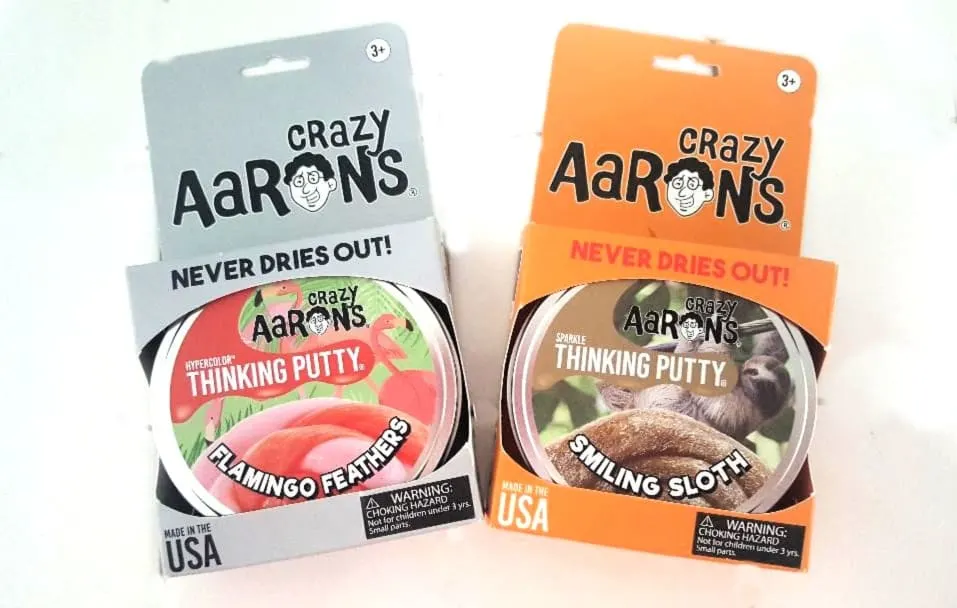 Crazy Aaron is generous with 3.2-ounce tins (mini and mega-size are also available).
It costs about $10 per tin, but special effects cost a little more.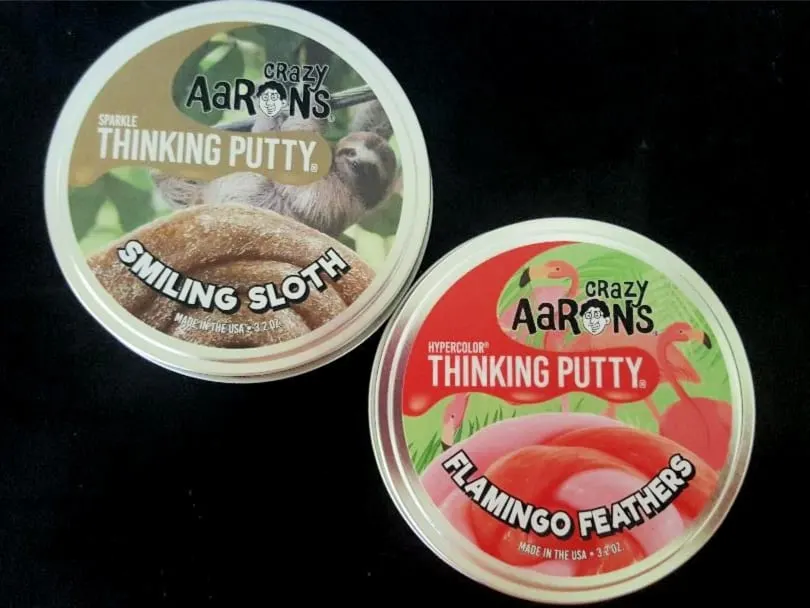 Here's a tip: leave your tin resting with the Crazy Aaron label in the face-up position before opening so that you can have easy access.
If you leave the tin on the side or upside down, the Putty will grab the lid, and you have to have Hulk-like strength to get the lid off!
Next, twist your lid and get ready for creative play.
We'll start with Crazy Aaron's Feathered Flamingo.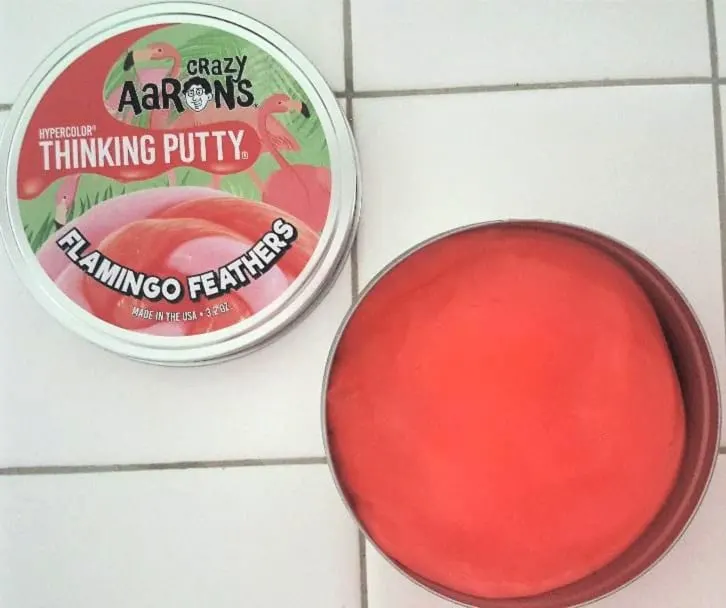 It's coral pink.
It looks matte, but if you look closely, it has SPARKLE!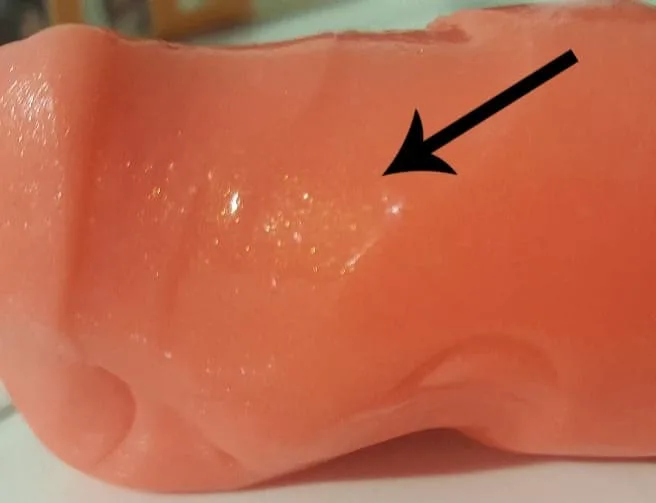 It's very pliable.
It has an incredible stretch.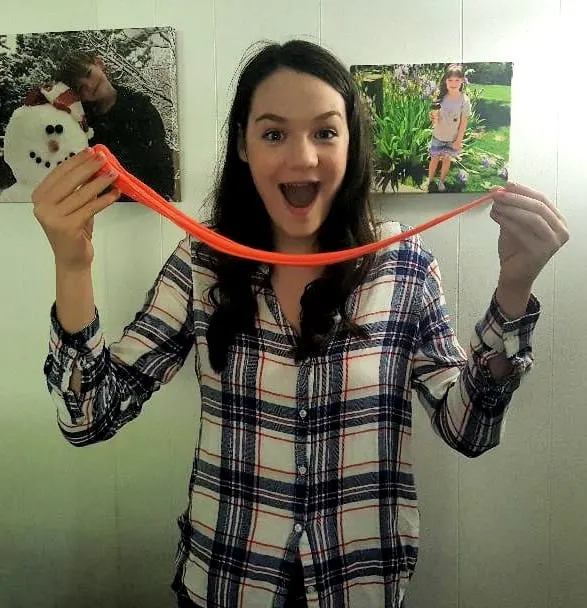 The labeling is basic.
Minimal text.
No actual directions on what to do with it.
But that's the beauty of this product.
No one is imprinting ideas or boundaries on the play.
It can bounce
It can be molded.
It can be popped
And it can be torn.
Flamingo Feathers Thinking Putty is also a hyper color.
That means it changes color with heat.
When heat is applied, or you manipulate it for a more extended period, it turns a pale pink.
There's also Crazy Aaron's Smiling Sloth Thinking Putty.
Because, seriously?
Who doesn't love a smiling sloth?
This thinking putty is a greyish brown color.
It has golden sparkle fleck fibers that look like a sloth's fur.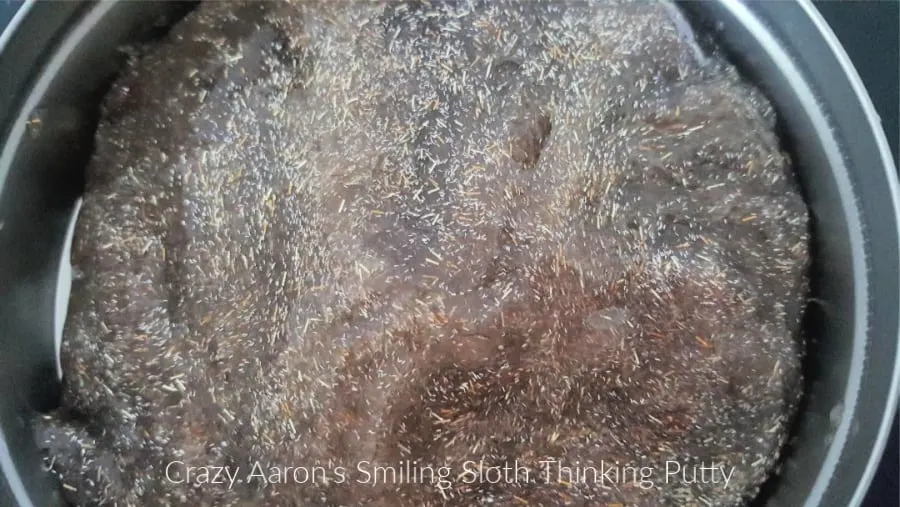 It can be stretched, kneaded, bounced, molded, popped, and torn.
And while Aaron may be crazy, his manufacturing plants work with seven Philadelphia-area vocational centers to employ many exceptional individuals with intellectual and physical disabilities.
Check out all the options at puttyworld.com
Because this is NOT your parents' slime.
Nope–this stuff is parent-approved—it doesn't stick to clothing, carpet, walls, or hair.
We are having so much fun playing with Crazy Aaron's Thinking Putty. We know you will too!