In honor of the epic release of TEENAGE MUTANT NINJA TURTLES: MUTANT MAYHEM, we've whipped up a totally tubular TMNT-inspired recipe that will have you shouting "Cowabunga!" Get ready to chow down and prepare to be shell-shocked by the awesomeness of these Character Pizzas. Each pizza represents one of your favorite heroes in a half-shell, and they're as delicious as they are fun to make.
History of the Dish:
The Teenage Mutant Ninja Turtles have been a pop culture sensation since their comic book debut in 1984. These pizza-loving crime fighters quickly became beloved icons, inspiring a whole generation of fans. Character Pizzas pay homage to these heroes and are perfect for a TMNT-themed party or a family pizza night.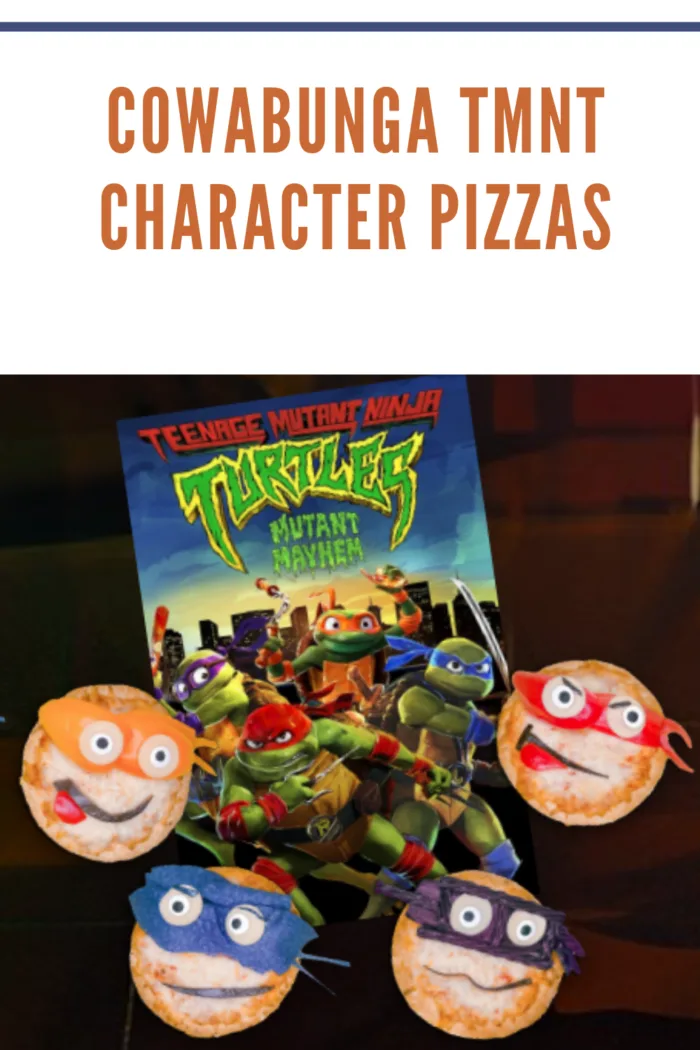 Cowabunga Character Pizzas
Prep Time: 20 minutes
Cooking Time: 15-18 minutes
Servings: 4
Ingredients:
1 can refrigerated biscuit dough
1 cup (240 ml) pizza sauce
8 ounces (225g) shredded mozzarella cheese
Assorted food items for creating your own TMNT character masks (orange bell pepper, blue tortilla chips, purple eggplant, red bell peppers, black licorice)
Cornmeal and Flour for dusting
How to Make Cowabunga Character Pizzas
Instructions:
Preheat the Oven:

Preheat your oven to 400°F (200°C).

Prepare the Pizza Crusts:

Roll out the refrigerated biscuit dough on a floured surface. This will be the base of your pizzas.

Prepare the Baking Sheet:

Sprinkle cornmeal on a baking sheet to prevent sticking.

Shape the Pizza Crusts:

Lay down the rolled-out crusts on the prepared baking sheet, leaving about 1-inch of space between them.

Add the Sauce:

Spread 1-2 tablespoons of pizza sauce on each pizza crust, ensuring even coverage.

Sprinkle the Cheese:

Sprinkle shredded mozzarella cheese generously over the sauce on each pizza.

Bake to Perfection:

Slide the pizzas into the preheated oven and bake for 15-18 minutes or until the crust is golden and the cheese is bubbly and slightly browned.

Create TMNT Masks:

While the pizzas are baking, channel your inner turtle creativity.
Use the following ingredients to create the TMNT masks:

Michelangelo (Mikey): Orange bell pepper slices.
Leonardo (Leo): Blue tortilla chips.
Donatello (Donnie): Purple eggplant with black licorice for glasses.
Raphael (Ralph): Red bell pepper slices.

Cut out eye holes from sliced mozzarella using a small round cookie cutter, and place candy eyes on top.
Use thin slices of eggplant for eyebrows and smiles to complete the character masks.
TMNTMM_CharacterCheesePizzas_InstructionSheet3

Expert Tips:
Feel free to customize your Character Pizzas with your favorite toppings, just like the Turtles would! Additional veggies, pepperoni, or even some grated Parmesan cheese can be excellent choices.
To make these pizzas extra crispy, sprinkle a bit of cornmeal on the bottom of the crust before adding the sauce.
Storage and Leftovers:
Character Pizzas are best enjoyed fresh from the oven. However, if you have leftovers, store them in an airtight container in the refrigerator for up to 2 days. Reheat in the oven for that perfect crispy texture.
FAQs:
Q: Can I use homemade pizza dough instead of refrigerated biscuit dough? A: Absolutely! Homemade pizza dough can add a personal touch to your Character Pizzas. Just make sure to roll it out to a similar thickness as instructed.
Q: What can I use as a substitute for candy eyes? A: Mini marshmallows, olive slices, or small pieces of cheese can work as fun and edible eye substitutes.
Alternate Names:
Ninja Turtle Character Pizzas
TMNT Hero Pizzas
Turtle Power Personal Pizzas
Make it a Family Night with Character Pizzas and TMNT Mutant Mayhem:
Epic TMNT Adventure Alert!
Get ready for the thrill of TEENAGE MUTANT NINJA TURTLES: MUTANT MAYHEM, available for Digital purchase or rent, from Paramount Home Entertainment.
97% Certified Fresh on Rotten Tomatoes®!
Critics call it "vibrant" and "hilarious" while fans rave it's the Turtles movie of our dreams.
Bonus Content:
Explore the making of the movie with 40+ minutes of behind-the-scenes magic!
Meet the teenage voices behind the Turtles.
Uncover the mutant antagonists led by Ice Cube's Superfly.
Dive into the visual world of MUTANT MAYHEM.
Learn to draw Leonardo, the Turtle leader.
Synopsis:
The Turtles venture into the human world to win hearts as heroic teenagers. With April O'Neil by their side, they face a menacing crime syndicate and an army of mutants.
Rating: PG – Action, Language, Mutant Fun!
Don't miss this shell-tastic adventure! #TMNTMutantMayhem