I received a Copper Chef in exchange for this post. All opinions are my own.
Copper Chef is making my holiday treat making so much easier.
We cook a lot at home. Our kitchen is tiny and has very little prep area. Meals that require multiple pans and baking dishes are challenging. I love one-pot meals, and Copper Chef is perfect for this too.
The Copper Chef pan is square, which is a unique shape for a kitchen pan. It measures 9.5-inches square with high sides.
There is a reason for the shape and high sides. Copper Chef is oven-safe up to 800-degrees F. and can be a steamer, stockpot, wok, baking dish, roasting pan, and rice cooker all in one.
It is light weight and distributes heat evenly.
It features a Cerami-Tech coating that helps even the stickiest creations slide right out of the Copper Chef.
It includes a fry basket, a steam and roast rack, a recipe book, pan, and lid.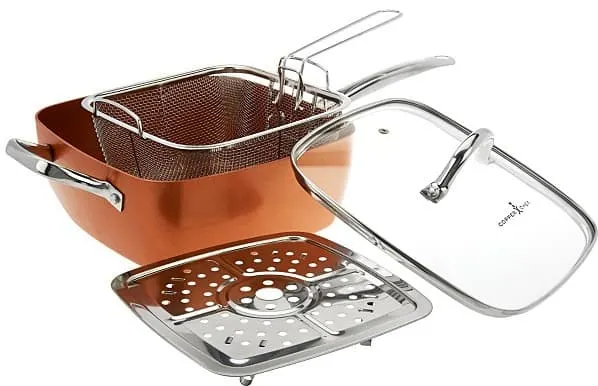 9.5-inch deep square pan (Measures with handle 19-3/8–inches long x 9-1/2-inches wide x 4-1/2-inches high)
Fry basket (measures with handle 13-5/8-inches long x 7/3/4-inches wide x 3-1/2-inches high)
Steam and Roast Rack
(1) Tempered Glass Lid (that fits nicely on both pans)
Recipe Book
Copper Chef is dishwasher safe.
I tested the non-stick with Rice Krispie Treats.
Melted marshmallow is usually the bane of kitchen cleanup.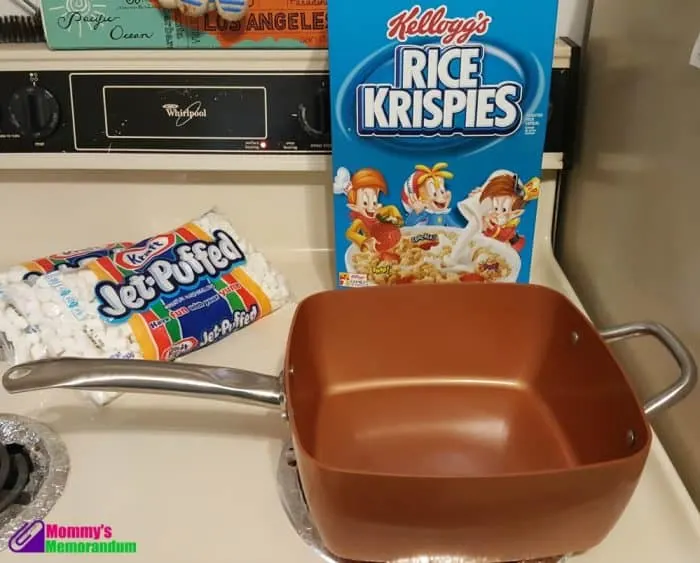 I added 3 Tablespoons butter.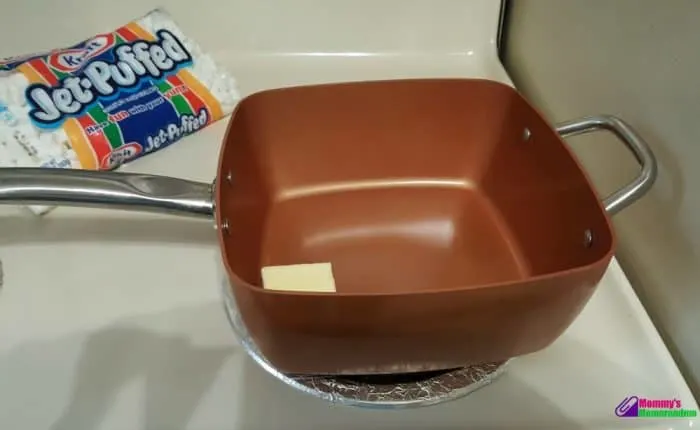 It didn't take long for the butter to melt.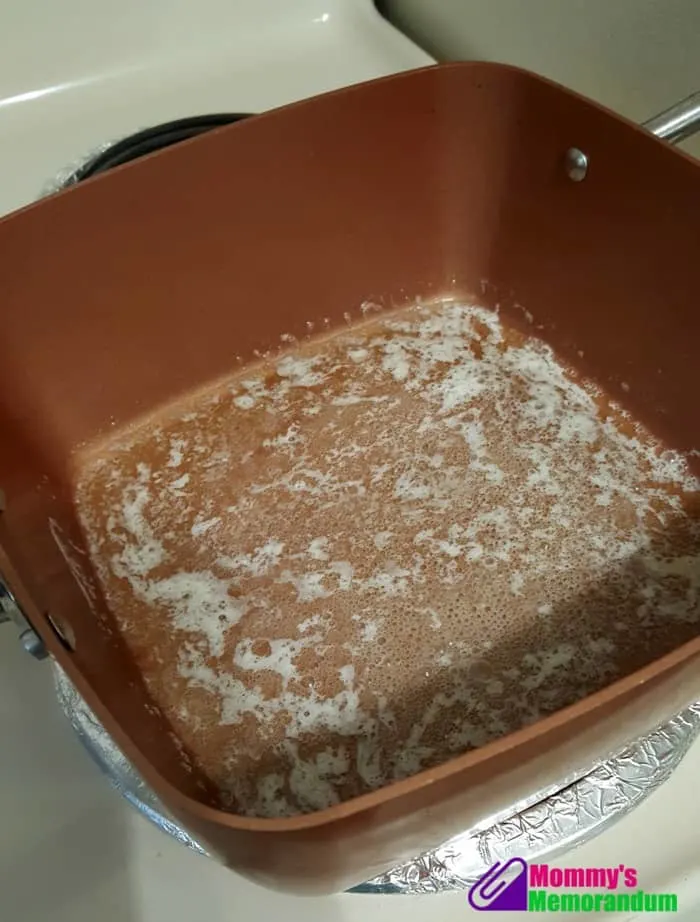 I added 10-ounces of marshmallows to the melted butter.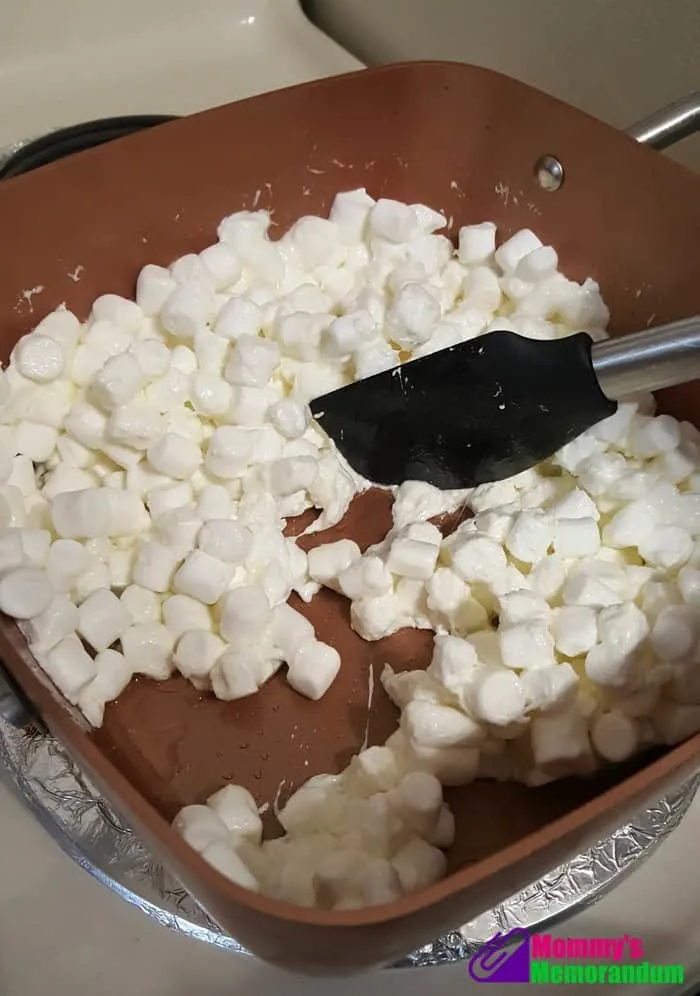 I stirred until the marshmallows melt.
I didn't need to stir.
They didn't stick at all to the Copper Chef pan.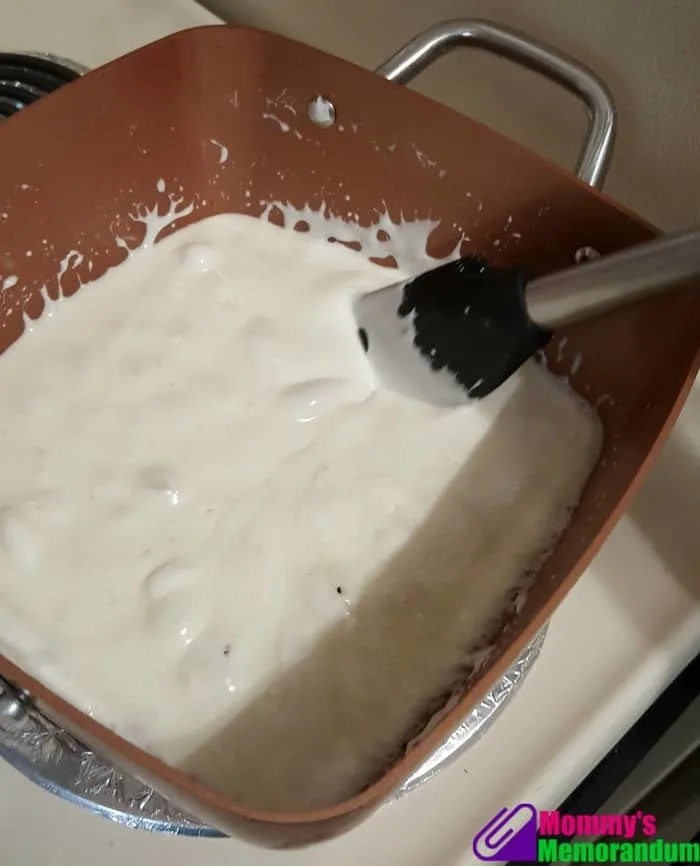 I added 6-cups of Rice Krispie cereal to the melted marshmallows and stirred.
I was impressed because there was very little work.
With the marshmallows not sticking, it was so easy to coat the Rice Krispies.
Once I covered all the cereal and poured it right out of the Copper Chef into the greased pan.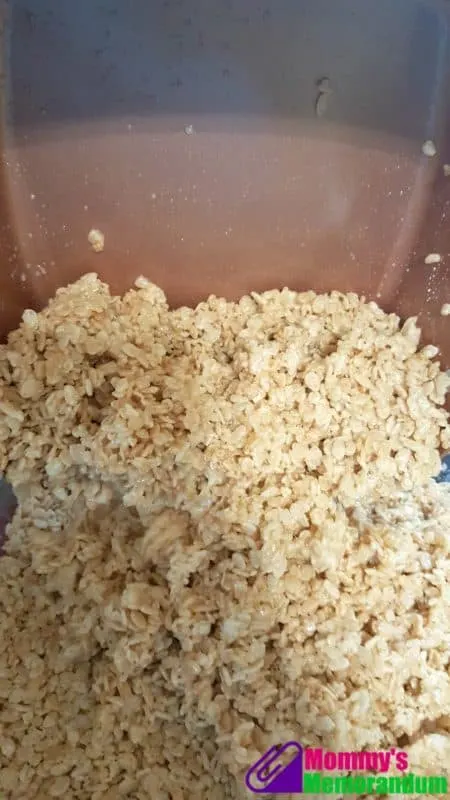 Nothing stuck to the pan. It just poured right out.
I could have seriously just wiped the Copper Chef with a paper towel and called it clean. Of course, I washed it, but I'm just saying, it was free from any sticky marshmallows.
You can purchase your very own Copper Chef pan at Amazon.
Note that while the name Copper Chef may sound like a copper pan, the pan is merely copper-colored.
It does feature Cerami-Tech technology which is why nothing sticks to it.
I think the depth gives this pan flexibility for larger portions.
It also makes for excellent steaming of vegetables.
I've used the Copper Chef to fry eggplant for
I've used the Copper Chef to fry eggplant for eggplant parmesan.
It worked well, but it does require a lot of oil due to its large size.
I do like that the fry basket is customized to fit the Copper Chef perfectly.
The steam rack is also customized to fit–though I tend to use it more as a trivet for the pan most.
Overall, I really like this pan. It is my favorite for Rice Krispies, including layered Rice Krispies Treats, and Christmas Crack.
It is versatile making it ideal for my small kitchen.
Copper Chef makes a great gift for the foodie in your life.