Just as the winter storm hit, I received a copy of 125 Best Casseroles and One-Pot Meals. While lately, my go-to comfort casserole is Easy Homemade Chicken Pot Pie, I enjoy finding new recipes and browsing cookbooks. Rotating something new in the weekly menu is always welcomed.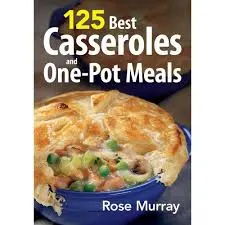 125 Best Casseroles and One-pot Meals is back in print with all new photos. Let's face it, casseroles and one-pot meals are some of the most friendly, soothing, and convenient ways to prepare a meal.
I love seeing the items in my produce section at the grocery store used in a recipe. I've been eyeing leeks for a while and am eager to try to incorporate them into a dish. This book offers an Easy Beef and Leek Stew in Chive Popovers on pages 80 and 81 (two recipes) that I may have to give a try in the kitchen one weekend. I'm also intrigued by Cheddar-Corn Impossible Pie on page 174.
Casseroles and one-pot meals are the ideal solutions for busy home cooks who want wonderful food with a minimum of fuss and maximum taste. Convenience, easy preparation, economy, and portability make this cooking method perfect for today's busy lifestyles.
These recipes and their results are very tempting and many are make-ahead. The wonderful variety includes big casseroles to delight a number of friends or to freeze in small amounts for future family meals, to long-simmering stews that will warm and comfort all on cold winter nights. The skillet meals range from small and quick dinners and stir-fries that are easy for novice cooks to elegant dishes that are entertaining-worthy.
Pasta
Baked Tortellini with Three Cheeses
Quick Mushroom-Beef Lasagna
Chicken and Shrimp Pad Thai
Pasta E Fagioli Casserole
Chicken and Turkey
Honey-Curried Chicken and Apricots
Individual Chicken Pot Pies
Quick Cassoulet
Turkey and Corn Enchiladas
Beef and Veal
Meatball Stroganoff
Osso Buco-Style Braised Veal
Skillet Shepherd's Pie
Indian Corn Stew
Classic Cabbage Rolls
Lamb, Fish, and Seafood
Braised Lamb Shanks with Olives
Grilled Eggplant Moussaka
Salmon and Potato Strata
Seafood and Broccoli Lasagna
Cod Baked with Tomatoes and Feta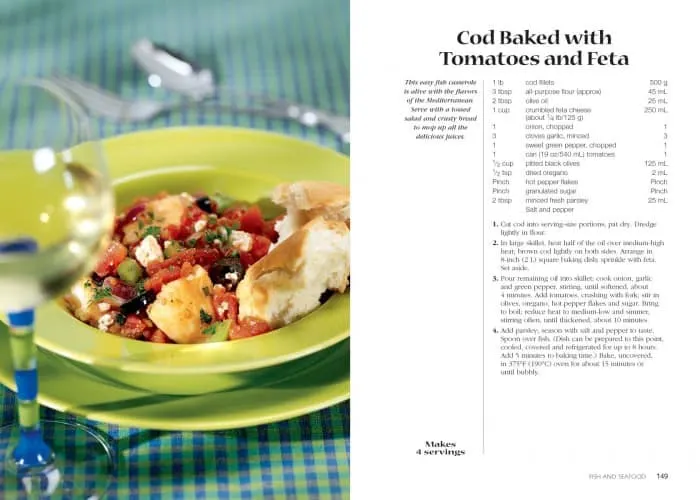 Vegetarian
Garden Paella
Confetti Corn and Chili Pie
Squash and Bean Stew with Chipotle Cream
Roasted Summer Vegetable Lasagna.
These outstanding recipes define comfort with the huge appeal of one-dish cooking. It's a great cookbook for those who like to enjoy the cooking experience as a minimalist in prep and dirty dishes and savor comfort food flavors.
---
Resources: