In celebration of the release of Clifford The Big Red Dog on Blu-ray and DVD, we're excited to share a watch party kit including recipes for snacks and drinks, decor, games, party favors, and more!
It's a PAW-ty! Clifford The Big Red Dog is now available on Blu-ray and DVD! Celebrate with this festive watch party kit:
THIS Valentine's Day, we have a supersized adventure the entire family can enjoy together!
Make it a Family Movie Night with Clifford The Big Red Dog and a watch party!
Clifford The Big Red Dog is available on Blu-ray and DVD and is the perfect opportunity for family fun!
Big fun awaits and it's about to get a whole lot BIGGER with this movie.
Entertainment Tonight's, Matt Cohen calls it "a movie families need right now".
CLIFFORD THE BIG RED DOG is the perfect movie for the whole family to cozy up at home and watch during the holidays. Plus, fans can have twice the fun with a two-movie collection featuring PAW PATROL: THE MOVIE and CLIFFORD THE BIG RED DOG exclusively on Digital together for one pup-tastic price.
The Digital* release of CLIFFORD THE BIG RED DOG features supersized and fun-filled bonus content, including a behind-the-scenes tour with the cast, a closer look at the puppeteers who helped bring Clifford to life, an exploration of Clifford's beginning with creator Norman Bridwell, hilarious tips for caring for a giant dog, and deleted scenes not seen in theaters! Details on the bonus content are listed below.
We also have Clifford the Big Red Dog Valentine's Day Collection Box and Red Velvet Cupcakes inspired by the supersized dog!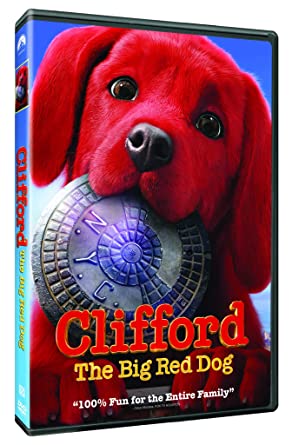 CLIFFORD THE BIG RED DOG Synopsis:
When Emily discovers her little red puppy named Clifford has grown ten feet overnight, she turns to her eccentric Uncle Casey for help. But when a mad scientist tries to capture the larger-than-life playful pup, it takes the entire neighborhood to hide Clifford as they race across the city. Get ready for the incredible, laugh-out-loud comedy adventure that is BIG fun for the entire family!
Look at the Family Watch Party that is Ready to Be "Unleashed"-
Clifford Movie Party Guide
By Ramona Cruz-Peters, Fab Everyday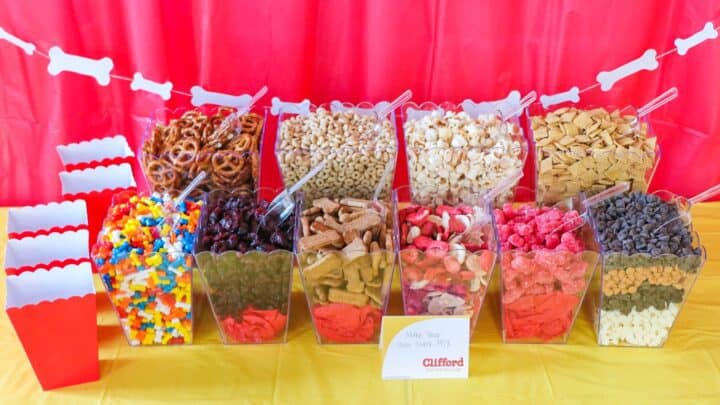 PARTY GUIDE
Food/Drink:
Make Your Own Snack Mix Bar. Kids can create their own snack mix cups using red paper cups filled with different ingredients of their choice from the snack bar. Items would include popcorn, cereal pieces, and a lot of red candies and ingredients.
Candy Melt and Pretzel "Bones" (Instructions below)
Clifford's "Bark-uterie." A charcuterie platter with kid-friendly meats and cheeses (some cut into small bones with a cookie cutter), red fruits and veggies, and crackers. (Instructions below)
Beverage: Red Kool-Aid, fruit punch, or cranberry juice served in clear cups with red/white striped straws.
Decor:
Overall color scheme: Red (the dominant color, obviously), blue, yellow
Yellow tablecloth, red backdrop with bone garlands
Red napkins, plates, utensils
Food table/snack bar sign: "Bone Appetit" printable
Food sign printables with Clifford on them
Games/Crafts:
Clifford Mask Craft: A simple craft with red paper plates, construction paper, and popsicle sticks. (Instructions below)
Fetch Game: A timed relay type of game where kids collect small dog squeaky toys and the fastest team wins.
Clifford activity booklets (printed from the official Clifford movie website or below).
Party Favors:
"Thanks BIG Time!" printable round label attached to a clear treat bag with unbranded red candies/wrapped candies.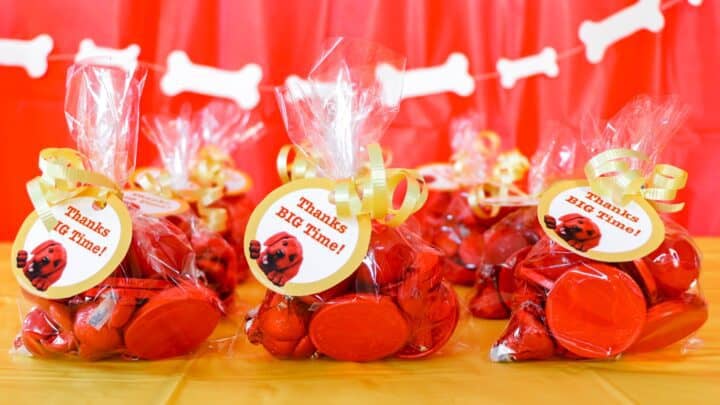 RECIPES AND CRAFTS
Candy Melt and Pretzel "Bones"
These bone treats are for kids (not pups) and are perfect to make for a Clifford The Big Red Dog watch party!
What you need:
Pretzel rods
Mini marshmallows
White candy melts, divided
Wax paper
Instructions:
Break the pretzel rods into small pieces, approximately 2" long.
Melt half of the candy melts per package directions. Dip the ends of two mini marshmallows into the melted candy, then stick to one end of the pretzel rod, then lay on wax paper. Repeat with two more mini marshmallows and stick them to the other side of the pretzel, so the pretzel and marshmallows resemble the shape of a bone. Repeat to make as many bones as you'd like, then let cool until the candy dries and hardens.
Melt the remaining candy melts. Dip the pretzel bones into the melted candy, shaking off the excess. Lay on wax paper until the candy dries completely.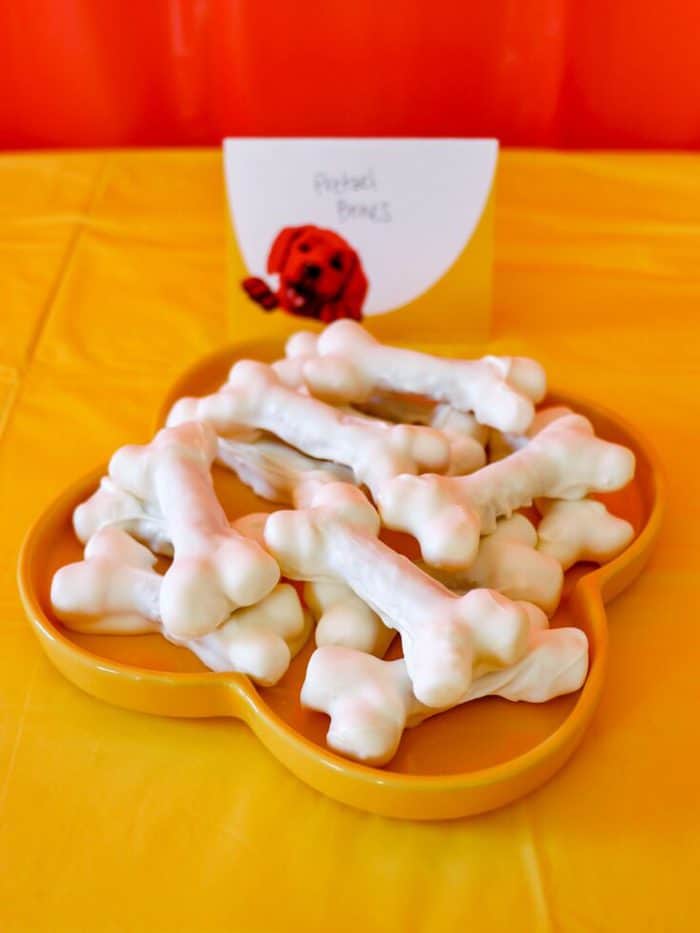 Clifford's "Bark-uterie"
This kid-friendly charcuterie board is full of kid-favorite meats, cheeses, fruits, and vegetables. Bone-shaped cookie cutters add to the fun. This snack will be a BIG hit for a Clifford The Big Red Dog movie watch party! (and don't forget this Bark-uterie for your dog)
What you need:
Board or serving platter
Bone-shaped cookie cutter
Your favorite deli meats and cheeses (such as ham, turkey, salami, cheddar, and Monterey Jack)
Crackers
Red fruits (such as strawberries, raspberries, and cherries)
Red veggies (such as cherry tomatoes and sliced red bell pepper)
Instructions:
Use the cookie cutter to cut the meat and cheese into bone shapes.
Arrange the meat and cheese on the board. Surround with crackers, then fill the remaining space with fruit and vegetables.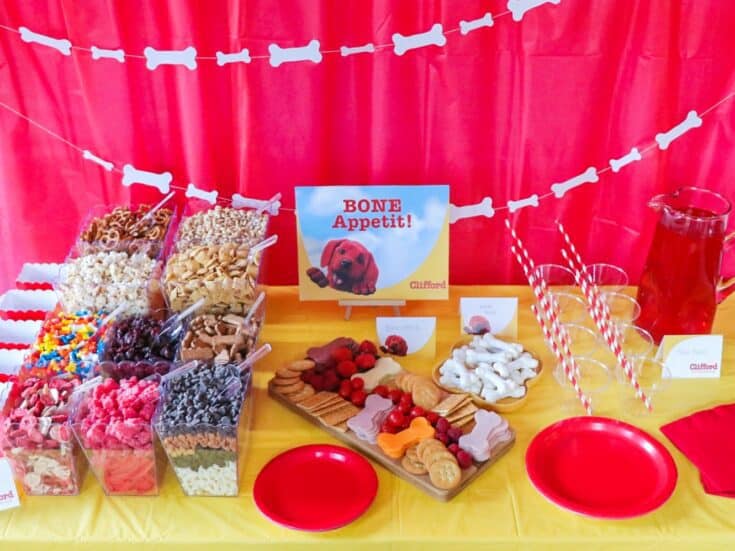 Clifford Mask Craft
Such a simple craft, but such BIG fun! This paper plate mask is a fun and creative activity to celebrate the release of Clifford The Big Red Dog.
What you need:
Red plate
Red and black construction paper
Popsicle stick
Scissors
Double-sided tape
Masking tape
Black marker
Instructions:
Cut eye holes into plate.
Cut 2 red ears and 1 black nose out of construction paper. Attach to the plate with double-sided tape.
Draw a mouth under the nose using the marker.
Attach the popsicle stick to the back of the plate with masking tape to make a handle for the mask.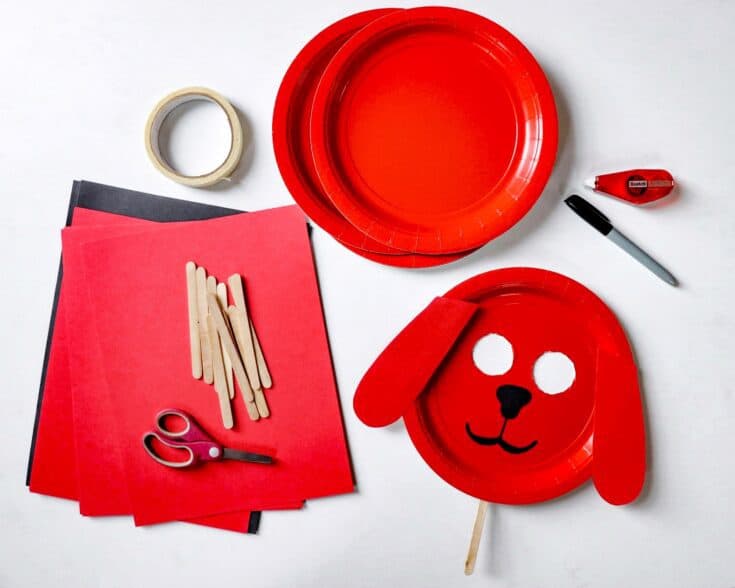 CLIFFORD THE BIG RED DOG Digital* & Blu-ray Bonus Content
Part of the Pack—
Get a behind-the-scenes look at Clifford's big movie with interviews from cast and crew.
Acting is for the Dogs—
There's more to Clifford than meets the eye: meet the puppeteers who brought the giant red pup to life!
The Magic of Bridwell –
See where Clifford's big adventure began from creator Norman Bridwell's early drawings for the beloved Scholastic book series to Clifford's worldwide fame.
Tips & Tricks for Taking Care of a 10-Foot Dog –
Get hilarious tips on how to take care of a giant dog!

Deleted Scenes
CLIFFORD THE BIG RED DOG DVD
The DVD includes the feature film in standard definition.
Clifford on Social Media:
CliffordMovie.com
FB, IG, TW: @CliffordMovie
#CliffordMovie
Clifford_the big red dog ActivitiyBook_Nov10