When I first heard about CBD oil, I'll admit I was a bit skeptical. My mind immediately turned to weed. When HelloMD, an online community that brings together doctors and cannabis users, asked me to review their CBD products, I was willing to research it more. I began learning about the benefits of CBD oil and I liked what I was learning.
The products offered were made from the chemical compound CBD, which stands for Cannabidiol.
Cannabidiol is a non-psychoactive cannabis compound that doesn't give users the feeling that they are high or stoned.
We are not talking about getting high, CBD Oil is all about getting healthy.
One of the more common questions about CBD regards the legality of it. People see a marijuana or hemp product and automatically assume it is illegal. This, however, is not true. CBD is legal in all 50 states because it has under 0.3% THC. THC is the psychoactive ingredient found in marijuana that causes the "high."
3 Reasons I Tried CBD:
I suffer the top three problems we all have:
Poor Sleep
General Pain
Anxiety
My research led to the understanding that the correct application of CBD oil may resolve all of these.
What Is CBD Anyway?
CBD has been a game-changer for me—and for millions of other people, too. But what exactly is CBD?
We already discussed that it's a compound within the cannabis plant that is non-psychoactive, but CBD is also an:
Anti-emetic
Anti-spasmodic
Neuroprotectant showed to "affect some of the hallmarks of Alzheimers disease."
Effective pain reliever
Anxiety-reducing compound
Anti-inflammatory so that it may help with autoimmune disorders such as Crohn's disease
Sleep Aid
The February box of HelloMD had the theme of Focus.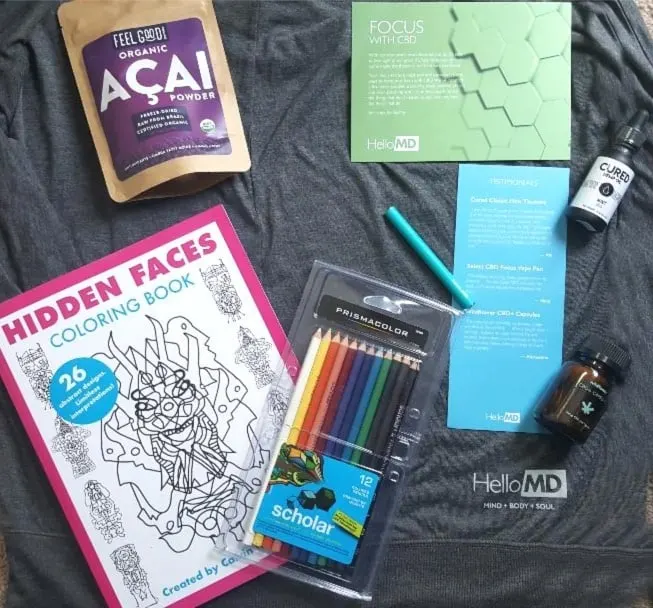 It could not have come at a better time. I seem to be trying to keep up, my mind is everywhere, and I'm a human predisposed to overthink everything.
CBD For Focus
How CBD can improve your focus
CBD helps your focus by allowing more serotonin to flow in your brain similarly as a selective serotonin reuptake inhibitor (SSRI). This increased serotonin leads to less anxiety. Less anxiety means more focus.
There are a few different ways to consume CBD, each with its benefits and disadvantages.
Let's talk about CBD for focus.
Please note — ALL of these brands contain less than 0.3% THC (the part of the cannabis plant that makes you feel high), which is the current regulation for CBD oils sold across the US. This means that these CBD oils should have no psychoactive effects.
CBD Vaping Pen for Focus:
I have found great relief for aches using the Wildflower Aches vaping pen. This month's HelloMD box offered the Select Focus Vaping Pen. Vaping pens are electronic cigarettes. The Select Focus Vaping Pen is sleek and modern. It's compact so it is easy to keep on you, and it is discreet.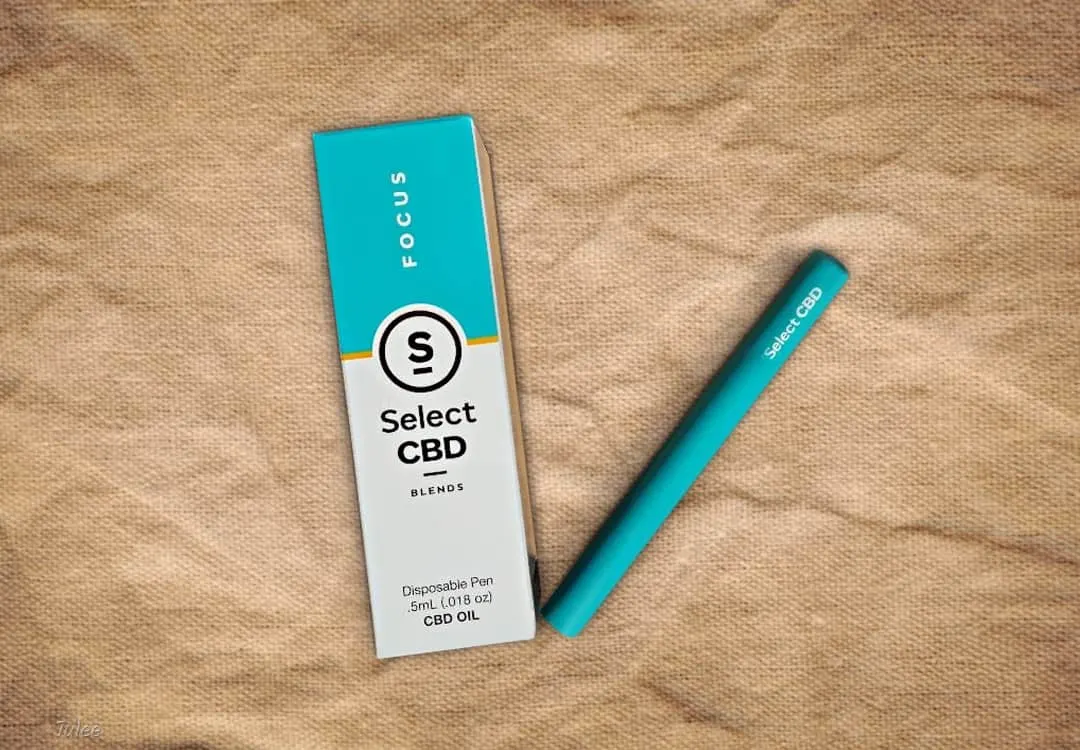 The benefit of a vaping pen is the effect is almost immediate. The downside is that the effect is often short-lived. You may have to be consistent in use to maintain the desired level.
The Select FOCUS Vaping pen offers 100% Pure CBD Oil blended with Peppermint formulated to provide the exhilarating, clarifying benefits of medicinal CBD with an herbal lift. Each vape contains 250mg of CBD.
Select is a brand that is considered one of the pioneers in vaping pens. They have seven levels of quality checks they perform on the Select CBD pen.
Select CBD offers six different flavored disposable CBD oil vape pens that contain only three ingredients: CBD oil, coconut oil, and essential oil for flavor. Each essential oil is also supposed to have a different effect on you, from relaxation to regaining energy, and so on. This is my second Select Vaping pen, my first was the RELAX, which I use each evening before bed to help me fall asleep.
The pen itself is a calming deep turquoise color. This is a disposable CBD vape pen, it comes charged and ready to go for you. Just take a draw on it to inhale the vapor. It offers a subtle draw with a hint of flavor (Peppermint for the FOCUS vape). Because this is an MCT base, you aren't going to have the big clouds of vapor. It's very discreet.
The box says 1.64mg is a serving, and a serving is a 6-second puff. I expect to get about 150 puffs from this pen.
Depending on my focus, I find the Select FOCUS Vape pens work relatively quickly. On a day when my mind was bouncing off the walls, it did take 27-minutes for the effects to begin working. I could have taken another puff for faster results.
CBD Tincture for Focus
Tinctures remind me of old apothecary medicine. If you aren't familiar with, tinctures use a dropper to drop the tincture under the tongue. You hold the tincture under the tongue for at least 30 seconds and then swallow.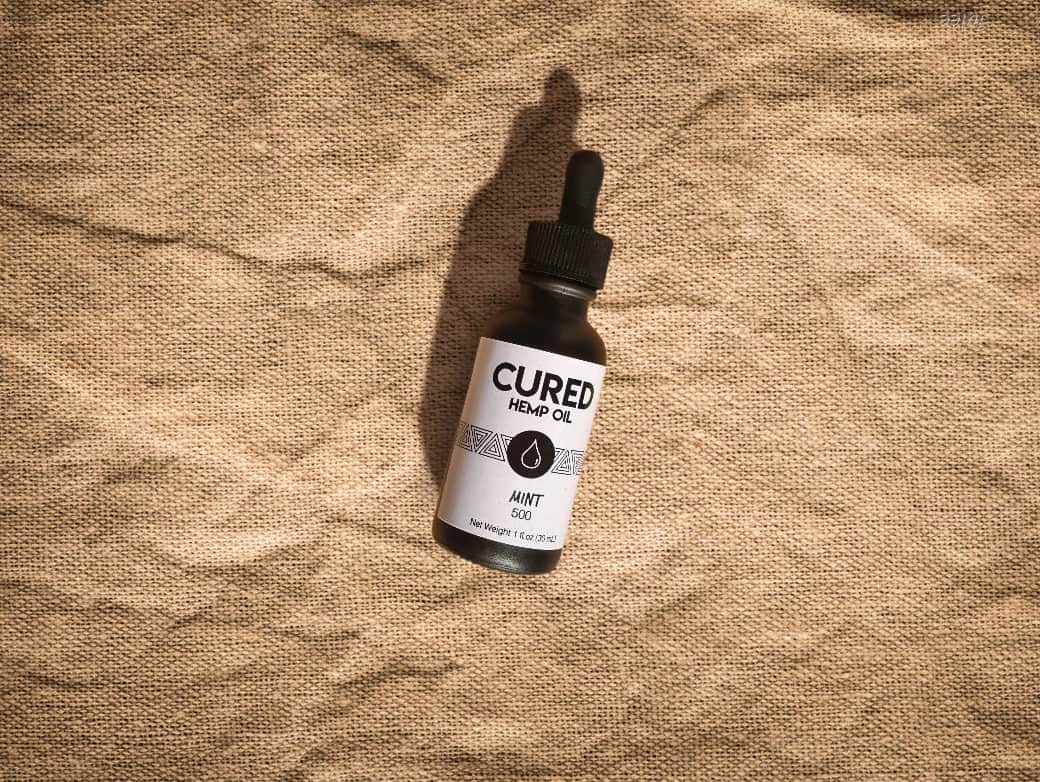 I have been using Wildflower Aches vaping pen, and, it has done wonders for my joint pain. This month I've introduced the Cured Mint Tincture. Each bottle of Cured's Classic Mint tincture contains 500 mg of CBD and a refreshing mint flavor. The taste is very mild. I think it's relatively flavorless, but there is a hint of mint, rather than the strong aftertaste some tinctures leave.
Each dropperful contains about 16mg of CBD. Take more or less depending on your needs.
The bottle recommends taking 1 to 2 servings
Recommended daily dosage 1 to 2 servings taken sublingually. Each serving (dropper) is 16.7mg of cannabinoids. There is approximately 30 servings per 1 ounce bottle. This tincture has a 2-year shelf-life.
Cured Classic Mint Tincture is Organic, Non-GMO, Vegan, Gluten-Free, No preservatives, Lab Tested, and packaged in GMP certified building.
CBD Capsules for Focus:
I love the CBD products from Wildflower. This month I added the Wildflower CBD+ Capsules. These capsules might be my favorite CBD product yet.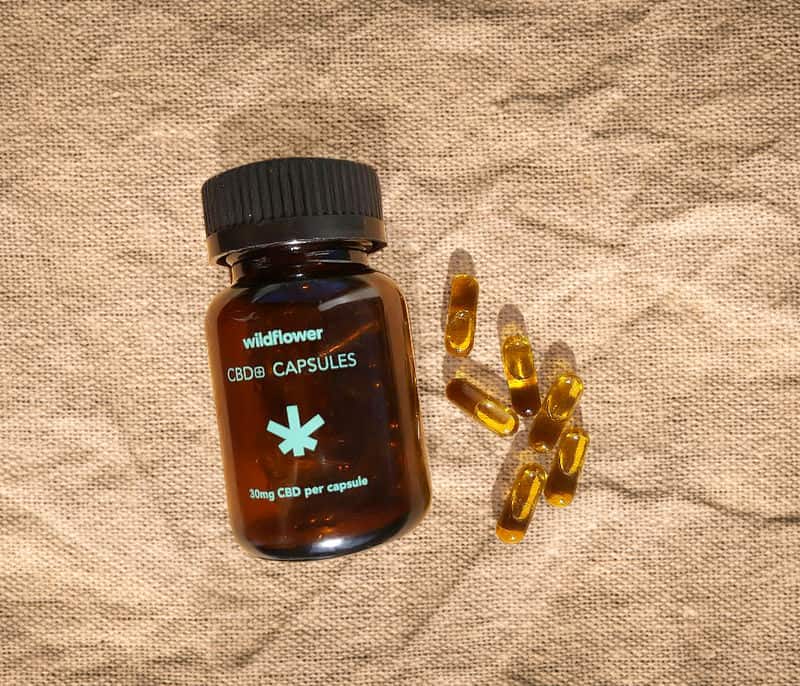 Capsules are a convenient and effective way to incorporate CBD and its benefits into your daily wellness routine. I take one in the morning with my vitamins and one in the evening before bed.
The capsules are formulated with whole hemp plant CBD and organic hemp seed oil—naturally rich in amino acids and beneficial Omega 3 & 6— added for a convenient way to boost and maintain health.
The capsules are clear. You can see the oil inside. Each capsule is packed with CBD-30mg to be exact.
The recommended dosage is 1-2 capsules a day with plenty of water.
CBD is an anti-inflammatory, so these capsules keep my joints feeling well.
These capsules supplement the endocannabinoid system—perhaps the most important physiological system involved in maintaining human health. They are designed for overall health but help you focus.
If you want the benefits of CBD for Focus, without psychoactivity, give one of these products a try.
Do your research and take a look at HelloMD for CBD products that fit into your lifestyle.
● Access to doctor consultations
● Community Q&A on cannabis
● Informational and educational content
Save $20 on your first purchase by using the referral
code: 62482

at HelloMD.