In 2000 we spent a week at Emerald Island surrounded by family. Jake and Zac were much smaller and Grandpa Hank is one who loves jokes. As we settled into the house on the beach, the boys were enjoying the sounds of the ocean when their grandpa told them the story of Blackbeard. I don't remember the details of the story, though I'm sure it was hysterically dramatic. What I do remember is Zac being so intrigued and wanting to find pirates!
Li'l Man takes after his brother.
He loves all things pirate!
He thinks an adventure on the high seas would be awesome and living the pirate's life something of an adventure.
Thanks to Carole P. Roman's new book, Captain No Beard: An Imaginary Tale of a Pirates Life, Li'l Man has been sailing on a pirate's adventure.
This book has it all from Pirates: Captain No Beard (aka Alexander), First Mate, Hallie (Alexander's cousin), and a crew of stuffed animals that come to life, to adventure: brewing storms, choppy sea, and mermaids!
It is so easy for Li'l Man to be part of the action, he loves shouting "Shiver Me Timbers" with the characters and I've noticed during his kitchen cleaning duties he's been chanting, "Swab the Deck!"
The illustration in the book is just as fun with vibrant colors, lovable characters, and a world of imagination.
It's easy for kiddos to engage their imagination and become part of this fun story from beginning to end.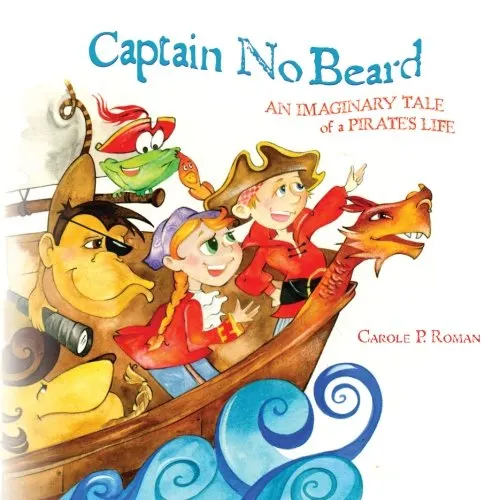 Captain No Beard: An Imaginary Tale of a Pirate's Life Synopsis
Captain No Beard and his pirate ship The Flying Dragon set sail for a voyage of the imagination with his fearless crew of four: First Mate Hallie, Mongo the Monkey, Linus the loudmouthed lion, and Fribbit the floppy frog. Normally a young boy named Alexander, his cousin Hallie, and three stuffed animals, once they board his bed their world is transformed into a magical vessel, sailing the seven seas on dangerous and exciting adventures! Captain No Beard – An Imaginary Tale of a Pirate's Life named to Kirkus Reviews' BEST OF 2012 for Children's Indie Books, and garnered the star of remarkable merit!
Disclosure of Material Connection: I received one or more of the products or services mentioned above for free in the hope that I would mention it on my blog. Regardless, I only recommend products or services I use personally and believe will be good for my readers. I am disclosing this in accordance with the Federal Trade Commission's 16 CFR, Part 255: "Guides Concerning the Use of Endorsements and Testimonials in Advertising.".