We received CanvasDiscount.com canvases to conduct a review in exchange for this post. All opinions remain our own.
My family loves to travel, and when Canvasdiscount.com reached out for a review opportunity, we chose to create a wall of travel memories with their canvases.
With Canvas Discount, you get premium-quality photo printing no matter the theme or occasion.
Our dream was a wall with high-quality, digitally printed photo canvases that would spark conversation and invite our memories.
CanvasDiscount.com is a company that specializes in just this.
Creating canvases from the moments you have frozen in time with a photo.
From blankets and mugs to wall art, CanvasDiscount.com offers it at budget-friendly pricing.
Available canvas sizes ranged from 8×8 up to 40×60, with pricing from $9 to $160.
CanvasDiscount.com offers high-quality canvases for three to five times less than its competitors.
Our results were vibrant, solvent-free canvas prints that stretch precisely over a quality spruce wood frame.
I will disclose that camera technology has vastly improved as the children have grown.
I selected one photo of Upper Calf Creek in Utah from when MacKenzie was born that is pixelated, but from a distance, it's fine.
Each of us talked about a favorite vacation memory, and then I set out to find photos to bring these memories as a visual into our home.
They are memories that make us happy.
We chose a wall art setup, which included several sizes.
CanvasDiscount.com has a site with templates.
To save you frustration, I found it easier to select my photos, learn the desired size, and adjust my photo accordingly.
I found CanvasDiscount.com to time out if I didn't do this and had to adjust a photo in the middle of my creation, causing me to start from the beginning.
Their template will let you know if a photo does not have the required pixels for the print size you have selected, which I'm not sure is trustworthy, considering the Upper Calf Creek on ours did not notify us it would be pixelated.
The template doesn't have a lot of play for repositioning a photo.
The template offers options like edge design (black, white, folded, stretched, or mirrored), framing, and black-and-white effects and you can add a text box if desired.
When you click on the Create Canvas button, it will automatically open your downloads folder – no option to choose images from Facebook, Instagram, or other sources.
When it arrived, we were in awe of how gorgeous it turned out.
The colors are vibrant and full.
We arranged our CanvasDiscount.com photos on the ground, and then my husband started to hang them.
The wall we chose was the largest in our living room, however, it has a light switch and outlet, and due to the position of them and the wires behind the wall, he had to spread them out more to avoid disrupting the wiring.
Slowly he is finding where the wiring runs so we can continue to add to the photos.
The result is still lovely.
This wall has welcomed family from out of town, friends, and new people into our home.
It is the conversation starter we had hoped it would be.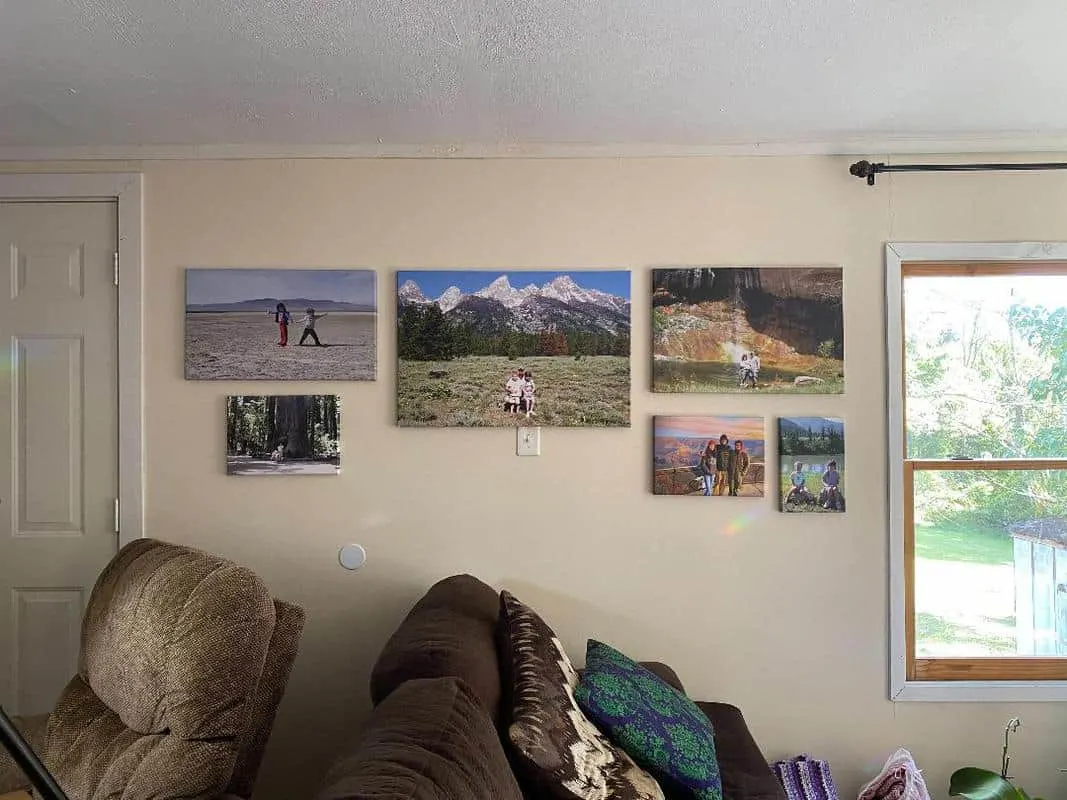 It warms my heart to hear my family talk about their time in the West Desert of Utah, Escalante, the Tetons, the Grand Canyon, Henry Cowell Redwood Forest, and the memories sparked by these visuals.
It's exactly the wall we wanted in our home.
It's our travel and adventure wall, and we hope to add to these memories as time moves us forward.
We love the colors.
We love the clarity.
We love the size options.
We love the ease of hanging.
We love the quality.
It's all available through CanvasDiscount.com.
Whether it is a picture taken in 2003 or one taken in 2020, the quality is superb.
I'd suggest ordering early as the holidays approach, though we found the delivery very fast.
To get your canvas print or photo gift, please visit CanvasDiscount.com, or contact them via email at [email protected].
What is your favorite travel memory, and what photo would you select for a CanvasDiscount.com print?
MOMMYSMEMO15 – Using this code, all my followers will be able to get an additional 15 % off all canvas from our website, as seen on the www.canvasdiscount.com website