Get Ready for a Melodic Marvel: Pentatonix Takes Center Stage as 'The Carolers' in Candy Cane Lane!
Buckle up for a sleighful of surprises during the sensational 'The 12 Days of Candy Cane Lane' celebration!
It's Eddie Murphy's FIRST Holiday movie.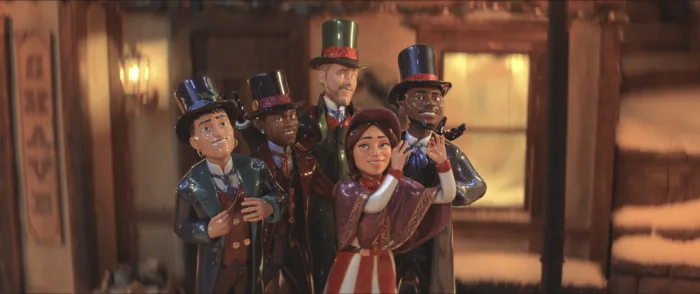 Jingle All the Way with The Carolers in Kringle's Christmas Village!
Step into the magical Christmas village at Kringle's, where The Carolers, alongside Pip and the enchanted villagers under Pepper's spell, communicate exclusively through the magic of Christmas carols! Director Reginald Hudlin couldn't be more thrilled: "Pentatonix was the only choice for these singing roles. Working with them was pure joy!"
Countdown to Candy Cane Bliss: 'The 12 Days of Candy Cane Lane' Launches 11/ 20!
Prepare for the enchantment as we kick off "The 12 Days of Candy Cane Lane" on Monday, November 20! Over the course of 12 days, we're unwrapping a festive extravaganza, building excitement leading up to the grand premiere of Candy Cane Lane on Prime Video on December 1.
Dive into the holiday spirit on Monday, November 20, with the delightful collaboration known as "Christmas Delivered by Candy Cane Lane and Grubhub." If you're in Atlanta, Chicago, Los Angeles, or New York, here's your chance to win a holiday home transformation featuring breathtaking decorations generously donated by Balsam Hill and state-of-the-art smart light products courtesy of Govee.
But that's not all! From November 20 to 22, Grubhub users can sweeten the deal by ordering free Candy Cane Lane Custom Funny Face Bakery Cookies. Simply search "Candy Cane Lane" in the app and grab your goodies while supplies last! Join us in making this festive kickoff a celebration to remember.
Daily Dose of Delight: Unwrap Surprises Every Day Until Candy Cane Lane Premieres!
From Giving Tuesday's Red Cross Blood Drive to an exclusive song, "Miracle," from Raphael Saadiq featuring Kelli-Leigh on Amazon Music, there's something exciting every day until Candy Cane Lane hits Prime Video globally on December 1. Prime members, get ready for advance free Prime Premiere screenings in select cities!
Immerse Yourself in Festive Fun: Kringle's Virtual Holiday Shop and More!
Explore the fully immersive Kringle's Virtual Holiday Shop for your holiday shopping needs and experience the magic of Candy Cane Lane!
Joy on the Move: 'The Candy Cane Lane Traveling Truck Tour' Hits the Road!
Catch the holiday spirit as the Candy Cane Lane Truck Tour travels across the U.S., handing out special treats and freebies from the film. Check the schedule at CandyCaneLaneTruck.com to see if the truck is spreading cheer in your town!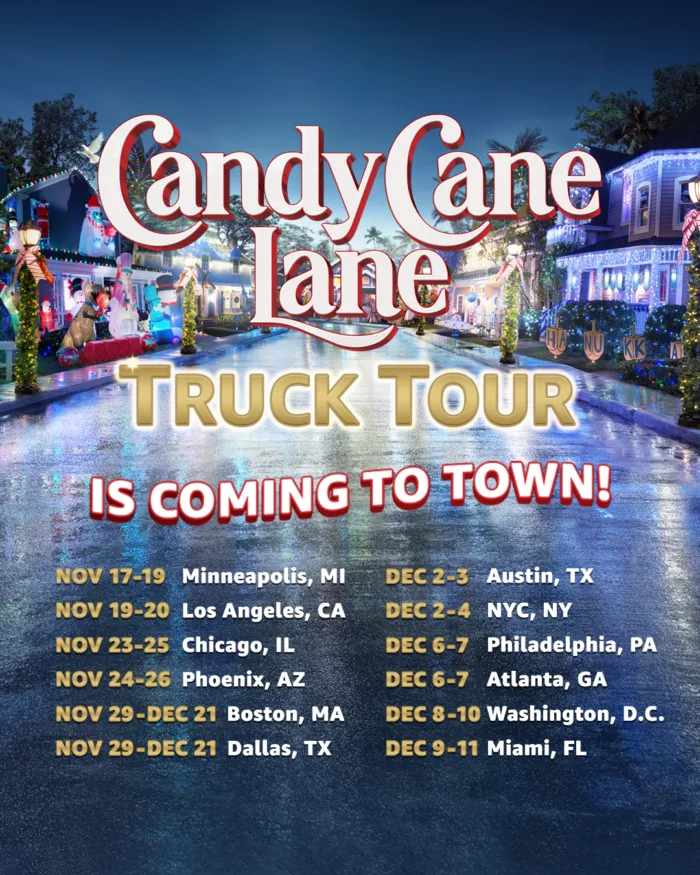 Stay in the Loop: Follow @PrimeVideo for Exclusive Updates!
Get ready to shout ho ho ho as Candy Cane Lane premieres globally on Prime Video on December 1, 2023. Celebrate the holidays with Eddie Murphy, bringing his comedic magic to his first holiday film! This reunion of director Reginald Hudlin, Murphy, and producer Brian Grazer since Boomerang in 1992 is a festive treat inspired by holiday experiences on Candy Cane Lane in El Segundo, California, as penned by Kelly Younger. Don't miss the joyous spectacle – mark your calendars!
Candy Cane Lane:
Featuring an all-star cast including Eddie Murphy, Tracee Ellis Ross, Jillian Bell, Thaddeus J. Mixson, Ken Marino, Nick Offerman, Robin Thede, Chris Redd, Genneya Walton, Madison Thomas, Anjelah Johnson-Reyes, Lombardo Boyar, D.C. Young Fly, Danielle Pinnock, Timothy Simons, Riki Lindhome, and Stephen Tobolowsky.
In this uproarious holiday comedy adventure, Eddie Murphy takes the lead as Chris, a determined man with a singular goal – winning his neighborhood's annual Christmas home decoration contest. However, Chris unwittingly strikes a deal with the mischievous elf Pepper (Jillian Bell) to boost his chances, setting off a magical chain of events. Pepper's spell brings the 12 Days of Christmas to vibrant life, turning the town upside down. With the holidays at stake, Chris, his wife Carol (Tracee Ellis Ross), and their three children must beat the clock, break Pepper's spell, and confront a cast of deviously magical characters to save Christmas for everyone.
Get ready for a family-friendly holiday escapade with a PG rating. Eddie Murphy and an ensemble cast deliver laughs and festive cheer in this heartwarming tale of seasonal magic and mayhem.