What happens when brownies and butterscotch cookies collide?
It's a tasty treat that disappears!
We had a batch of these:
And a pan of these:
and then it hit us that we should be combining the two!
We made the brownies using our favorite recipe.
Brownies
1 c. shortening
2 c. sugar
4 eggs
7 TBSP cocoa powder
1 1/2 c. +2 TBSP Flour
1/2 tsp baking powder
1/2 tsp. salt
1 c. nuts (optional)
Powdered sugar
Beat the shortening and sugar until creamy and fluffy. Add eggs, spinach, cocoa and mix well. Slowly add the flour, baking powder, salt and nuts.
Pour into greased 13″x9″ pan and bake in a 350 degree oven for about 25-30 minutes. Check for doneness by inserting a knife into center–you want it to come out clean.
Eating them from the pan, we lightly dust with powdered sugar and serve!
We also made a batch of our favorite butterscotch cookies.
Butterscotch Cookies:
1 cup butter, softened
1 cup white sugar
1 cup packed brown sugar
2 eggs
2 teaspoons vanilla extract
3 cups all-purpose flour
1 teaspoon baking soda
2 teaspoons hot water
1/2 teaspoon salt
2 cups butterscotch chips
1 cup chopped walnuts
How to Make Butterscotch Cookies
Preheat the oven to 350 degrees F (175 degrees C).
Cream together the butter, white sugar, and brown sugar until smooth. Beat in the eggs one at a time, then stir in the vanilla. Dissolve baking soda in hot water. Add to batter along with salt. Stir in flour, chocolate chips, and nuts. Drop by large spoonfuls onto ungreased pans.
Bake for about 10 minutes in the preheated oven, or until edges are nicely browned.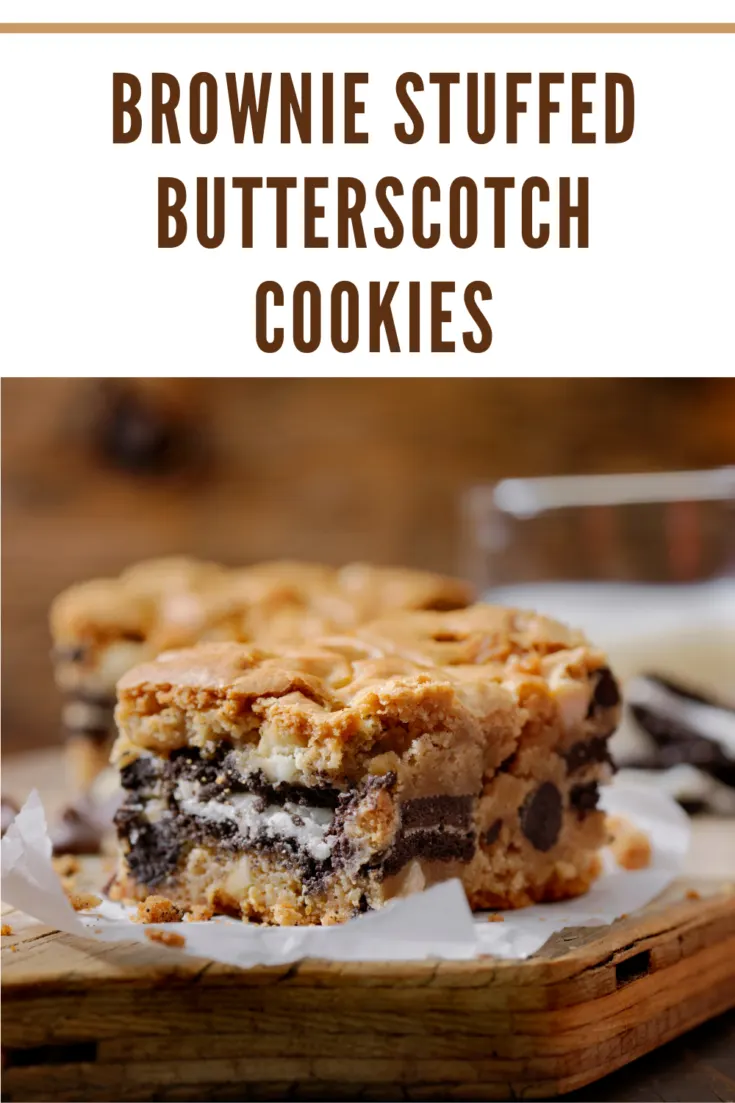 How to Make Brownie Stuffed Butterscotch Cookies:
When we combined them we:
Used ONE tablespoon of cookie dough and spread it out. Then we cut a brownie 1″x1″ and placed it on top of the cookie dough.
We then topped the brownie with ONE tablespoon of cookie dough and pressed the cookie dough together to seal the brownie inside.
Then bake for 12-15 minutes. We then removed it from the oven and let sit on the cookie sheet for five minutes. Removed from sheet and placed on a wire rack to cool completely.