Not your ordinary small purse!
I take at least a small purse with me wherever I go, however, many times I have found myself In a Pikle. I know the phrase as that old-time charm, but the reality is it means "stuck in a difficult situation". Oh, Dear Shakespeare, who is credited as the originator of the phrase "in a pickle" in The Tempest. My point is, too often, I've been out and about with my purse and found the need for something I didn't have on hand. Most often a Kleenex.
I've witnessed others "in a Pikle" moments–the bridesmaid who needed a needle and thread. The co-worker who turns her shirt inside out when lunch was messy and there was no stain stick. Okay, that was me. How about being in the car, spontaneously deciding to take a detour to get a snack at your favorite place, realizing you have a coupon and NO scissors. Life's little emergencies come from out of nowhere.
These days I have a new travel companion, In a Pikle, whose motto is "Life is Crazy, Dill with it!" It's the perfect empowerment that proves dynamite comes in small packages. Beyond the motto, In a Pickle has a theme–you guessed it, pickles! They create small purses that look like designer wallets and fit easily into your purse, backpack, glove compartment or diaper bag. All of the purses have pickle names such as "Dill Pikle", "Sweet Pikle". "Bread and Butter Pikle", even "Pepper Pikle". It's fun; isn't it!
I picked out the Dill Pikle.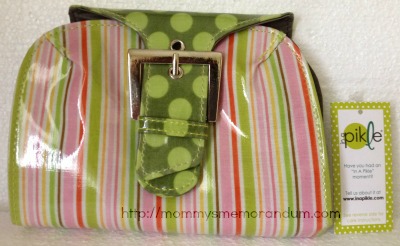 I found In a Pikle online and thought the concept was a genius. I have a child who is overly prepared for everything. Dragging a backpack with me seems bulky and cumbersome, but these purses are fun and girly. When my In a Pikle arrived. I discovered I really LOVE this brand and its concept.
The Small Purse with a Starter Pack
Not only are the purses whimsical and fun, but In a Pikle also offers Starter Packs to load the purse and be ready for whatever life throws at you. Mine arrived with the In a Pikle Basic Starter Pack.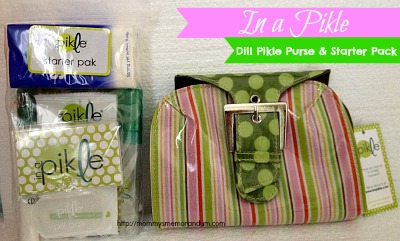 Remove the "In a Pikle" cover from the packaging and place on a flat surface with the inside of the bag facing up.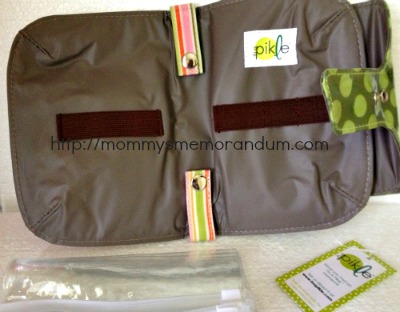 Next, unsnap the interior straps.
Remove the empty "In a Pikle" interior bags from packaging. Place the four clear bags on top of each other and line up the holes.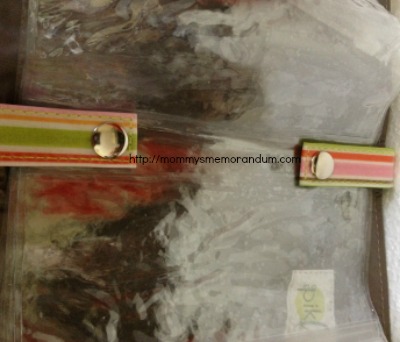 Place the four bags over the exposed snaps and snap the interior straps closed to secure the interior bags in place.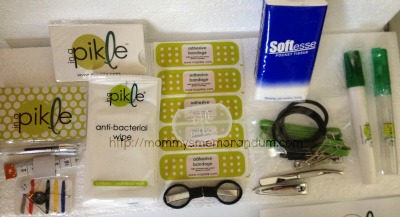 The next step is the fun part–open the starter pack and start packing those pockets with the tools that will be your problem solvers. We're talking scissors, thread, needles, measuring tape, tweezers, nail clippers, adhesive bandages, anti-bacteria wipes, laundry pen, pen and paper, mirror with dental floss and more! There are even tiny screwdrivers for when your eyeglasses need adjustment or when the kiddos have a toy that requires battery replacement. There's a pill box, tissues, spray sanitizer and more!
In addition, the In a Pikle bag has elastic straps on each side of the purse, making it easy to add items that may be too large for the interior bags, like a full-size pen, your cell phone, a larger notepad, etc.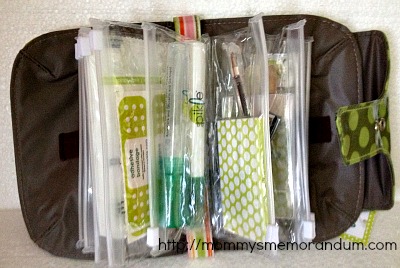 My In a Pikle bag was stuffed. I thought there was no way I was going to get it closed with all the stuff packed into it to keep me out of a pickle. I rolled the bag and voila!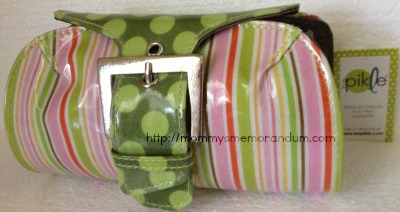 No detail has been overlooked with In a Pikle. The small purses also include a zippered back pocket on the bag. Tuck away some cash, an affirmation or business cards. This purse has it all when it comes to options!
Get yours In a Pikle Small Purse Today!
In a Pikle bags are available online through the In a Pikle website. Pricing starts at just $29.99.
They are trendy and hold everything a girl needs! I love mine. This small purse offers so many possibilities.