Discover the Enchanting World of "The Forbidden Library" by Django Wexler!
Step into a world where books hold secrets, and adventures await within every page!
Are you ready to embark on an extraordinary journey of magic, mystery, and daring quests? Look no further than "The Forbidden Library" by acclaimed author Django Wexler. This enchanting tale is a literary gem that will sweep you off your feet and transport you to a realm of imagination unlike anything you've ever experienced before.
Unravel the Mysteries
Meet young Alice, a spirited and curious girl who unexpectedly discovers that books are portals to extraordinary worlds. But these aren't just any books—they're magical books, filled with incredible power and guarded by captivating creatures. As Alice ventures deeper into this enchanting library, she'll encounter thrilling challenges and dangerous foes that will test her wit and courage at every turn.
Embrace the Power of Knowledge
"The Forbidden Library" isn't just a captivating tale of adventure—it's a celebration of the transformative power of books and the magic of reading. Delve into the depths of knowledge, unlocking ancient secrets and uncovering the truth behind the library's mysteries. Each chapter promises a riveting twist that will keep you on the edge of your seat, turning pages well into the night.
Embrace a World Beyond Your Imagination
Prepare to be mesmerized by Django Wexler's exceptional storytelling as he weaves together a tapestry of captivating characters, magical creatures, and heart-stopping challenges. "The Forbidden Library" will transport you to a realm where reality and fantasy merge, leaving you breathless and yearning for more.
Perfect for All Ages
Whether you're a young reader looking for a thrilling escape or an adult seeking a return to the wonder of childhood, "The Forbidden Library" offers an unforgettable experience for readers of all ages. Share this magical journey with family and friends as you dive into a world of limitless imagination.
Join the Adventure Today!
Don't miss the chance to experience the enchantment of "The Forbidden Library" by Django Wexler. Immerse yourself in a tale that will stay with you long after you've turned the final page. Order your copy now and embark on an extraordinary adventure that will ignite your love for reading and leave you eager for more from this talented author.
Unlock the magic within the pages of "The Forbidden Library" today! Available in bookstores and online retailers near you. Happy reading!
Our Forbidden Libary Review
I received The Forbidden Library in exchange for this post. All opinions are my own.
Django Wexler's talent for writing leads the reader into original worlds filled with creatures that come to life through is rich and detailed descriptions in THE FORBIDDEN LIBRARY. It's the first book in the series and even I, as an adult, was mesmerized.
THE FORBIDDEN LIBRARY will take your child–even you–on an adventure to faraway places. The library in this book magical places where books are portals into new worlds-quite literally.
Alice, a young girl with a special power. She is not alone, the "Readers", have the ability to enter worlds of specific books. It seems like a great thing–what book would you want to enter the world of? Then, the realization that the books serve as prisons to creatures that must be defeated if you want out happens!
Once the creature is defeated the Reader will escape and adopt the abilities of the creature. It's a unique plot that fills the mind with possibilities. The spells of the Readers are called upon through their control of the creature. The more creatures a Reader can defeat in these prison books, the more powerful the Reader becomes.
I love the character, Ashes, a talking cat. I smiled many times while reading about Ashes.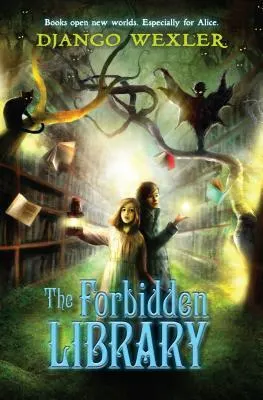 The Forbidden Library Synopsis:
The book kicks off an action-packed fantasy series with classic appeal, a resourceful heroine, a host of magical creatures, and no shortage of narrow escapes–perfect for fans of Story Thieves, Coraline, Inkheart, and Harry Potter.
Alice always thought fairy tales had happy endings. That–along with everything else–changed the day she met her first fairy
When Alice's father goes down in a shipwreck, she is sent to live with her uncle Geryon–an uncle she's never heard of and knows nothing about. He lives in an enormous manor with a massive library that is off-limits to Alice. But then she meets a talking cat. And even for a rule-follower, it's hard to resist when a talking cat sneaks you into a forbidden library and introduces you to an arrogant boy who dares you to open a book. Especially if you're a reader to begin with. Soon Alice finds herself INSIDE the book, and the only way out is to defeat the creature imprisoned within.
It seems her uncle is more than he says he is. But then so is Alice.
This is a great book and the first in The Forbidden Library series.