Watching Downton Abbey, fans may have noticed the aprons "below the stairs" vary. According to the author, Jessica Fellowes, book The World of Downton Abbey she shares that maids were required to make their own uniforms which consisted of two dresses: one print with a plain apron and a black dress with a more decorative apron. During the late Victorian Era, early Edwardian era, textiles were expensive, sometimes consuming six months' wages for a scullery maid.
Ditch that stained apron at Downton Abbey; aprons are always fresh and starched regardless of rank! Abandon the Edwardian era and find yourself baking in a flirty apron from Everything4Mom.com. Be sassy, like Daisy, and put a little spring in your step regardless of whether you're creating a five-course meal worthy of the Crawley family or reheating leftovers for something less formal; you'll be irresistible in these aprons.
Mrs. Patmore's frumpy frock became more in line with the Crawley's fine clothing. With so many cute aprons, even stuffy Sarah O'Brien will want in on the apron strings!
I've abandoned the boring aprons and gone fun and flirty with the black apron through Everything4Mom.com. It's packed with flirty flair from the quality fabric, impeccable stitching and sizing that's practical.
The print is delicate but noticeable, making this the kitchen's equivalent to the everyday black dress!
Shake that idea that the kitchen is for slaving; even the men in your life will find the kitchen an irresistible location when you are in this flirty apron. There's no frump here, even with smudges of flour!
Go ahead, bake their favorite desserts in an apron that stands out, and start dropping hints for all the other great items offered through Everything4Mom.com!
Spring arrives this month, and Everything4Mom has the perfect Gifts for Moms, from Cute Aprons to Photo Bracelets. Gifts sure to delight Mom in her basket or as a token of your love for all her sacrifices.
Even Grandma is sure to pinch your cheeks with gratitude when you give her gourmet chocolates.
Everything4Mom.com is a one-stop online shopping haven where you can find something practical to brighten your day no matter how practical Mom is!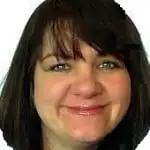 Julee is a quirky, dorky, North Carolina Transplant with an appetite to taste the world, meets its desserts and blog about them. When she's not behind the computer you can find her playing with her family, reading a good book, being a Bon Jovi fangirl and celebrating the little things.
Disclosure of Material Connection: I received one or more of the products or services mentioned above for free in the hope that I would mention it on my blog. Regardless, I only recommend products or services I use personally and believe will be good for my readers. I am disclosing this in accordance with the Federal Trade Commission's 16 CFR, Part 255: "Guides Concerning the Use of Endorsements and Testimonials in Advertising.".Julee Morrison