The ThermaCELL Mosquito Repellent Lantern is a popular outdoor product designed to repel mosquitoes and other flying insects. It is a portable, compact lantern that uses a butane cartridge and a repellent mat to create a mosquito-free zone in outdoor areas.
Key features of the ThermaCELL Mosquito Repellent Lantern:
Mosquito Repellent Technology: The lantern utilizes a butane cartridge to heat a repellent mat containing a synthetic insecticide called allethrin. When heated, allethrin vaporizes and repels mosquitoes and other flying insects. The repellent is EPA-approved and considered safe for outdoor use.
Protection Area: The ThermaCELL Lantern is designed to cover a specific area, usually around 15 feet in diameter. Within this zone, mosquitoes are effectively repelled, providing a more comfortable and bug-free outdoor experience.
Lantern Function: Besides its mosquito repellent capabilities, the device functions as a regular lantern, providing illumination for outdoor activities during the evening or night. This makes it convenient for camping, backyard gatherings, picnics, and other outdoor events.
Portable and Easy to Use: The lantern is lightweight and easy to carry, making it suitable for various outdoor activities. It typically requires minimal setup and can be operated with a simple on/off switch.
Refillable: The butane cartridge and repellent mats are replaceable and refillable. When the repellent mat is depleted or the butane cartridge runs out, you can purchase refill packs to keep the lantern working.
No Open Flames: The lantern operates without an open flame, making it safer and less prone to accidental fires than traditional mosquito repellent candles or torches.
Keep in mind that product information may change or be updated after my last knowledge update in September 2021. Therefore, I recommend checking the manufacturer's website or reliable retailers for the most current information about the ThermaCELL Mosquito Repellent Lantern and any potential improvements or new versions released since then.
Our ThermaCELL Mosquito Repellent Lantern Review
The weather is teasing us with spring and soon, it will be warm months. The kiddos will venture outside, guests will gather for summer parties, and mosquitos will be party-crashers. This year, ThermaCell Mosquito Repellent Lantern can be the bouncer in your yard, protecting guests and kiddos from being devoured by insects.
ThermaCELL's repellent lantern is a silent, odorless and decorative lantern that provides a safe 15 x15 ft. comfort zone for kids to play and guests to roam outdoors carefree. We all know how 10 minutes outside can result to itching and scratching all night. It is not worth it and discourages kids from playing in the fresh air.
Let's face it; it's impractical to ask guests and kiddos to spray or wipe themselves down with repellent. With the ThermaCELL mosquito repellent lantern, there's a great way to relax without effort. Don't be bullied by the insects, take back your yard or campsite and enjoy sitting outside admiring the garden or view.
ThermaCELL empowers its user with a two-in-one feature where not only is it repelling mosquitoes, it's giving light. The device requires four "AA" batteries (not included). The light it not incredibly bright, but still gives enough to see. The handle gives the option to hang it, walk with it or rest the lantern.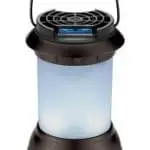 The Thermacell Patio Lantern comes with a butane cartridge and three mosquito-repellent cartridges. The butane lasts approximately 12 hours and the cartridges have a life span of about four hours each. The cartridges are color-changing (blue to white) to indicate that the repellent is gone and the cartridge should be replaced.
Once the cartridge is in place, the user clicks a button 3-5 times, which heats the butane cartridge. An orange light indicates it is working. There was a mild odor, but nothing over-powering and certainly not like spray or wipe-on repellents.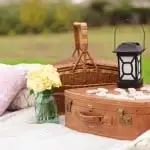 With ThermaCELL's repellent lantern you won't have to give those bugs another thought. The new dark bronze-color accented lantern wards off mosquitoes, black flies and other biting insects without sacrificing the clean outdoor ambiance.
Perfect for a pool party, BBQ, picnics, yard games, or just plain tree-climbing and playing in the dirt. Whatever it is children do to play outside be sure they are protected with ThermaCELL's repellent lantern.
How the Lantern Works
The ThermaCELL Lantern operates on a single butane cartridge, which heats a repellent mat releasing allethrin, a synthetic copy of a natural insecticide found in chrysanthemum flowers, into the air creating a 15 x 15 ft comfort zone. Each repellent mat provides up to four hours of protection, and each butane cartridge provides up to 12 hours of operation. The repellent option operates on a single butane cartridge and includes three mats. The light of the new ThermaCELL Lantern functions on three AAA batteries (not included) and can be used with or without the mosquito repellent.
For more information on ThermaCELL's complete line of products, including hand-held appliances and lanterns, as well as testimonials or store locations, visit
www.thermacell.com
or call 1-8-NO-SKEETERS (866-753-3837).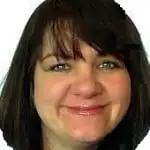 Julee is a quirky, dorky, North Carolina Transplant with an appetite to taste the world, meets its desserts and blog about them. When she's not behind the computer you can find her playing with her family, reading a good book, being a Bon Jovi fangirl and celebrating the little things.
Disclosure of Material Connection: I received one or more of the products or services mentioned above for free in the hope that I would mention it on my blog. Regardless, I only recommend products or services I use personally and believe will be good for my readers. I am disclosing this in accordance with the Federal Trade Commission's 16 CFR, Part 255: "Guides Concerning the Use of Endorsements and Testimonials in Advertising.".Julee Morrison