Purina sent Bailey Mae products from their Beneful line to show just how easy it is to end the dinner doldrums and break through the boredom of the same old meals.
Perhaps you saw that, on Sunday, March 30th, Beneful Shared the Joy nationally with its largest "Buy One Get One" coupon offer in newspapers and online?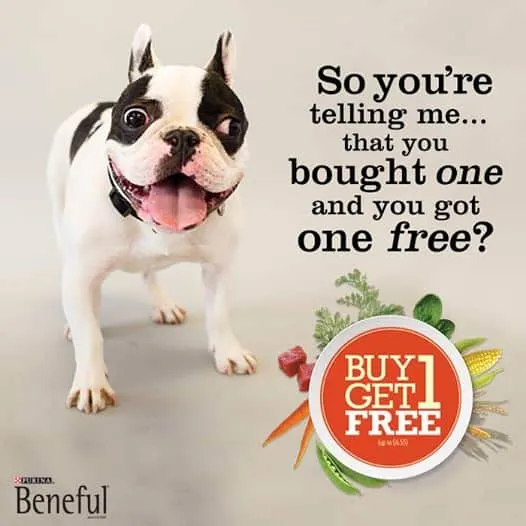 Bailey Mae is in no way starving, and we thought she was spoiled with her eating, but when the Purina Beneful box arrived, Bailey Mae knew it was for her.
She made sure anyone who walked by knew that was her box, and she wanted some of the deliciousness.
Just look at her enthusiasm!
Eventually, we took all the goodies out of the box for
Bailey Mae
to discover on her own.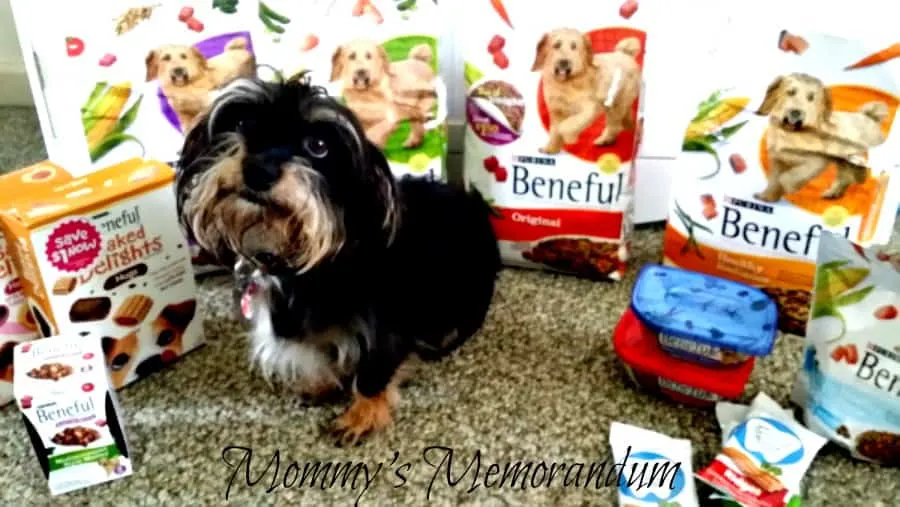 She sat still long enough for a photo, and then she was ready to eat!
It didn't take long for her to decide.
She wanted the Beneful Mediterranean Medley.
Who can really blame her?
This wet dog food is a treat with so many textures!
Diced chopped blends and accents of lamb, tomatoes, spinach, and wholesome ingredients that are conveniently sized for dogs of all sizes!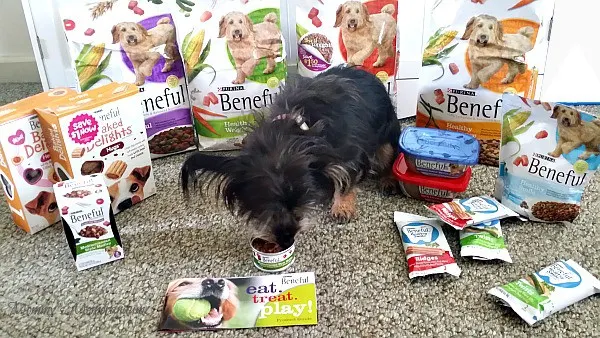 After eating her dinner, Bailey Mae pretended like she needed to "go outside."
It was a short trip with no action, but her ruse was up once inside…she wanted treats!

She is a BIG fan of the Beneful brand Baked Delights® Dog Snacks Hugs™ – Crispy dog snacks with soft, savory centers made with beef and cheese.
She savors them. She hauls the "hugs" around with her and guards them! Here she is guarding her prized possession:
In a recent Beneful survey* which revealed that America's dogs are experiencing dinner doldrums! More than one-third (34 percent) of the U.S. dog owners surveyed say they have to entice their dogs to eat their food at least once a week, and nearly one-in-five (19 percent) say they have to entice their dogs to eat their food every day. Almost half of the dog owners surveyed (46 percent) say their dogs get bored eating the same food every day, and 89% agree that their dogs' nutrition is as important to them as their own.
To help bring more joy back to mealtime and end dinnertime disappointment, Beneful wants to Share the Joy of a nutritious, delicious meal with dog owners across the country, and we'd like to invite you to be part of the fun! Y