It all started with a Chevrolet commercial for Vince Vaughn. It was enough to move him to Hollywood. It was a struggling journey until nearly 23 years later when he landed a role in Old School and his popularity skyrocketed. These days, Vince Vaughn is a household name.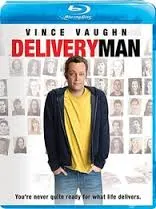 Over the weekend I watched the just released to Blu-Ray and DVD movie, Delivery Man. In this heartwarming comedy, underachiever David Wozniak (Vince Vaughn) learns he's actually an overachiever — he's fathered 533 children via donations made twenty years earlier! David soon discovers that the shock of his life might just be the best thing that's ever happened to him. Along the way he discovers not only his true self, but also the father he could become. Also starring Chris Pratt and Cobie Smulders — and complete with bonus materials, including behind-the-scenes footage.
Enjoy this Q&A with Vince Vaughn and discover more about the actor and the movie.
1. Please tell us about David Wozniak, the character you play in "Delivery Man."
A: David works with his brothers and with his father in the family meat company business, and his job is to deliver meat to the places that are ordering it. I think when the movie starts David is kind of a guy who hasn't grown up. He's still very childlike in a lot of ways and doesn't have a lot of adult responsibility. When the movie opens he realizes that his girlfriend is pregnant and, at the same time, he finds out that he has over 500 kids from when he was younger and had made a lot of donations to a fertility clinic under the name of Starbuck.
2. Describe your relationship with your family in the story.
A: I think we're a very close family. Like a lot of brothers, they like to tease each other and pick on each other and give each other a hard time, which makes you really believe the relationship. But I think there's a real deep bond there. I mean, clearly, they work together and they're close with each other as well.
3. Explain how David discovers that he fathered 533 kids, and 142 of them are looking for him.
A: There are a lot of people looking for him. He owes money to some gamblers who are getting impatient and are trying to give him some pretty rough coaxing to pay up, and he's constantly late on his bills. What happens is he comes home to his house and he gets served with papers. Someone comes and subpoenas him, because there's a case going on where a bunch of the children have come together to make a claim that they have the right to find out who their biological father is.
4. Who is Brett and how does he help?
A: Brett is one of David's childhood friends. Brett is an attorney. I wouldn't say that he's a successful attorney, but he's an attorney. And he's overwhelmed with being a father himself. He's sort of doing it on his own. The mother of the children is not around, and he has a bunch of kids and it's very challenging for him to try to take care of all their lives, especially without a lot of support from someone else. And so he's really telling David that he doesn't want to be a father, and particularly that David's not really equipped to be a father.
5. How does David find out who some of his kids are?
A: I think what's interesting is he gets a packet of the profiles of the children and he gets curious and he can't help but look into it. I think what's fun about the movie is, as a father myself, I think by actually playing it out with different kids from different backgrounds, you sort of explore what are the thoughts that run through all parents' minds, both the good things and the worries. It would be great if your kid excelled at something, were in a good relationship, who was motivated or just healthy and happy and in good spirits. Then there are the worries of what if they get caught up with stuff they shouldn't be doing or not being able to live their dreams or feeling kind of bad or low about themselves or struggling. And I think it's an age range that the kids are in, 18 years old and a little bit up, that they're sort of trying to just start their adulthood and try to figure out who they are. So I feel David kind of goes into all their lives at these early stages of becoming young adults, and it's very powerful because as a parent you can kind of think about those scenarios for your own life and your own kids.
6. Who is the movie for, and what can people expect from the film?
A. I think the movie will appeal to everyone because first of all the movie is very funny, but it's also very truthful. I think that's always a good combination.
The setup of the movie is kind of a great premise that's a little bit crazy, which is that anyone would have so many kids. But underneath it all, I think the movie really is about family and really about connection and about finding your way. So it has a lot of heart to it. I think the movie, in its DNA, has a lot of optimism to it, and I think it earns that by going through some real situations. It's not as if the movie treats life as being very light. I think it deals with real issues that families go through, and these people go through in life trying to find their way to be successful. Our movie really deals with those things in a very authentic way, but I think there's an underlying kind of optimism and warmth and love to the film that's very powerful. And funny.
7. How did you get involved with the project?
A: My sister saw the original French film that this is based on, and really liked it. And then, as time went on, I got around to watching it. I really liked it and it just all sort of fell into place when I met writer/director Ken Scott and producer André Rouleau. And I had known Stacey Snider and Steven Spielberg over at DreamWorks, and we're just excited about the project and about the subject matter. So it was nice to agree with everyone on what the take on the movie was and felt really excited to be a part of it.
8. What did you think of the "Delivery Man" script the first time you read it?
A: I thought the script was great because it was very funny, but it was also very grounded and real. So it hit a very great tone where there's a lot of very funny stuff, but it comes in a very grounded way. And then I thought the concept is just really, really exceptional; someone who contributed enough to a fertility clinic to now have all these kids looking for him.
9. Cobie Smulders plays your girlfriend Emma. Please tell us about working with her.
A: Cobie is great. She's really funny and she's a very good actor as well, so I've had a lot of fun playing off of Cobie. I think she does a great job with the character. She's a very beautiful woman, but she's also very down to earth and likeable. She has a quality that makes you feel at ease. I think girls really like Cobie as well because you can tell that there's a real genuineness there.
10. Chris Pratt plays your friend Brett. Tell us about working with him.
A: Chris is terrific. He likes to have fun. He likes to joke around. He would make me laugh everyday on set, and it was easy jumping in and playing friends. The scenes are so well written; it was fun to just sort of find ourselves in opposite ends of those scenes everyday.
11. Let's discuss the actors who play your kids. What was it like working with so many young adults on this film?
A: The kids are great. They come to the set really excited and they're very talented, and very committed, and it was just wonderful to watch all of them. They're also powerful in the different kinds of stories here. They all get a chance to do some really great scenes.
12. How was it collaborating with writer/director Ken Scott?
A: I think Ken's incredible. I'm just such a fan of his. He's one of those guys who, interestingly, has all these amazing skills. He's a phenomenal writer, and he does a great job with the screenplay and the words. It's nice to come to work everyday and really feel good about the script and have your job be really just translating his lines. And then he's so smart with the camera, visually; and he's also an actor, a performer, so he really knows how to talk to you and give you good ideas. He's got a fun approach to stuff, and I think he's a really terrific filmmaker and he creates a really fun atmosphere. He likes to joke around the set, but he's also very driven and knows what he wants.
VINCE VAUGHN (David Wozniak) is an actor, producer and screenwriter. He most recently starred opposite Owen Wilson in Fox Studios' "The Internship," a Shawn Levy-directed comedy that Vaughn wrote and produced as well. He is currently filming New Regency's "Business Trip," with his "Delivery Man" director, Ken Scott. Last summer, Vaughn starred alongside Ben Stiller and Jonah Hill in "The Watch," a comedy about suburban dads from a watch group that unveils a conspiracy to destroy Earth.
"Sullivan & Son," an original sitcom, and the first venture from Vaughn's Wild West Television Productions, premiered on TBS in July 2012 and was renewed for a second season. The show, produced by Vaughn, stars comedian Steve Bryne. The documentary, "Art of Conflict: The Murals of Northern Ireland," which Vaughn produced and narrated, premiered at the 2012 Galway Film Festival in Ireland. He also co-starred with Kevin James in "The Dilemma," directed by Ron Howard.
Vaughn co-wrote, and starred with Jon Favreau, Jason Bateman, Malin Akerman and Kristin Davis in Universal's "Couples Retreat." He also starred and produced the Warner Bros. hit comedy, "Four Christmases," and starred alongside Sean Penn in the critically acclaimed "Into the Wild."
In the summer of 2006, Vaughn created, produced, and starred in the hit anti-romantic comedy "The Break-Up," co-starring Jennifer Aniston. This was the first feature film for Vaughn's production company, Wild West Picture Show Productions. That same year, Vaughn released his first comedy documentary, "Vince Vaughn's Wild West Comedy Show: 30 Days & 30 Nights – Hollywood to the Heartland."
In 2005, Vaughn teamed with Owen Wilson in director David Dobkin's hit comedy, "Wedding Crashers." He worked again with director Dobkin starring in "Fred Claus," a film he also co-produced. In addition, he starred alongside Luke Wilson and Will Ferrell in director Todd Phillips' "Old School." He re-teamed with director Phillips to star opposite Ben Stiller in the hit comedy "Dodgeball: A True Underdog Story."
A Chicago native, Vaughn first caught the attention of critics and audiences in Doug Liman's independent sleeper hit and cult classic "Swingers." He reunited with "Swingers" screenwriter and co-star Jon Favreau in 2001 as producer and star of the comedy classic "Made."
Among Vaughn's many other film successes include "Be Cool," "Mr. and Mrs. Smith," "Thumbsucker," "Domestic Disturbance," "The Cell," "Psycho," "Clay Pigeons," "Return To Paradise," "A Cool Dry Place," "Rudy," "The Locusts" and "The Lost World: Jurassic Park 2."