Since we purchased our home six years ago, I have completed numerous projects which involved painting, and I have often thought about how nice it would be to own a paint sprayer.
Some of the more tedious jobs have been placed on hold indefinitely, knowing that a paint sprayer would make it that much easier.
This summer all of our dreams came true when we received the handheld RYOBI ONE 18V ProTip Reversible Tip Paint Sprayer.
Now with no more excuses, those projects that had been placed on hold were now going to be completed.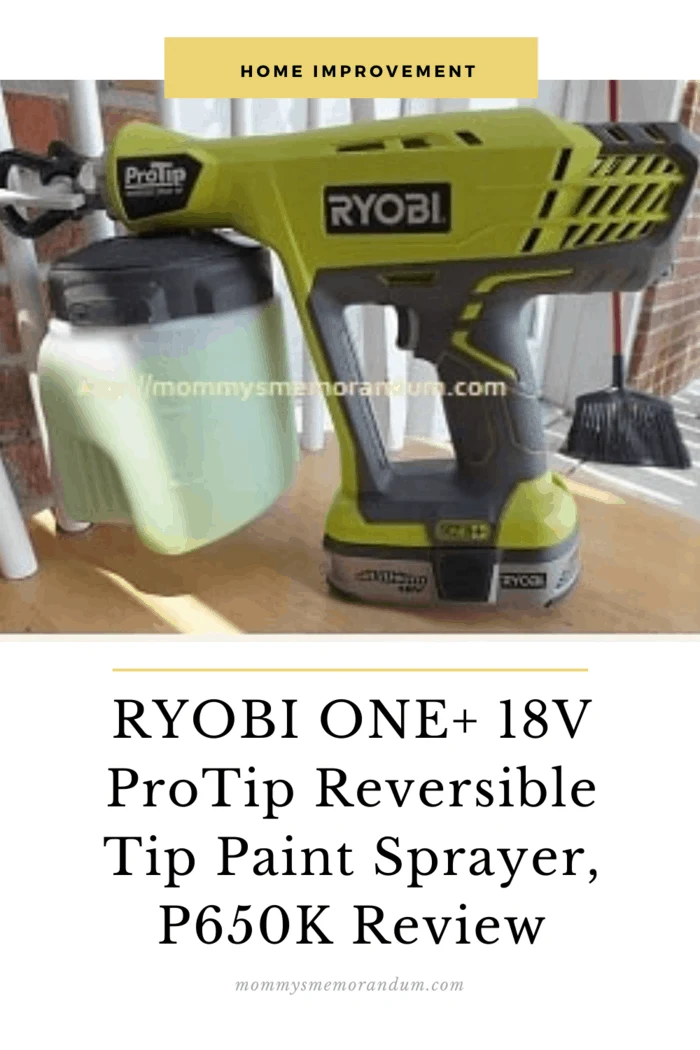 Fearing the unknown, I was hesitant to get started, but I finally decided that I would never find out how to use the paint sprayer if I didn't get it out of the box and read the directions.
After reading the instruction manual twice and not feeling any more confident, I determined that the best way to figure it out was to plunge right in.
Still not willing to commit completely I chose to practice using water instead of paint, so I filled the sprayer with water, pressed the trigger, and Viola!
I had success!
I played around with it a bit, getting a feel for how the sprayer worked, and once I learned the basics, I thought there is no time like the present to paint those I received from my sister last year for my birthday.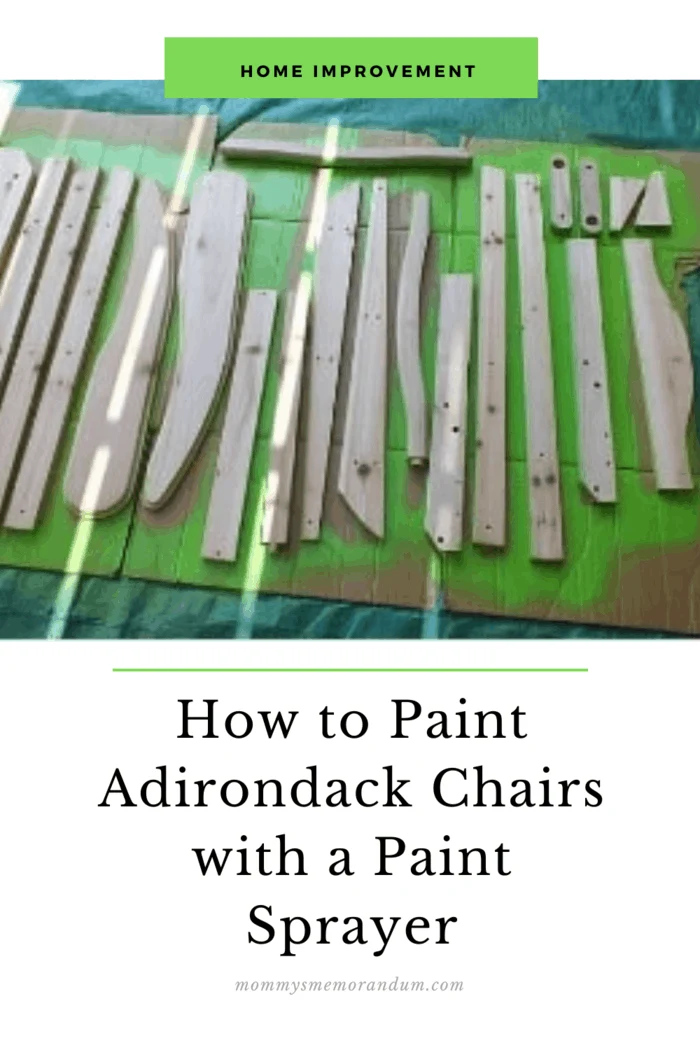 First, I spread out an old tarp across my patio to avoid any overspray then I spread out the pieces onto clean cardboard, being careful to make sure that all sides were visible.
I usually lean toward neutral colors, but for the chairs, I wanted a color that screamed SUMMER, so I chose "Limeade" in an exterior satin by Behr paints.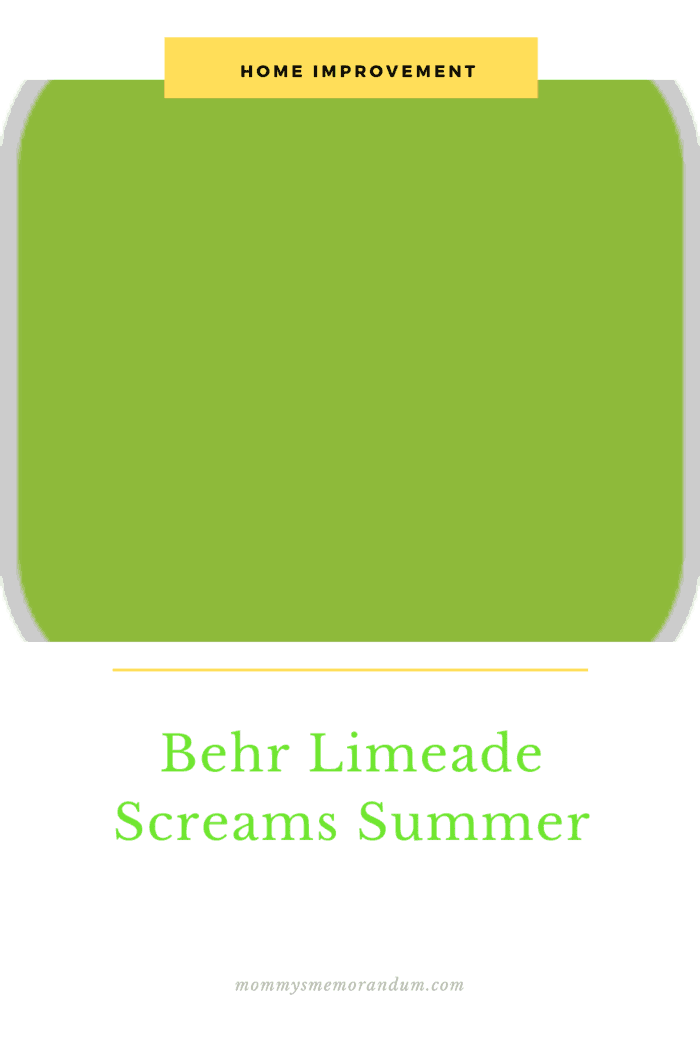 I was still nervous as I poured the paint into the sprayer, knowing that I had reached the point of no return. However, my worries quickly subsided as I began painting.
Painting with the sprayer was incredibly easy, and I was finished painting with the first side of the chair within a matter of minutes.
The hardest part was waiting for the paint to dry so I could flip over the pieces and paint the other side.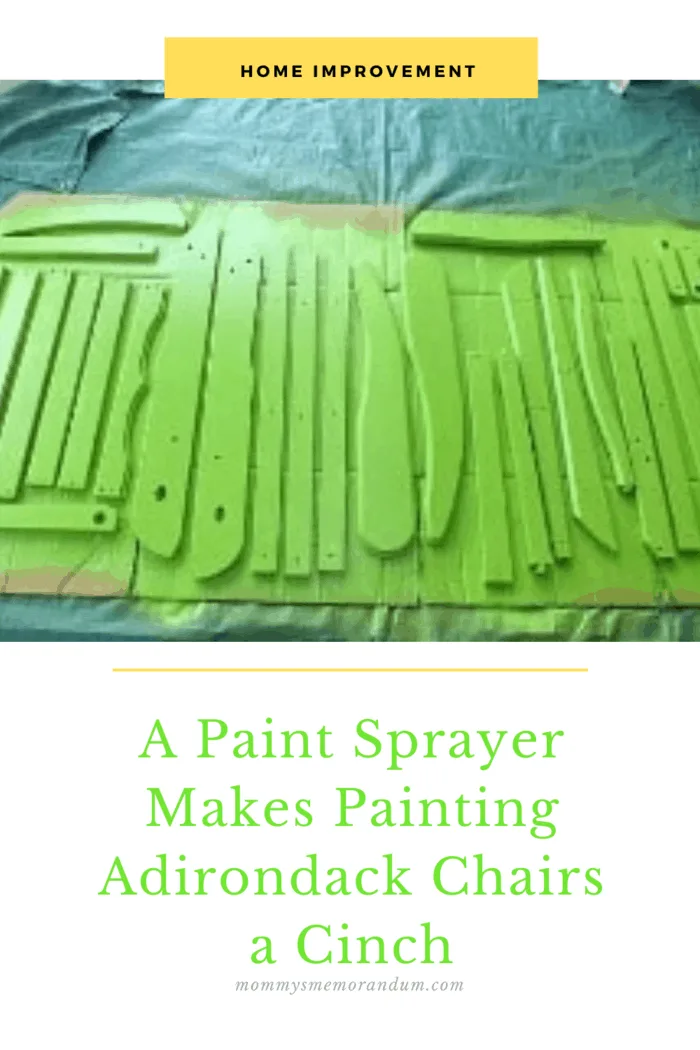 While waiting for the paint to dry, I decided to go ahead and touch up the other furniture I had already painted by hand; so I touched up the other Adirondack chair, a porch swing, and two rocking chairs.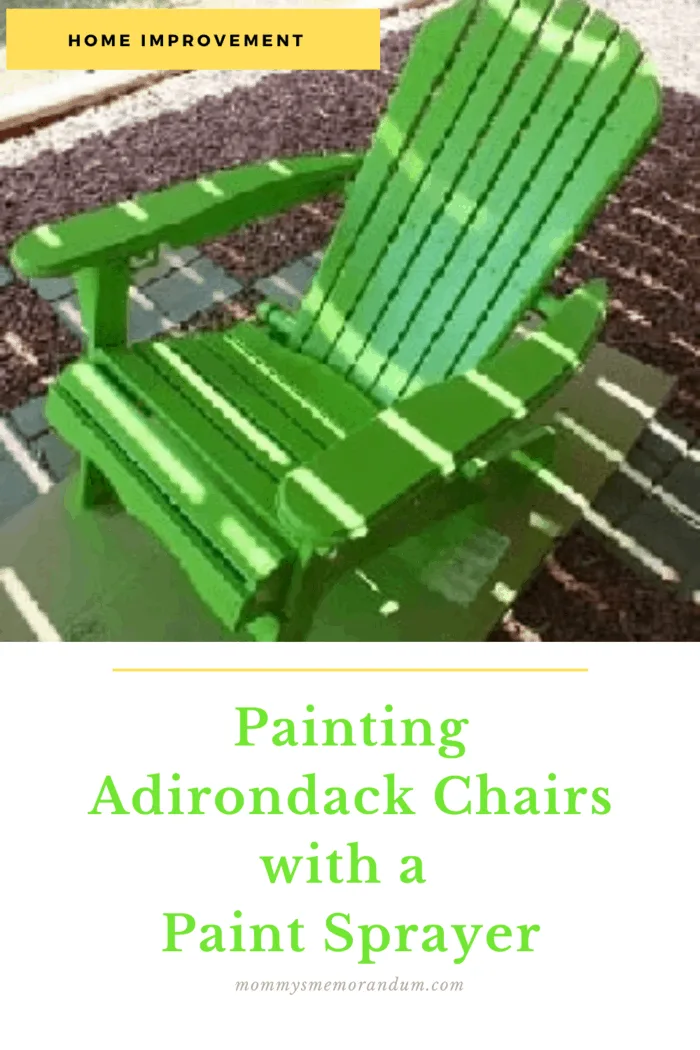 The total time to paint the pieces, including waiting for the paint to dry, was one hour and thirty minutes which is astounding considering the first chair I painted by hand took me several days to paint.
The paint sprayer worked like a dream.
It didn't clog, it didn't splatter paint everywhere, and it provided even coverage on all of my projects.
After I was finished painting, I realized that the worst was still to come as I tried to figure out how to clean the sprayer.
For years, I have heard that paint sprayers are great, but they are really tricky to clean, and if you don't clean the sprayer after every use, then it won't last.
Being sure to remove the battery, I rinsed out the paint container as well as I could, and then I filled the container with water.
Replacing the battery, I sprayed the colored water onto the children's swing set (which is desperate for paint).
Once the sprayer appeared to be dispersing only water, I dumped out the remaining water and began disassembling the paint sprayer.
Luckily, the owners' manual provided a detailed diagram that made disassembling the sprayer a piece of cake.
Per the instructions, I soaked the pieces in warm soapy water, I used the handy brush attachment to remove any remaining paint, and then I laid the pieces out to dry.
The entire process from beginning to end, was extremely simple and efficient.
The RYOBI One paint sprayer is the first cordless consumer sprayer designed with a reversible spray tip that clears clogs quickly by rotating the tip 180 degrees.
I'm calling it "amazing."
Now everyone can enjoy professional results at a price that is very affordable.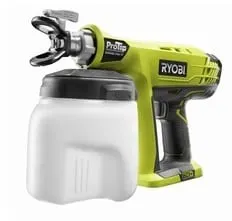 The RYOBI One Sprayer features:
The reversible spray tip rotates 180 degrees to clear clogs quickly
Continuous coverage with cordless convenience
A compact lithium-ion battery is 20% more compact than NiCd
Interchangeable with all 50+ RYOBI® ONE+ 18V products.
1.5qt Quick Lock container locks into place to prevent spills.
Tungsten Carbide Tip sprays latex paint and stain.
Two spray patterns (horizontal or vertical) maximize spray control on a variety of surfaces.
The noise reduction pump allows for quiet operation.
Cordless convenience means paint projects have no limits.
New Grip Zone for optimum grip and user comfort.
Using one of these was a much better experience than I expected; it was much more hassle-free.
The next one I'll buy will probably be a commercial model, that's bigger and can handle a bigger paint load.
But I'll wait a couple of years before considering getting one of those
Visit ryobitools. to shop all RYOBI paint sprayers, or visit your local Home Depot to purchase your paint sprayer today.
Disclosure of Material Connection: I received one or more of the products or services mentioned above for free in the hope that I would mention it on my blog. Regardless, I only recommend products or services I use personally and believe will be good for my readers. I am disclosing this by the Federal Trade Commission's 16 CFR, Part 255: "Guides Concerning the Use of Endorsements and Testimonials in Advertising."