Unveiling the Midnight Society's Thrilling Summer Adventure
The Midnight Society, those brave torchbearers of spooky tales, invites you to accompany them on an unforgettable summer escapade to a seemingly idyllic tropical island resort. But beware, for beneath the sun-kissed sands and swaying palm trees lie chilling secrets waiting to be unearthed. In four bone-chilling episodes, you'll join them as they unravel mysteries, expose the truth behind the resort's disturbing disappearances, and confront the terrors that lurk in the shadows.
A Glimpse into Ghost Island
Get ready to revisit the '90s classic with a thrilling new story in the all-new DVD release, "Are You Afraid of the Dark? Ghost Island." This DVD, brought to you by Paramount Home Entertainment, is priced at a mere $10.99, offering you a ticket to the spookiest summer adventure you'll ever experience.
The Midnight Society's Quest
Join Midnight Society members Kayla, Leo, Summer, and Ferris as they embark on a summer getaway to a tropical island resort, seeking relaxation and fun in the sun. Little do they know that this paradise conceals terrifying secrets. As they set foot on this mysterious island, the Midnight Society bands together, determined to uncover the truth behind the enigmatic disappearances plaguing the resort. They must navigate through a web of mysteries while attempting to savor what should have been their dream summer vacation.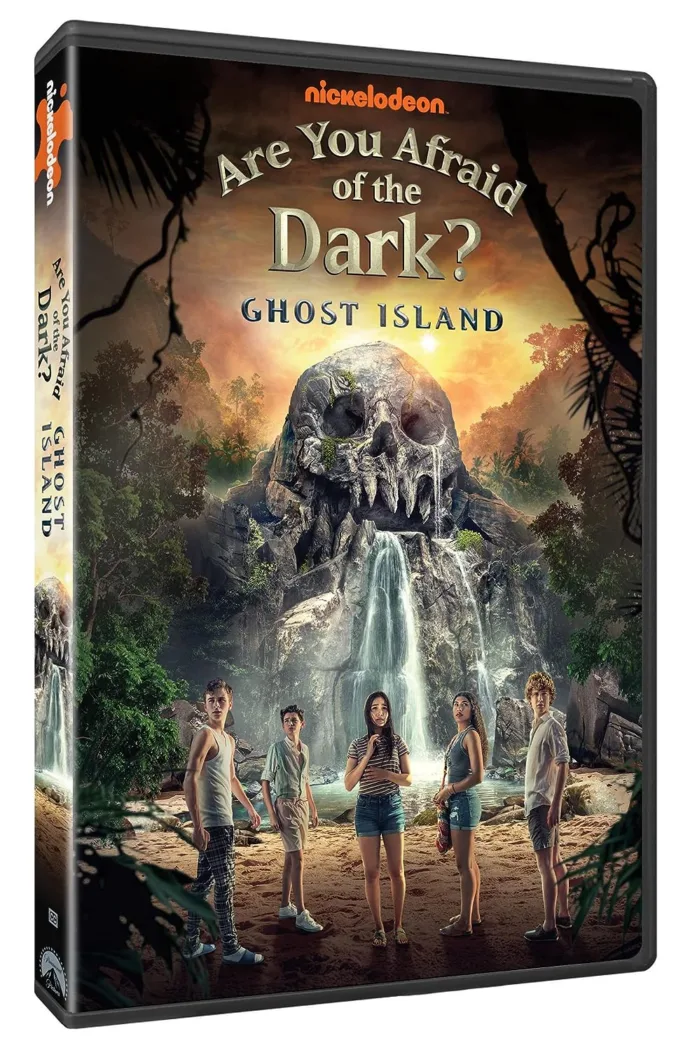 DVD Release Date
Mark your calendars for August 1, 2023, as "Are You Afraid of the Dark? Ghost Island" will hit the shelves, courtesy of Paramount Home Entertainment, at the suggested retail price of $10.99.
The Bone-Chilling Episodes
Prepare yourself for an eerie rollercoaster ride through these spine-tingling episodes:
The Tale of Room 13: Discover the horrors that lie within the confines of a seemingly innocuous room.
The Tale of the Teen Spirit: Follow the Midnight Society as they confront restless spirits haunting the island.
The Tale of the Looking Glass: Dive into the mysteries hidden behind a mystical looking glass.
The Tale of the Other Side: Brace yourself for a journey to the dark and unknown.
Synopsis of Ghost Island
Four best friends and members of the Midnight Society anticipate an exciting summer vacation at a luxurious island resort. However, their dreams quickly unravel when they stumble upon genuine terror locked within the walls of their hotel. As they attempt to enjoy their vacation, they find themselves inexorably drawn into the island's ghostly mysteries. Ultimately, their quest leads them to a horrifying revelation: many guests check in to room 13, but none ever check out.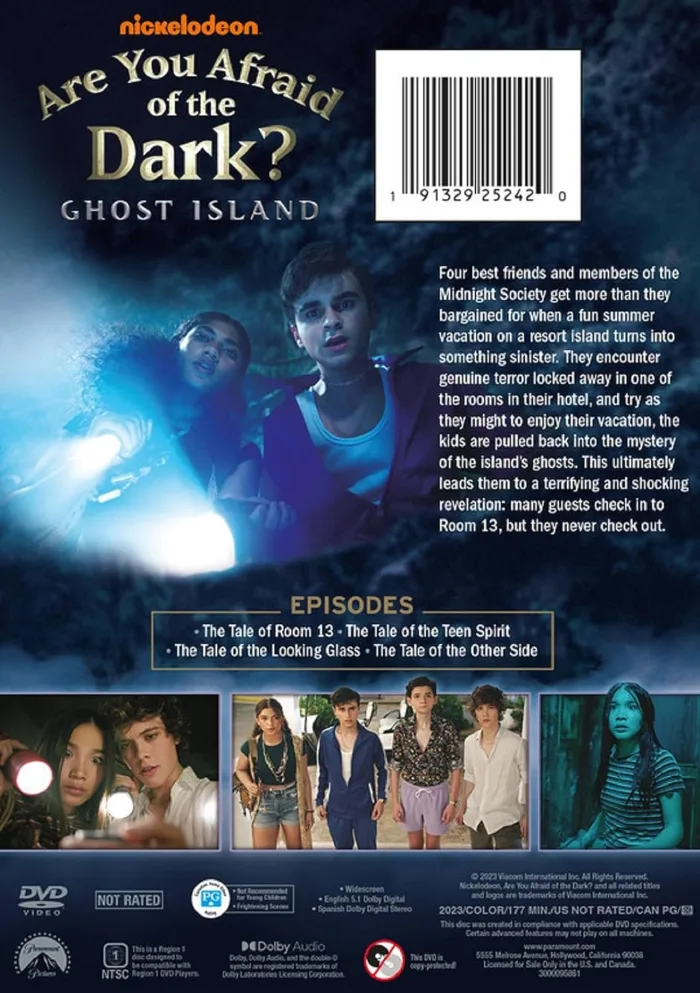 Fast Facts
Release Date: August 1, 2023
Catalog Number: 191329252420 (US)
Audio: Dolby Digital English 5.1
US Rating: Not Rated
US Manufacturer's Suggested Retail Price: $10.99
Prepare to embark on a journey with the Midnight Society, where every shadow conceals a secret, and every whisper holds a clue. Are you ready to face the spine-tingling mysteries of "Are You Afraid of the Dark? Ghost Island"?
Exploring Nickelodeon
Nickelodeon, celebrating its 44th year, reigns as the top entertainment hub for kids. Prioritizing children in all endeavors, it boasts a multifaceted global presence, encompassing TV programming, worldwide production, consumer products, digital innovations, immersive location-based experiences, publishing, and blockbuster films. Uncover more at nickpress.com. Nickelodeon shines brightly within Paramount's (Nasdaq: PARA, PARAA) dynamic spectrum of multimedia entertainment brands.
Paramount Home Entertainment
As a division of Paramount Pictures Corporation (PPC), Paramount Home Entertainment (PHE) stands at the forefront of the global filmmaking and distribution realm. PPC, an influential player in global media and entertainment (NASDAQ: PARA, PARAA), crafts premium content and exceptional experiences for a global audience. PHE oversees PPC's worldwide home entertainment and digital distribution ventures, orchestrating sales, marketing, and distribution for Paramount Pictures, Paramount Animation, Paramount Television Studios, Paramount Players, MTV, Nickelodeon, Comedy Central, CBS, and select DreamWorks Animation titles. Moreover, PHE orchestrates global licensing of studio content and transactional distribution across diverse digital platforms spanning online, mobile, portable devices, and cutting-edge technologies.
Paramount Pictures: A Cinematic Powerhouse
Paramount Pictures Corporation (PPC), a pivotal figure in worldwide film production and distribution, operates under Paramount (NASDAQ: PARA, PARAA), a leading global media and entertainment conglomerate crafting premium content and unforgettable experiences for a global audience. Paramount Pictures holds dominion over an array of iconic brands in the film industry, including Paramount Pictures, Paramount Animation, and Paramount Players. PPC's operations extend to Paramount Home Entertainment, Paramount Pictures International, Paramount Licensing Inc., and Paramount Studio Group, forging a legacy in the world of entertainment.