Embrace Your Inner Monster in the All-New Monster High Movie!
Monster High: The Movie
Overview: Join Clawdeen Wolf, Draculaura, Frankie Stein, and more beloved monsters in the highly-anticipated live-action musical, "Monster High: The Movie." This film brings to life the iconic Monster High franchise, centered around the offspring of famous monsters and creatures. Follow Clawdeen Wolf, a unique blend of human and werewolf, as she embarks on an exhilarating journey towards self-discovery and acceptance at Monster High. When a dark threat looms over the school, it's up to Clawdeen and her newfound friends to save the day. Get ready for a thrilling adventure within the hauntingly cool halls of Monster High!
Release Date:
Available on DVD from Paramount Home Entertainment on August 15, 2023
Suggested Retail Price: $10.99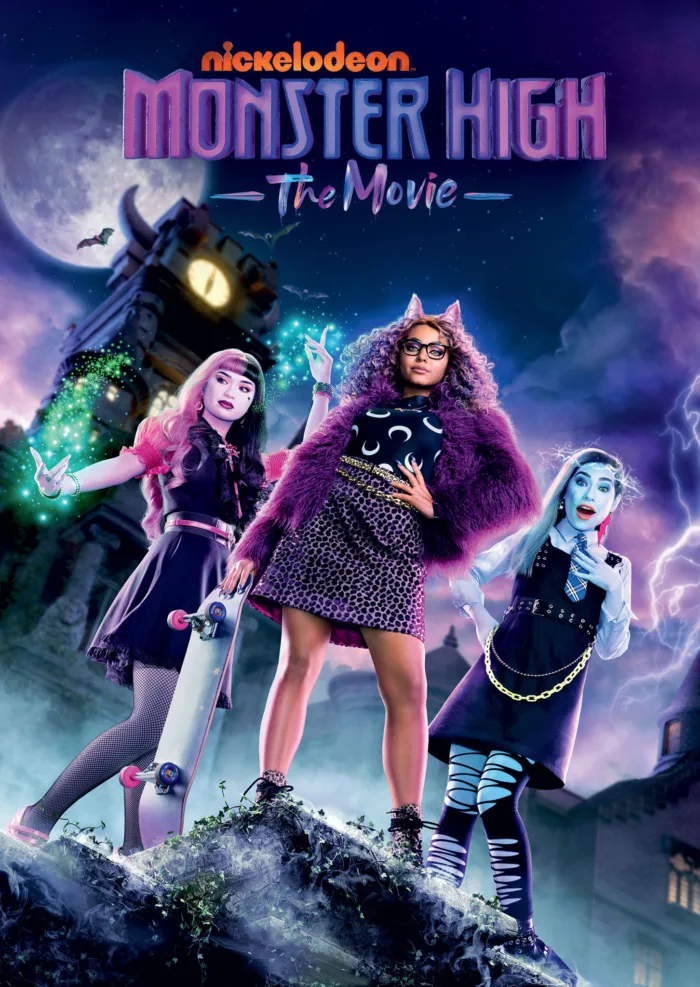 Synopsis:
Monster High: The Movie revolves around the captivating story of Clawdeen Wolf, a one-of-a-kind character who is part human and part werewolf. Upon her arrival at Monster High, Clawdeen quickly befriends fellow students Frankie Stein and Draculaura. For the first time in her life, Clawdeen experiences a sense of belonging and the freedom to embrace her true self. However, a sinister plan to destroy Monster High emerges, forcing Clawdeen to fully embrace her unique identity and rally her friends to thwart the impending disaster.
Fast Facts:
Street Date: August 15, 2023
Catalog: 191329251669 (US)
Audio: Dolby Digital English 5.1
US Rating: Not Rated
US Manufacturer's Suggested Retail Price: $10.99
About Nickelodeon:
Nickelodeon, a beloved entertainment brand for kids, celebrates 44 years of captivating content. With a commitment to putting children first, Nickelodeon has established a diverse, global presence. This brand encompasses television programming and production worldwide, along with consumer products, digital platforms, immersive experiences, publishing ventures, and feature films. For more information and exciting artwork, visit NickPress.com. Nickelodeon proudly belongs to Paramount's global family of multimedia entertainment brands.
About Paramount Home Entertainment:
Paramount Home Entertainment (PHE) operates under the esteemed Paramount Pictures Corporation (PPC), a renowned producer and distributor of cinematic entertainment. PPC stands as a unit of Paramount (NASDAQ: PARA, PARAA), a leading global media and entertainment enterprise that crafts premium content and immersive experiences for audiences spanning the globe. Within the Paramount umbrella, PHE supervises PPC's worldwide home entertainment and digital distribution endeavors. This division handles the sales, marketing, and distribution of home entertainment content on behalf of Paramount Pictures, Paramount Animation, Paramount Television Studios, Paramount Players, MTV, Nickelodeon, Comedy Central, CBS, and certain DreamWorks Animation titles. PHE also manages the global licensing of studio content and transactional distribution across an array of digital platforms worldwide, including online, mobile devices, and emerging technologies.
About Paramount Pictures:
Paramount Pictures Corporation (PPC), a dominant force in global filmed entertainment production and distribution, constitutes a unit of Paramount (NASDAQ: PARA, PARAA), a leading global media and entertainment conglomerate. Paramount Pictures commands an impressive array of influential brands in the realm of cinematic entertainment, including Paramount Pictures, Paramount Animation, and Paramount Players. PPC operations encompass Paramount Home Entertainment, Paramount Pictures International, Paramount Licensing Inc., and Paramount Studio Group.