I received a Novosbed Memory Foam mattress in exchange for this post. All opinions are my own.
Sleep is important. It's how the body recharges. It keeps our mind and body going. I didn't realize how true this was until we received a Novosbed Memory Foam mattress.
Those big box store mattresses are not a deal when it comes to rest. We've had them. I thought aches and pains were just my body's way of telling me we were getting older. I tossed and turned, which had my husband's sleep being interrupted, making for a miserable night's sleep night after night. It turns out if you have back pain when you sleep, you need a new mattress.
We hate the task of mattress shopping. Before we are even in the door, a salesman is ready. Then there's laying on a bed, in public with said salesman looming over you. It is not a comfortable experience for me. I can't relax enough to gauge how I'm going to sleep on this bed for the next ten years. I don't lay on my back; I'm a side and belly sleeper. How do they expect you to just morph into your favorite sleeping position under the gaze of an absolute stranger?
We went with Novosbed, sight unseen and no "lay-on-the-mattress-testing."
Our bed arrived: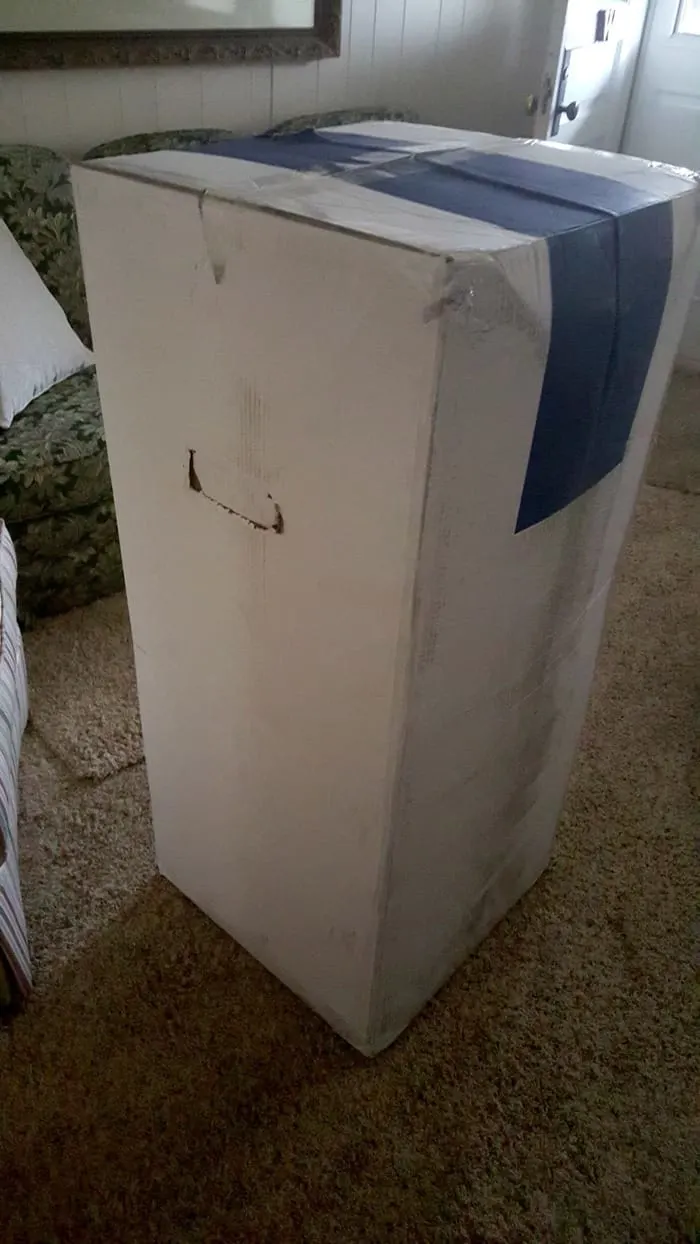 A California King mattress inside this cardboard box. Would it change my life?
There were no delivery men — no truck. The mattress was delivered directly to my door. So far I liked this process!
We dragged it in, and we began unboxing.
Admittedly, my husband could have used my help, but I figured it fair, considering I've had a lifetime of miserable sleep!
Out of the box, he placed it on the bed's platform and removed the plastic. It came to life!
It really was quite impressive.
As it fluffed to life, my husband leaned on it, he sat on it, he declared, "it's going to be far too soft for anyone to get sleep".
I swallowed hard and said,"Patience, grasshopper!"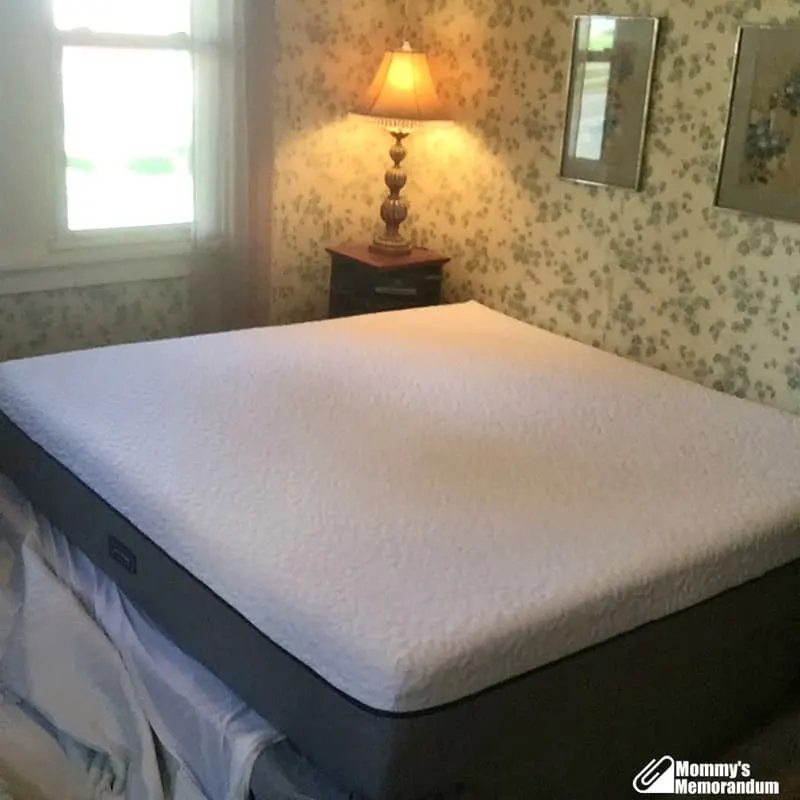 To be honest, I was a little leery. We still had our three-year-old mattress and boxspring. If this BIAB didn't work out, we could always go back. But what were we going to do with the Novosbed mattress that was still fluffing on our bed?
Turns out, Novosbed has a 120-day sleep-on-it-guarantee. If you don't like it, save the plastic it came in and the folks at Novosbed will arrange to have it picked up at no cost. They will actually donate returned mattresses to those in need. So? Worst-case scenario, someone who didn't have a bed, would get this mattress if my husband was right.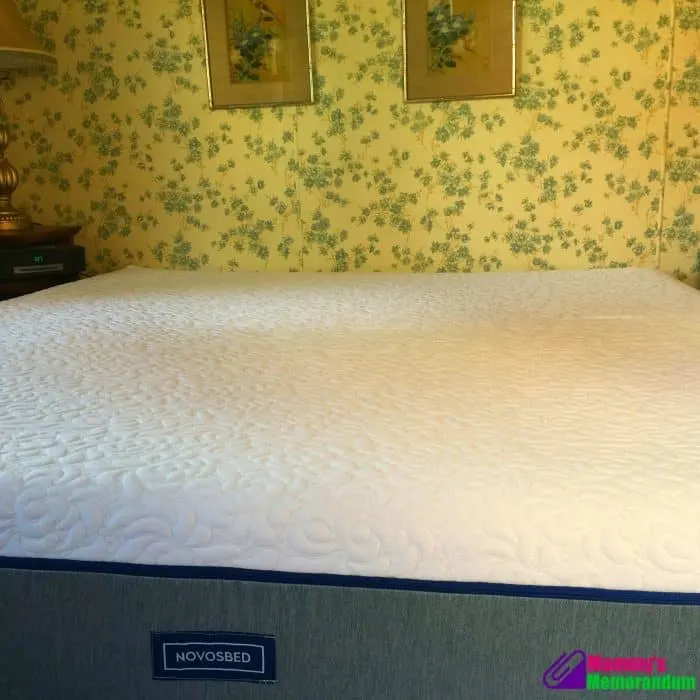 We put sheets on the bed.
A couple of things we learned as we read about Novosbed and made it. Novosbed uses a higher-density foam, comparable to the high-end memory foam mattresses at retail stores. The quality is amazing.
My dad has a queen memory foam bed he bought maybe 12 years ago and paid over $3,000 for. I've taken a nap on it and it was nice, but the price range seemed crazy!
One of my favorite things about Novosbed is that it has a zip-off, washable cover. This is BIG for us as we have two dogs and kids. Shed happens and other things that are out of our control. There is a care card with instructions, on the side of the mattress, for washing the cover and treating those "emergency" spills. Spilling liquid on the mattress will void your warranty.
Each Novosbed includes a heavy elastic panel under the washable top panel that protects the core during cover re-attachment, as well as maintains the cover integrity while the top panel is being washed. They really have thought of everything.
If you've read any reviews about Beds in a bag, you may have read about the smell. Ours did have a slight smell; Novosbed uses carbon dioxide as a propellant and by the time we made the bed, the smell was no longer an issue fo us.
Our first night's sleep took some getting use to for us. We had never spent the night on a memory foam mattress and it was different. We weren't used to how our body felt on it.
We stuck it out another night and when I came home the third night, I told my husband, "All I can think about is going to bed on that mattress!"
It was true.
I was starting to feel rested. My body felt better. I was waking up ready to take on the day and it felt great.
My the end of the first month, I felt like a baby bird in a nest when I laid down. By now I was used to how the mattress conformed to my body. It knew exactly how to hold me, in any sleep position.
Sleep was amazing!
My Jawbone fitness tracker says I'm averaging more, deeper sleep. I'm also falling asleep without the tossing and turning that was once my routine.
Novosbed says this mattress will last 50-percent longer than a traditional mattress. I have no way of knowing this. We're in it for almost three months and it's been amazing.
The mattress is very heavy, which is noticeable if you make a bed with the military-style tucks on the corners. It's not a deal-breaker for me because I feel so much better and rested.
I think the moment we realized the difference in this mattress is when we traveled out of town. Prior to the Novosbed, we loved our out-of-town adventures because we stay at a hotel chain with amazing mattresses. We stayed at the same hotel chain, the same mattress brand, but we had issues falling asleep. I've traveled out of town a couple of times and called my husband to tell him I slept terribly and I can't wait to come back home and sleep in my own bed. it happens every time.
Novosbed also offers a great feature called the Comfort+ layer. They realize you bought the mattress without knowing the firmness. Novosbed addresses this by giving you 30-days to sleep on your Novosbed mattress, if you need adjustment to the firmness, they will send you their Comfort +Layer.
The Comfort + Layer slides on the foam into a provided slipcover. You zip off the washable top cover and zip on the expander. Once in place, put the washable top cover back on and zip it onto the expander. It is an easy process and takes less than 7 minutes. It doesn't change the appearance of the bed, but it will make the mattress harder or softer, depending on your adjustment. It is NOT a topper but actually integrates into the mattress.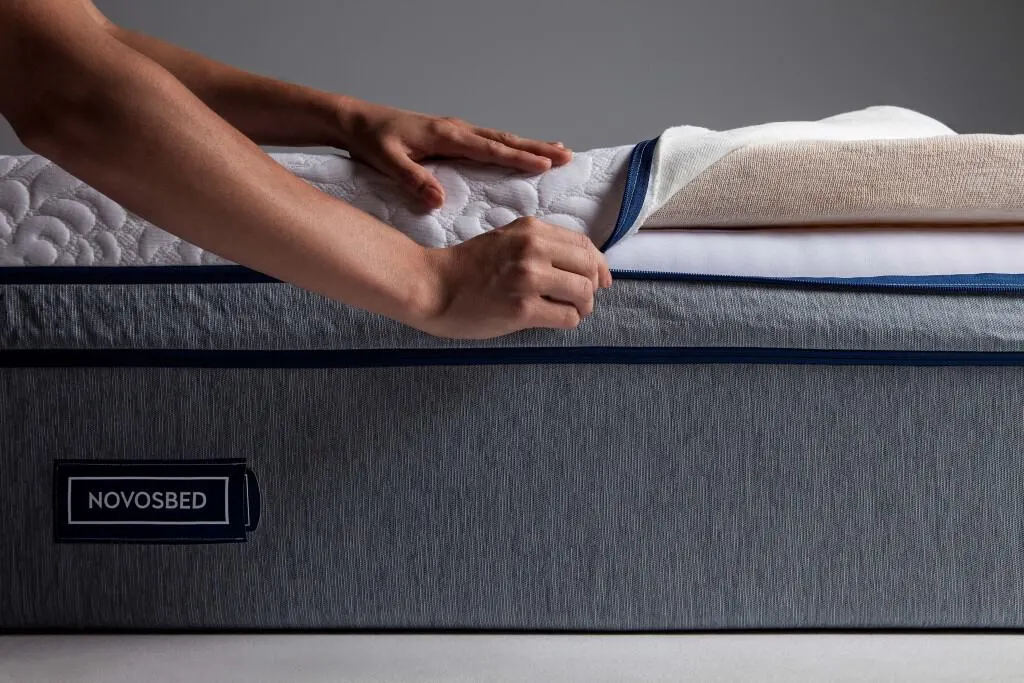 Novosbed has a full range of mattress sizes and a variety of options, making your mattress seem almost customized to your sleep habits. I absolutely am getting such better rest and waking up feeling refreshed and ready to take on the day. Visit Novosbed and discover your new memory foam mattress and a better night's sleep today!