Discover the vibrant shopping scene of Brighton! From historic lanes to contemporary centers, find unique boutiques, antiques, fashion, and more. Explore now!
There's nowhere quite like Brighton. It is a city packed with charm and character. There seems to be something always happening, yet it maintains such a laidback atmosphere. The uniqueness of the place is reflected in its shopping scene: from flea markets to beautiful boutiques – Brighton has a treasure chest of stores just waiting for you to discover them.
Brighton is a vibrant and popular coastal city located in East Sussex, England. Known for its bohemian atmosphere, diverse culture, and stunning seaside views, Brighton offers a wide range of shopping opportunities to cater to different tastes and interests.
Here's some information about shopping in Brighton:
North Laine: One of the most popular shopping areas in Brighton, North Laine is a bustling district filled with independent boutiques, vintage stores, antique shops, and quirky retailers. It's an excellent place to find unique clothing, accessories, art, homeware, and gifts.
The Lanes: The Lanes are a historic maze of narrow streets located in the heart of Brighton. This area is renowned for its charming shops, including jewelry stores, designer boutiques, antique dealers, and independent retailers. The Lanes are particularly famous for their antique and vintage jewelry, making it a great destination for jewelry enthusiasts.
Churchill Square Shopping Centre: Situated near the seafront, Churchill Square is Brighton's main shopping center. It houses over 80 stores, including popular high street brands, fashion retailers, beauty shops, and electronics stores. Here, you can find a wide range of products, from clothing and accessories to technology and home goods.
Brighton Marina: If you're looking for a mix of shopping and entertainment, Brighton Marina is worth a visit. It offers a range of shops, including fashion boutiques, sportswear outlets, and home stores. Additionally, the marina complex features a cinema, bowling alley, restaurants, cafes, and bars, making it a great place to spend the day.
Brighton Open Market: The Brighton Open Market is a vibrant and diverse marketplace where you can find an assortment of goods, including fresh produce, artisanal food, flowers, vintage clothing, crafts, and handmade items. It's an ideal spot for those seeking local and organic products, as well as a lively atmosphere.
Western Road: Parallel to the seafront, Western Road is another popular shopping destination in Brighton. It offers a mix of independent boutiques, fashion stores, and well-known brands. From clothing and accessories to furniture and home decor, Western Road caters to a wide range of shopping preferences.
Brighton's Flea Markets and Vintage Fairs: Brighton is well-known for its vibrant flea markets and vintage fairs, where you can hunt for unique treasures and one-of-a-kind items. Events like the Brighton Flea Market and the Brighton Vintage Fair attract vendors and shoppers from all over, offering a wealth of vintage clothing, collectibles, antiques, and retro items.
Whether you're looking for high street brands, independent boutiques, vintage finds, or unique souvenirs, Brighton has a diverse shopping scene that can satisfy a variety of tastes and budgets. It's a city that embraces individuality and creativity, making it a fantastic destination for shopping enthusiasts.
A Guide to Shopping in Brighton
The Lanes
You can't talk about shopping in Brighton without mentioning the iconic Lanes. You can get a real feel for the city's history by walking through these tiny, twisting, streets. The Brighton Lanes are bursting with unique jewelry and antique shops. From the boutiques to the buskers, there is so much happening in this part of the city. It's best to spend a lazy afternoon winding your way through the Lanes and seeing what you discover. According to Thames Link Railway, travelling to Brighton couldn't be easier – there are plenty of train routes, and it's only an hour ride away from London.
The Lanes is a historic and picturesque shopping district in Brighton that attracts locals and tourists alike. It is a network of narrow, winding streets lined with an array of unique shops, boutiques, cafes, and restaurants.
Here are some key features of The Lanes:
Unique Shopping Experience: The Lanes offer a distinct and eclectic shopping experience. The streets are filled with charming independent shops and boutiques, many of which are housed in historic buildings with beautiful facades. You'll find an impressive variety of stores selling everything from clothing, footwear, and accessories to jewelry, art, books, and homeware.
Jewelry Quarter: The Lanes are particularly renowned for their jewelry shops. This area is often referred to as the "Jewelry Quarter" of Brighton. Here, you'll discover an impressive selection of jewelry stores, ranging from high-end boutiques to independent artisans and antique dealers. Whether you're searching for contemporary designs, vintage pieces, or bespoke creations, you're likely to find something special in the jewelry shops of The Lanes.
Antique and Vintage Finds: The Lanes are also a treasure trove for antique lovers and vintage enthusiasts. Numerous antique dealers and vintage stores are scattered throughout the district, offering an extensive range of collectibles, retro fashion, furniture, artwork, and curiosities. Exploring these shops can be like stepping into a bygone era and unearthing hidden gems from the past.
Art Galleries and Studios: Art lovers will appreciate the presence of numerous art galleries and studios within The Lanes. These spaces showcase the works of local artists, featuring paintings, sculptures, photography, and other artistic creations. It's a great opportunity to explore the thriving art scene of Brighton and potentially find unique pieces to take home.
Cafes and Restaurants: Amidst your shopping adventures, you'll come across cozy cafes, quaint tearooms, and charming restaurants tucked away in the nooks and crannies of The Lanes. These establishments offer a delightful break from shopping, providing an opportunity to relax, enjoy a cup of tea or coffee, and savor delicious meals and treats.
Lively Atmosphere: The Lanes exude a vibrant and bustling atmosphere. The narrow streets are often filled with shoppers, tourists, street performers, and musicians, creating a lively and energetic ambiance. There's a sense of charm and character that adds to the overall experience of exploring this historic district.
Festivals and Events: Throughout the year, The Lanes are host to various festivals, markets, and events. These occasions bring together local artisans, designers, and vendors, showcasing their crafts, handmade products, and unique offerings. The festivals provide an opportunity to engage with the local creative community and discover one-of-a-kind items.
Whether you're an avid shopper, a history enthusiast, or simply looking to soak up the unique atmosphere, The Lanes in Brighton offers an enchanting shopping experience. It's a place where you can wander through the narrow streets, discover hidden gems, and immerse yourself in the charm and creativity that defines this iconic shopping district.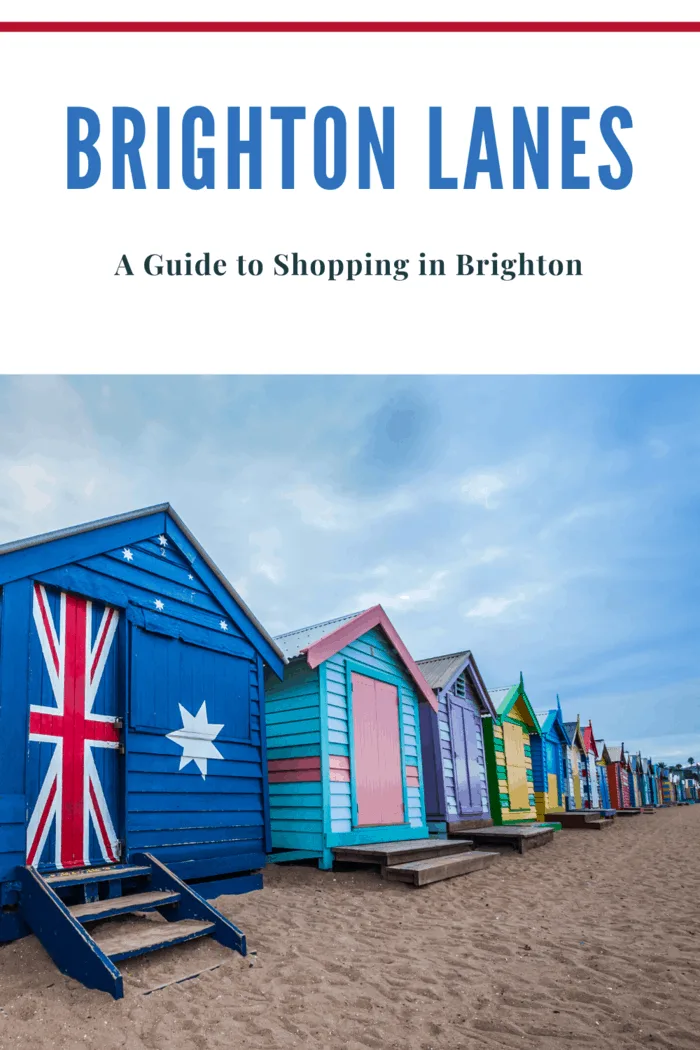 Kemptown
Kemptown is east of the city center and goes right down to the Brighton Marina. It is an incredibly vibrant part of the city. If you want to support independent places when you're shopping, then this is the right spot for you. Grab a coffee from one of the many cafes and get ready to explore. From secondhand to chic design – your wardrobe is going to have quite a few additions when you're done here. Kemptown is the heart of the city's LGBTQ + community, says Telegraph.
Kemptown is a vibrant and eclectic neighborhood located east of Brighton's city center. Known for its bohemian atmosphere, diverse community, and charming seafront location, Kemptown offers a unique shopping experience.
Here's more about Kemptown:
Independent Shops and Boutiques: Kemptown is renowned for its independent shops and boutiques. Along St. James's Street, the main thoroughfare, you'll find a range of stores selling fashion, accessories, vintage clothing, homeware, and unique gifts. These independent retailers often showcase local designers, artisans, and unique products, making it an ideal place to find one-of-a-kind items.
Antique Stores and Curiosities: Kemptown is also home to several antique stores and shops specializing in vintage and retro items. Antique enthusiasts and collectors can browse through a diverse selection of furniture, artwork, collectibles, and decorative pieces. These establishments provide a treasure trove of items from different eras, offering a chance to discover unique and nostalgic finds.
Art Galleries: Kemptown has a thriving arts community, and you'll find several art galleries showcasing local and international artists. These galleries exhibit a range of artistic styles, including paintings, sculptures, photography, and mixed media. Visitors can explore the vibrant art scene, discover new talents, and even purchase artwork to adorn their homes.
LGBTQ+ Scene: Kemptown has a significant LGBTQ+ presence and is considered a hub for the LGBTQ+ community in Brighton. Along St. James's Street, you'll find LGBTQ+-friendly businesses, including bars, clubs, and shops catering to diverse tastes and interests. This vibrant and inclusive atmosphere adds to the unique character of the neighborhood.
Cafes, Bars, and Restaurants: Kemptown offers a diverse culinary scene with a wide range of cafes, bars, and restaurants to suit different preferences. Whether you're looking for a cozy cafe to enjoy a cup of coffee, a trendy bar for cocktails, or a restaurant serving international cuisine, Kemptown has options to satisfy every palate.
Flea Markets and Vintage Fairs: Kemptown occasionally hosts flea markets and vintage fairs, providing opportunities to explore stalls filled with retro treasures, vintage clothing, and unique collectibles. These events attract vendors from the local area and beyond, creating a lively and bustling atmosphere that is perfect for treasure hunting.
Brighton Marina: While not technically part of Kemptown, the Brighton Marina is located nearby and is easily accessible. The marina offers a shopping complex with a variety of stores, including fashion, home goods, and outdoor equipment. Additionally, it features waterfront restaurants, cafes, and a cinema, providing a complete shopping and leisure experience.
Kemptown's vibrant and diverse shopping scene, combined with its lively atmosphere and proximity to the seafront, makes it a popular destination for locals and visitors alike. Whether you're seeking unique fashion, antique treasures, artistic inspiration, or a lively social scene, Kemptown has something to offer for everyone.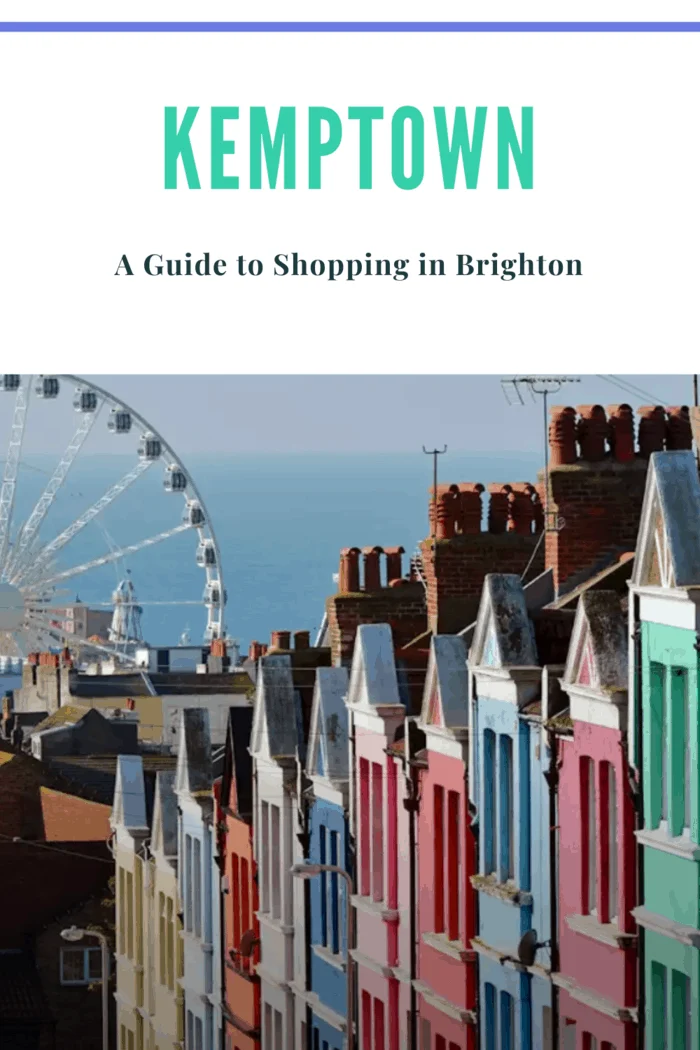 Seafront
The West Pier combines sun, sea, and shopping. If you want to do a spot of souvenir shopping, here is a good place to start. You can help support local artists by paying a visit to the Artists' Quarter. There is a fantastic range of studios where artists display their work, it's almost like a walkthrough gallery, right by the ocean. If you get your timings right, you might even get to see the custom illuminations during the evening.
Visit Brighton's seafront is undoubtedly one of the city's most iconic and cherished features. Stretching along the English Channel, it offers a dynamic and vibrant atmosphere with a plethora of activities, attractions, and opportunities for leisure and shopping.
Here's an expansion on Brighton's seafront:
Promenade and Beaches: The seafront promenade is a bustling hub of activity and a popular spot for leisurely walks, cycling, and rollerblading. The wide, paved promenade stretches along the coast, offering stunning views of the sea, the Brighton Pier, and the beach. The pebble beach itself is a hallmark of Brighton, where visitors can relax, soak up the sun, play beach games, or take a refreshing dip in the sea.
Seafront Bars and Restaurants: The seafront is dotted with numerous bars, cafes, and restaurants, making it a perfect place to indulge in a wide range of culinary delights. From traditional fish and chips to international cuisine and gourmet dining, there are options to suit all tastes and budgets. Many establishments boast beautiful sea views, providing a picturesque setting for enjoying a meal or a drink.
Brighton Pier: Standing as an iconic landmark on the seafront, Brighton Pier is a must-visit attraction. The pier offers a wealth of entertainment options, including amusement arcades, fairground rides, a funfair with thrilling roller coasters, and traditional seaside attractions like the carousel and helter-skelter. There are also food kiosks and fish and chip stands for grabbing a quick bite while enjoying the lively atmosphere.
Seafront Shopping: The seafront is home to a variety of shops and boutiques offering beachwear, souvenirs, art, and unique gifts. Along the promenade, you'll find kiosks and stalls selling everything from Brighton-themed merchandise to handmade crafts. Whether you're looking for a memento to remember your visit or browsing for beach essentials, the seafront shops have you covered.
Water Sports and Activities: Brighton's seafront is a haven for water sports enthusiasts. You can try your hand at activities like kayaking, paddleboarding, and sailing. Lessons and equipment rentals are available for those looking to experience the thrill of riding the waves. For adrenaline junkies, there's also the opportunity to experience activities such as jet skiing and parasailing.
Volks Electric Railway: Running along the seafront, the Volks Electric Railway is the oldest operating electric railway in the world. This historic narrow-gauge railway takes visitors on a scenic journey along the coast, offering views of the sea and the cityscape. It's a charming way to explore the seafront and take in the coastal beauty.
Events and Festivals: Throughout the year, Brighton's seafront hosts a variety of events and festivals that attract locals and tourists alike. These include the Brighton Fringe Festival, music concerts, food festivals, and sporting events. The seafront often serves as a vibrant backdrop for these gatherings, adding to the festive atmosphere and providing a memorable experience for visitors.
Brighton's seafront is a lively and captivating destination that combines natural beauty, recreational activities, entertainment, and shopping opportunities. Whether you're looking for relaxation, adventure, or a vibrant social scene, the seafront offers a diverse range of experiences that make it a must-visit location in Brighton.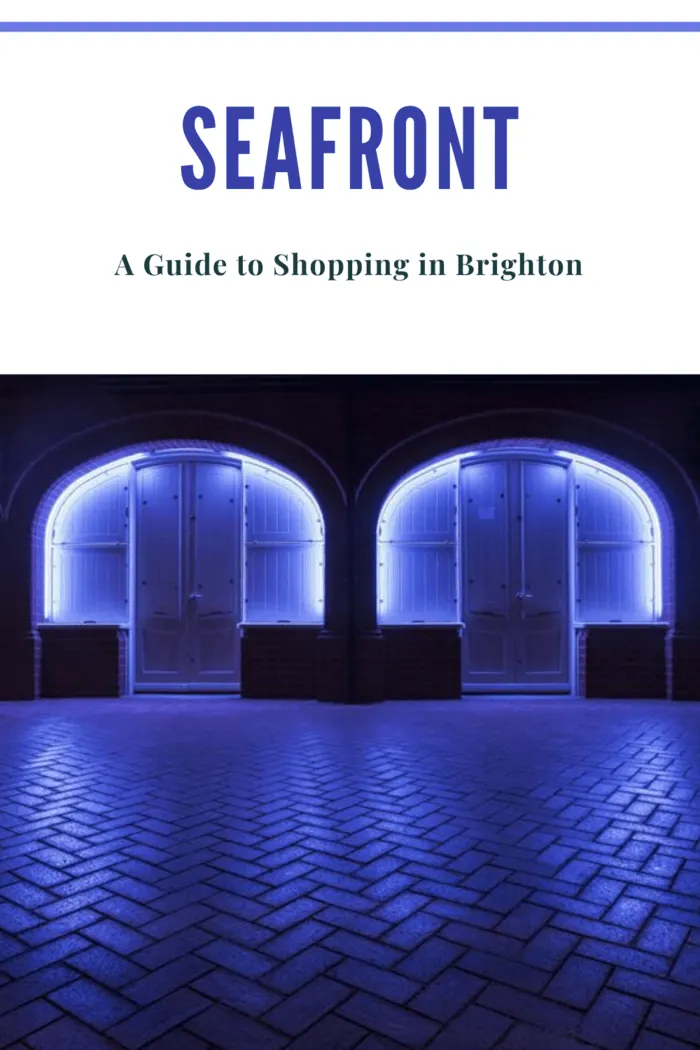 Churchill Square
If you want the best of classic High Street shopping then look further than Churchill Square Shopping Centre. It has over 80 shops and places to eat in one building (Visit Brighton). You can get there by walking, bus, or car. You can find the shopping center on Western Road, which itself boasts plenty of shops – from well-known brands to more independents. It's a good thing there are so many cafes nearby as you may need to take a break from shopping for a cup of tea or a sweet treat or two. Brighton is a shopper's paradise, with all of its nooks and crannies there's something for everyone. Half of the fun is stumbling across a shop that feels like it was made for you.
Churchill Square is a prominent shopping center located in the heart of Brighton. It is a bustling hub for retail therapy, offering a wide range of stores, dining options, and entertainment.
Here's an expansion on Churchill Square:
Retail Stores: Churchill Square boasts over 80 stores, making it one of the largest shopping centers in Brighton. The center is home to a variety of well-known high street brands, fashion retailers, department stores, and specialty shops. Whether you're looking for clothing, footwear, accessories, beauty products, electronics, or home goods, you're likely to find what you need within the diverse range of stores available.
Fashion and Beauty: Fashion enthusiasts will find plenty to explore at Churchill Square. The center hosts numerous popular fashion retailers, offering a wide selection of styles, trends, and price points. From high street brands to designer labels, you can browse through the latest clothing collections, footwear, and accessories for men, women, and children. Additionally, Churchill Square features beauty and cosmetic stores, where you can find skincare products, makeup, and fragrances from renowned brands.
Department Stores: Churchill Square is home to major department stores such as Debenhams and H&M. These multi-level stores offer a comprehensive shopping experience, housing a diverse range of products under one roof. From clothing and accessories to homeware and furniture, department stores provide a one-stop destination for all your shopping needs.
Food Court and Dining Options: When hunger strikes, Churchill Square has a food court offering a variety of quick and convenient dining options. From fast food chains to international cuisine, you'll find a range of eateries to satisfy your cravings. Whether you're in the mood for a quick bite, a coffee break, or a leisurely meal, the food court provides a comfortable and convenient space to refuel during your shopping spree.
Entertainment and Cinema: In addition to shopping and dining, Churchill Square offers entertainment options. The center houses a cinema complex where you can catch the latest movie releases on the big screen. It's a perfect way to relax and unwind after a day of shopping or to take a break from the bustling atmosphere.
Accessibility and Amenities: Churchill Square is easily accessible, located in the city center and within walking distance of other popular attractions in Brighton. The shopping center also provides convenient amenities such as restrooms, baby-changing facilities, and wheelchair accessibility to ensure a comfortable shopping experience for all visitors.
Events and Sales: Throughout the year, Churchill Square hosts various events and sales, offering additional excitement and opportunities for discounts. These events may include seasonal sales, fashion shows, live performances, or product launches. Keep an eye out for special promotions and activities that add an extra layer of fun to your shopping experience.
Churchill Square is a bustling retail destination that caters to a wide range of tastes and preferences. With its extensive selection of stores, dining options, and entertainment, it provides a comprehensive shopping experience in the heart of Brighton.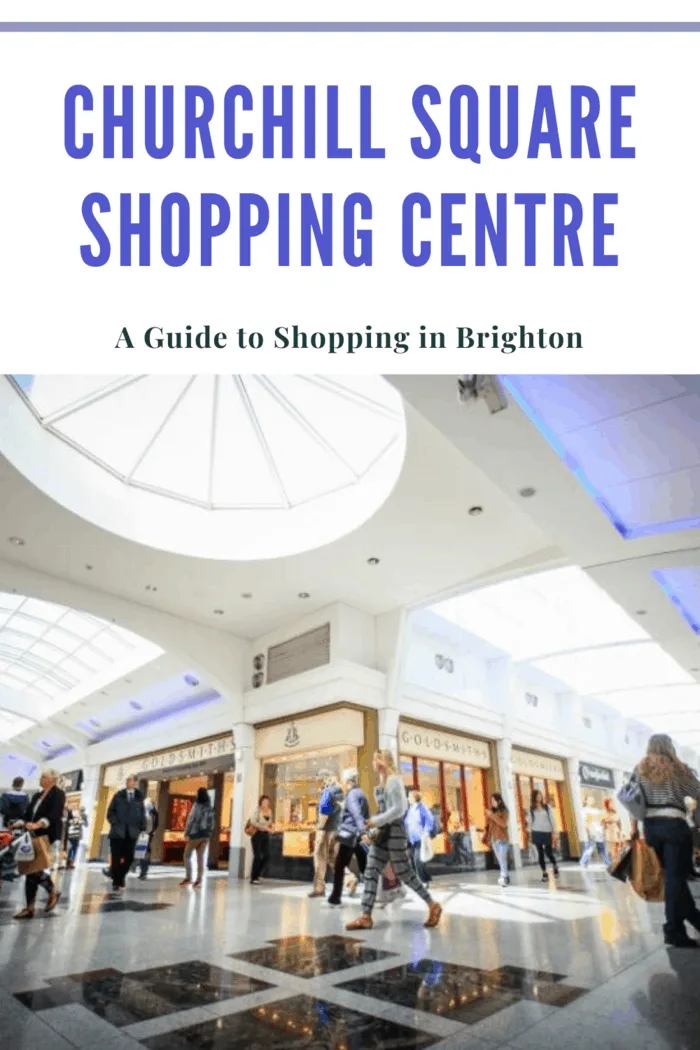 Have you visited Brighton before?
What are some of your favorite shops to visit?
Final Thoughts
In conclusion, Brighton offers a vibrant and diverse shopping experience that caters to every taste and interest. From the historic charm of The Lanes to the bustling city center and the lively seafront, the city is a shopaholic's paradise. Whether you're searching for high street fashion, independent boutiques, vintage treasures, or unique handmade items, Brighton has it all.
Exploring The Lanes allows you to immerse yourself in a world of independent shops, antique stores, and art galleries, where you can discover hidden gems and one-of-a-kind finds. The bohemian atmosphere and rich history of this district make it a must-visit destination for those seeking a unique shopping experience.
Churchill Square, on the other hand, offers a more contemporary shopping experience with its wide range of stores, department stores, and dining options. It provides a convenient and modern shopping environment where you can find all your favorite high street brands and enjoy a break at the food court or catch a movie at the cinema.
And let's not forget Kemptown, with its eclectic mix of independent boutiques, art galleries, and LGBTQ+-friendly establishments. This vibrant neighborhood showcases the diversity and creativity that Brighton is known for, offering a unique shopping experience that reflects the spirit of the city.
To complete your shopping journey, don't miss out on exploring Brighton's seafront, where you can find beachside stalls, kiosks, and even participate in thrilling water sports. The stunning views of the sea, the iconic Brighton Pier, and the lively atmosphere make the seafront an essential part of any shopping adventure in Brighton.
Whether you're a fashion enthusiast, a vintage lover, an art collector, or simply someone who enjoys browsing and discovering unique finds, Brighton's shopping scene has something for everyone. Embrace the city's bohemian spirit, immerse yourself in its cultural diversity, and let the vibrant atmosphere guide you through a shopping experience like no other.
So, grab your shopping bags, explore the charming streets, and indulge in the vibrant shops and boutiques of Brighton. It's a city that celebrates individuality, creativity, and the joy of finding something truly special. Happy shopping!