🌟 Get Enchanted with 9 Amazing and FREE Cinderella Movie Coloring Sheets! 🌟
Are you ready to embark on a magical coloring adventure straight out of a fairytale? Introducing our collection of 9 incredible Cinderella Movie Coloring Sheets, now available absolutely FREE! Unleash your creativity and immerse yourself in the enchanting world of Cinderella with these captivating illustrations.
👑 Capture the Essence of Cinderella: Each coloring sheet is carefully designed to capture the essence of this timeless tale. From Cinderella's iconic glass slipper to her breathtaking ball gown, you'll find every detail that makes this story so unforgettable.
✨ Nine Magical Scenes: Explore nine stunning scenes that showcase the magic and wonder of Cinderella's journey. Color Cinderella's leaving the castle, the enchanted castle, and more.
🎨 Express Your Imagination: You become the artist with our Cinderella Movie Coloring Sheets! Unleash your imagination and bring each illustration to life using your favorite colors. Add a sparkle, create a captivating backdrop, or reimagine Cinderella's dress in your unique style.
👧👩👵 For All Ages: Whether you're a young princess in training or a seasoned coloring expert, these sheets are perfect for everyone. Gather your family, share the joy, and let your creativity shine as you color together.
🖍️ Easy to Print: Our coloring sheets are conveniently formatted to be printed right from your home. Simply download the PDF file, hit print, and watch the magic unfold before your eyes. It's hassle-free and ready for coloring fun in no time!
🌈 Hours of Entertainment: Dive into the world of Cinderella and get lost in the realm of imagination. With nine unique coloring sheets, you'll have hours of entertainment at your fingertips. Let the colors whisk you away to a land where dreams come true.
✨ Download Your FREE Cinderella Movie Coloring Sheets Today! ✨
Enjoy these 9 Amazing and FREE Cinderella Movie Coloring Sheets!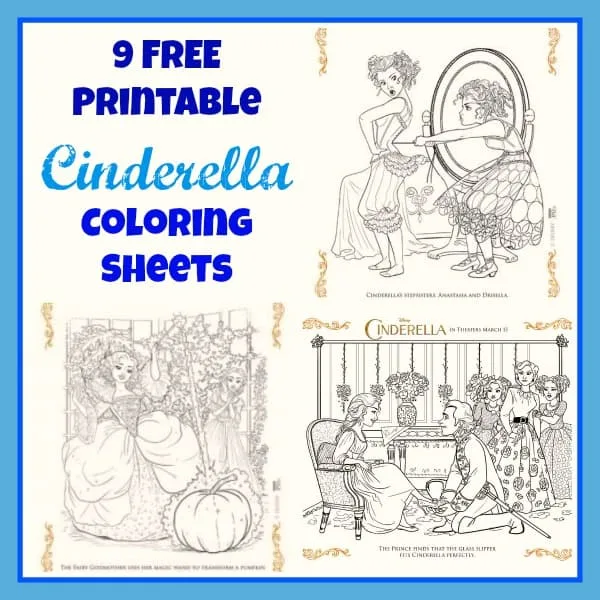 In Disney's Live Version of Cinderella, prepare to be whisked away on a breathtaking journey into a world of magic, romance, and self-discovery. This enchanting adaptation brings the beloved fairytale to life in a whole new way, captivating audiences of all ages.
Meet Ella, a young and kind-hearted girl whose life takes a dramatic turn when her beloved father unexpectedly passes away, leaving her in the care of her cold and wicked stepmother, Lady Tremaine, and her two equally unpleasant stepsisters, Anastasia and Drizella. Forced into a life of servitude, Ella finds solace in the memories of her parents' love and the lessons they taught her.
Amidst the hardships, fate intervenes when Ella crosses paths with a mysterious and dashing stranger in the woods. Little does she know, this charming young man is the Prince of the kingdom, Prince Kit. As their connection deepens, they share a magical moment, leaving Ella longing for more, while Prince Kit is determined to find the mysterious girl who captured his heart.
With the help of her loyal animal friends, including the lovable mice Gus and Jaq, Ella's fortune takes a remarkable turn when she receives a magical invitation to the royal ball. With hopes of reuniting with the enchanting stranger, Ella embarks on a transformative journey, guided by her Fairy Godmother, who bestows upon her a dazzling gown, glass slippers, and a curfew that can only last until midnight.
As Ella enters the grand ballroom, her radiance and grace captivate everyone, including Prince Kit, who is instantly drawn to her. However, their magical encounter is short-lived as the clock strikes midnight, and Ella rushes away, leaving behind a single glass slipper as a clue to her identity.
Determined to find his true love, Prince Kit embarks on a kingdom-wide search, where the glass slipper becomes the key to unlocking the mystery. Meanwhile, Ella, facing the wrath of her stepmother, must summon all her courage and inner strength to seize her own destiny and claim her happily ever after.
Disney's Live Version of Cinderella weaves together a timeless tale of love, resilience, and the belief that kindness and courage can overcome any obstacle. With stunning visuals, breathtaking costumes, and a remarkable cast, including Lily James as Ella, Richard Madden as Prince Kit, and Cate Blanchett as Lady Tremaine, this enchanting retelling will transport audiences to a world where dreams really do come true.
Experience the magic and rediscover the timeless charm of Cinderella as Disney's Live Version unfolds before your eyes, reminding us all that true beauty comes from within, and that love has the power to transform even the humblest of beginnings into extraordinary adventures.
Disney's live-action feature inspired by the classic fairy tale, "Cinderella" is in theaters everywhere. It brings to life the timeless images from Disney's 1950 animated masterpiece as fully-realized characters in a visually-dazzling spectacle for a whole new generation. The film stars Cate Blanchett, Lily James, Richard Madden, Stellan Skarsgård, Holliday Grainger, Derek Jacobi and Helena Bonham Carter.
Directed by Kenneth Branagh from a screenplay by Chris Weitz, "Cinderella" is produced by Simon Kinberg, Allison Shearmur and David Barron.