Did you know that a garage door is now considered to be one of the major home exterior design features? Besides the front door, your garage door greatly impacts the aesthetic appeal of your home's fascia. Not only does it improve the curb appeal of your property, but it also boosts its resale value.
Whether you're planning to replace your old garage door or it's your first time choosing one for your home, below are some tips you should consider when choosing a garage door for your home.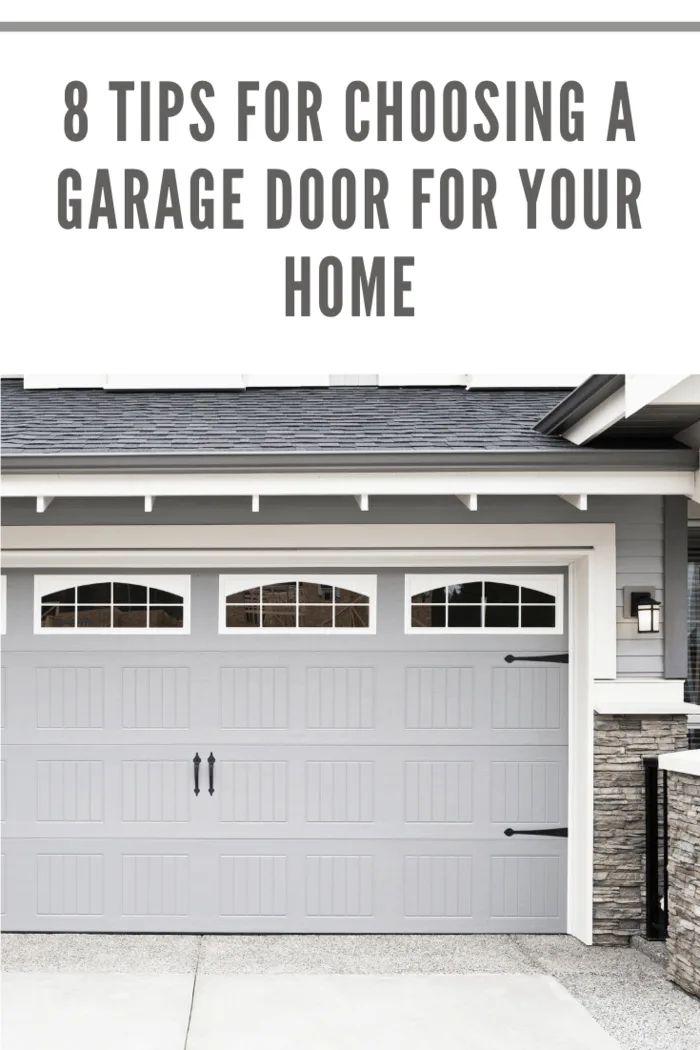 1. Pick The Right Garage Door Installer And Supplier
When choosing a garage door for your property, the supplier and installer can make a huge difference.
At present, there are plenty of specialists like Discount Garage Door that can help with your new garage door or concerns about replacement and repair.
Make sure to pick a company with a professional attitude and years of experience to get the best value for your investment.
Installing a garage door is an important item to discover for function and safety.
2. Know Your Budget
Budget is crucial when considering a garage door. The cost of garage doors depends on various factors such as the size, hardware, style, insulation, materials, etc.
When determining your budget, you must consider the significance of the aesthetic appeal of your garage door, its durability, and whether it has to be insulated.
If you're looking for the cheapest garage door, you can find a non-insulated example and install it yourself. Such doors are a great choice when a quiet operation or the most cutting-edge styles aren't critical factors.
3. Opt For A Safe Garage Door
A modern garage door is designed with safety in mind. For instance, if a garage door has an anti-finger trap feature, it prevents injury to your hands between the panels.
You can consider other safety features to avoid circumstances that cause your garage door to break down.
All you have to do is to search for some options available online.
If you buy your garage door from reliable manufacturers, your garage door has a better chance of meeting your safety needs.
4. Select The Right Color For Your Garage Door
When choosing the right garage door color, you must focus on matching your house's style and color scheme.
A mismatched garage door will throw off your home's look.
The hue of your garage door is also an opportunity to add a personal statement to your property.
If you sell your house or want it to look attractive to passersby and guests, remember that the right color can improve your curb appeal.
There are many classic options you should go with when it comes to garage doors:
Light Gray –
It has the freshness of white but is softer.
Whereas a white garage door is frequently the focal point, light garage doors may blend into the home.
Taupe or Beige –
It's similar to light gray since it's a neutral color, which blends into the home's aesthetic.
This color looks best with any brick and stone home.
White –
It's the most popular color in terms of garage doors.
It's clean and complements many styles of home design.
Brown –
It's an inviting, warm color that provides the appearance of wooden doors.
Walnut is a good brown shade for a garage door.
Black And Dark Grey –
These garage doors are unique and trendy.
Moreover, these colors are also best for hiding dents and marks.
However, they can look very intense against softer home aesthetics.
If you're confused with the color options for a garage door, make sure not to choose a vibrant color.
If you've selected a bold color for your front door and used the same shade for your garage door, it may give your home an overwhelming appearance.
The garage door color must complement and blend with your house colors.
You should also consider your home's interior style because it's a good idea to coordinate with it properly.
This gives a consistent aesthetic that's especially attractive to house buyers.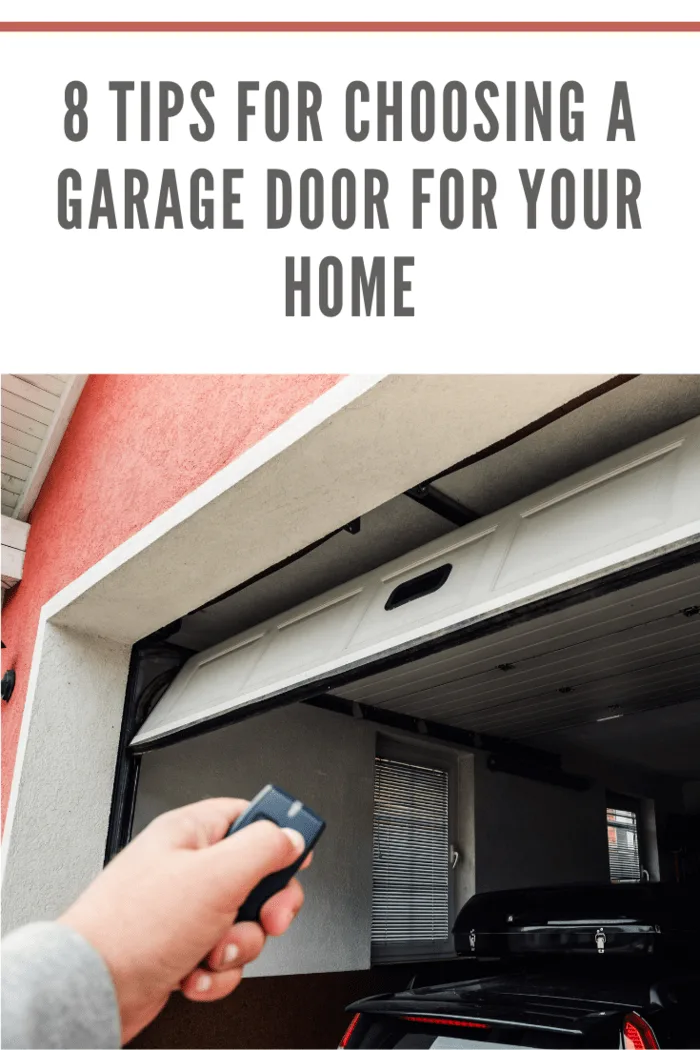 5. Keep Energy Efficiency In Mind
Everyone is concerned about household energy efficiency to enjoy savings on utility bills.
It can be achieved by considering an insulated garage door.
Most people think of their garages as the exterior, and they're not connected to the HVAC system, but an attached garage can be a source of drafts due to the sheer size of the doorways.
If you're living in a cold climate, insulated garage doors can help prevent possible heat loss, making your car easier to start.
In this case, ensure that you invest in quality seals.
Insulation does more than lessen the thermal exchange, so it has a lot to offer, especially for people living in a milder climate.
The thicker core comes with a soundproofing effect, and the garage door is less likely to be damaged and dented because of its multi-layer and solid construction.
Overall, insulated garage doors are more durable and last for a long time.
6. Don't Forget To Consider The Materials Of A Garage Door
A garage door can be made of several materials such as wood, steel, and aluminum.
The material can make a difference when you're choosing your preferred style.
Below are some of the materials to consider:
Glass And Aluminum Garage Doors
While glass and aluminum aren't as durable as steel garage doors, they have their place in the market.
Most builders and homeowners pick aluminum for garage doors because it's lightweight and resistant to nature's elements.
Aluminum doesn't deteriorate or rust in wet conditions.
Even if steel garage doors have made some remarkable advances in durable finishes, there are particular applications wherein aluminum doors outperform those made of steel.
Coastal climates are the best example of a place where you'd prefer to invest in aluminum garage doors.
On any exterior finishes, salt contact can be hard.
Direct splashing by saltwater can be rare, but salt-laden air and ocean spray carries far from the shore and settles on the garage door faces.
Salt may eat away at steel, which can result in rust.
This won't happen in an aluminum garage door because it stays serviceable and intact regardless of the weather elements, except occasionally in strong winds.
Aluminum garage doors are a perfect choice once you install them with glass.
The strength and weight ratio makes aluminum suited to support the stress from the heavy glass panels.
It delivers balanced garage doors that are easy to lift and put less cycle strain on the supporting components.
You can also consider purchasing an aluminum garage door in areas where power outages are frequent.
Lifting aluminum garage doors manually is much safer and easier than struggling with heavier wood or steel products.
Once fitted with glass panels or windows, wood and steel doors can be heavy.
But, aluminum lightens the stress and the load.
Wood
Although steel is a commonly preferred material due to its strength and durability, most homeowners fall in love with the feel and look of natural wood, which is understandable.
Natural wood helps any home stand out in its neighborhood.
However, it should be noted that wooden garage doors need a bit of routine maintenance.
Still, they are very attractive and can enhance your home's curb appeal.
Steel Garage Doors
A steel garage door has the biggest market share. It can be difficult to beat steel garage doors in value and all-around performance. Steel is long-lasting and durable. Its strength stands up to flying balls and hockey pucks that ding and dent the finish. Also, steel tolerates many garage door cycles, which shake apart lesser materials such as fiberglass, wood, and vinyl.
Even if steel garage doors are strong, they can be inexpensive, making them a perfect choice for many. This is especially true for homeowners who prefer budget-friendly and tough garage doors.
Depending on your supplier, a steel garage door is available in different gauges or thicknesses. Compared to some product ratings, the thicker the steel is, the lower its gauge number. 28-gauge steel is lightweight and thin, and excels in lighter-duty applications with limited height and span. Big doors benefit from 24-gauge steel and other thicker steel. It's a great option if insulation is a major factor and you need thicker steel for extra weight support.
Most steel garage doors also stand up well to the elements. They can take strong winds, essential in places at risk of tornadoes and hurricanes. Also, these garage doors won't twist, crack or warp like the ones made from wood. Ice, rain, and snow damage is limited with steel and due to today's advanced finishes, rusting is a thing of the past in many types of steel.
Almost all steel garage doors feature impermeable finishes. Most manufacturers apply baked-on enamel, which ensures years of maintenance-free service. Besides, factory finishes are easy to clean and need occasional hosing down only. Sometimes, these doors may only need a quick brush using soapy water.
With steel garage doors, you can also apply custom stains and paints. You can match your garage door with your home's exact color scheme depending on your preferences. Some steel garage doors have wood-grain patterns embossed into the exterior skins. For this reason, many homeowners prefer staining their steel garage doors, as it gives a true wood appearance.
7. Consider Your Region's Climate
The climate in your area will influence which kind of garage door you choose. If you're living in an area with a lot of snow and ice, know that metal doors can be more likely to rust. Likewise, wooden garage doors might not be a good idea if you're living in a place prone to termites. You'll want your door to last for several years, so consider your area's environment. You can also ask your neighbors what worked well for their garage door needs.
8. Select The Best Garage Door Styles
The plethora of different garage door styles in the market can be a little overwhelming, says Forbes. Take note that a garage door can often make or break a property's curb appeal, either helping your home stand out in the best ways or making it blend into your neighborhood.
If you're wondering which garage door style is ideal for your house, below are some popular options you can choose from:
Contemporary Garage Doors
Do you have a contemporary or modern home? If so, you may find that sophisticated garage doors are the best fit. Most of these garage doors are made of glass and aluminum, enabling you to customize the degree of privacy and amount of natural light best for your house. You'll also find steel options that deliver a chic, contemporary feel.
Traditional Garage Doors
The most common traditional garage door styles are panel models. You'll find some options for raised-panel garage doors, which can look great without making a huge design statement.
You may customize any traditional raised-panel garage doors to help them stand out. Select a unique material, add windows, choose the best stain, and more. Each small addition can help make an ideal garage door for traditional homes.
Carriage House Garage Doors
A carriage house garage door is best suited to Victorian-style and colonial homes. Such doors will take you back to when most homeowners would store carriages in a small house adjacent to their main houses.
At present, carriage house garage doors have the look of swing-out doors. However, what makes it different is that these offer the convenience of upward operation. Such garage doors also enable you to customize and choose hardware that improves aesthetics.
Conclusion
Garage doors play a crucial role in keeping your vehicles and other personal belongings safe, secure, and protected. They don't have to be flashy and expensive, but they must serve your specific needs, boost your curb appeal, and not make your eyes sore. Remember the tips above to find the perfect garage door for your home.