There's nothing like fresh salsa… but unfortunately, here on the East Coast- my cilantro is ready to go a long way before my tomatoes… So, you make do- and in so doing, discover something a-may-zing!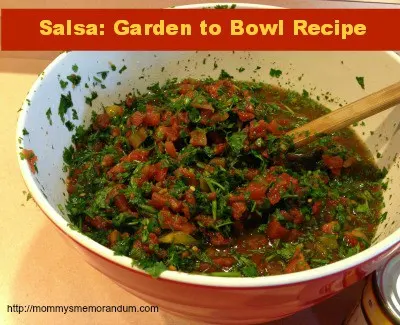 Usually, I'm all about measurements- 1/4 cup, 1.5 ounces, etc., but part of the beauty of salsa is that it's "yours"… You add as little or as much cilantro as "you" want. You mix it until it "looks right," and the most important of all is the taste testing… (I'm a Fritos Scoops lover…)
Once you put this together, you can serve it as a salsa dip or use it to substitute in any recipes that you'd typically use a can of Rotel. (One of my favorite recipes is to add this to chicken in a crockpot with some cheese and let it simmer until the chicken falls apart- then you can add the mixture to tortillas and create either quesadillas, tacos, taco salads or enchiladas, etc. The possibilities are beautiful!)
But I've gotten off track…
Because I love salsa so much, I specifically planned to have salsa ingredients in my garden when I planted it… The more you harvest, the better it grows, so harvest often and share your bounty with loved ones.
I harvested (read- cut back with kitchen scissors) my cilantro, washed it with cold water in a large colander, and then shook it out by grabbing it and shaking the water off over the sink.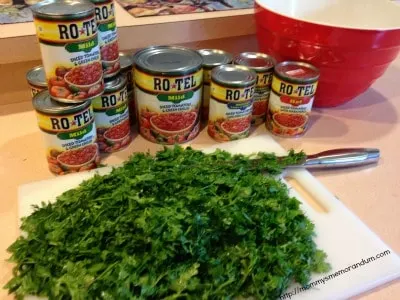 Once it was clean and no longer dripping, I transferred my bounty to a cutting board and began to chop, chop, and chop… (I prefer my cilantro on the small side)..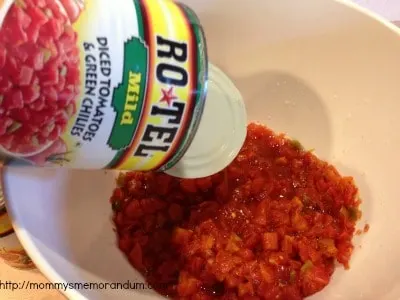 I added one can of Rotel to a large bowl and then added the cilantro. I mixed it with a rubber spatula, scraping the sides constantly and incorporating the cilantro. I continued adding cans of Rotel until it "looked right" and "tasted right" to me…
Ingredients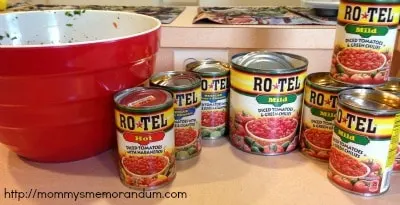 About 3 hand-fulls of cilantro
Rotel- 68 ounces of "mild" Diced Tomatoes
Rotel- 20 ounces of "Mexican Lime and Cilantro" Diced Tomatoes
Rotel- 10 ounces of "hot" Diced Tomatoes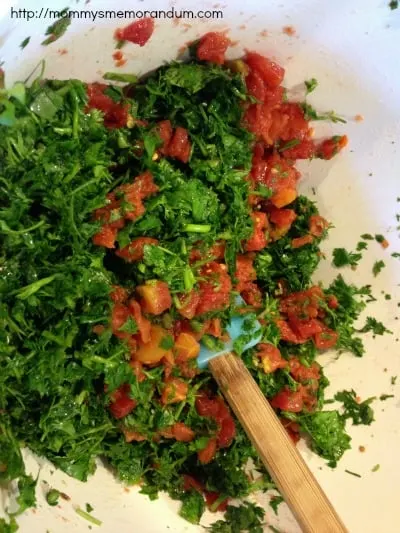 How to Make Salsa Garden to Table:
Once the cilantro is fully incorporated and the taste testing has passed, ladle the salsa into Tupperware (or, in this case- the cheap Ikea stuff) and refrigerate.