Introducing Copy Cat Jamba Juice Strawberries Wild Smoothie, the delicious smoothie that brings the taste of summer to your kitchen all year round. Made with fresh, juicy strawberries and a blend of other fruits, this smoothie is the perfect way to start your day or cool off on a hot afternoon.
The Copy Cat Jamba Juice Strawberries Wild Smoothie is made with only the freshest and highest quality ingredients, so you can enjoy a healthy and delicious drink that's bursting with flavor. With its creamy texture and sweet, fruity taste, this smoothie is sure to satisfy your cravings for something sweet and refreshing.
Making the Copy Cat Jamba Juice Strawberries Wild Smoothie is easy – just blend together fresh strawberries, banana, orange juice, and pineapple until smooth, and enjoy! It's the perfect way to get your daily dose of fruit and enjoy a tasty treat at the same time.
So why settle for boring, bland smoothies when you can enjoy the sweet, juicy flavors of the Copy Cat Jamba Juice Strawberries Wild Smoothie? It's the perfect way to start your day off right or treat yourself to a delicious snack any time of day.
Experience the taste of summer all year round with the Copy Cat Jamba Juice Strawberries Wild Smoothie. Try it today and see why it's one of the most popular smoothies at Jamba Juice and beyond!
Jamba Juice Memories
This Copy Cat Jamba Juice Strawberries Wild Smoothie recipe takes me back to dating my husband.
My husband used to call me from payphones.
He was in California and I was in Utah.
We'd each get a Jamba Juice Strawberry Smoothie, and he'd call from the payphone that overlooked the Pacific Ocean in the Bay Area around Santa Cruz and I'd be home.
He'd share the sunset with me.
Describing the flares of color and painting the picture for me.
This Jamba Juice smoothie recipe takes me back to those moments.
When life was simpler.
When we made time to stop and watch the sunset and didn't let anything–including distance, keep us from sharing it together.
This easy recipe is close to the original.
It's easy to make and is a delicious treat on the go, and best when shared!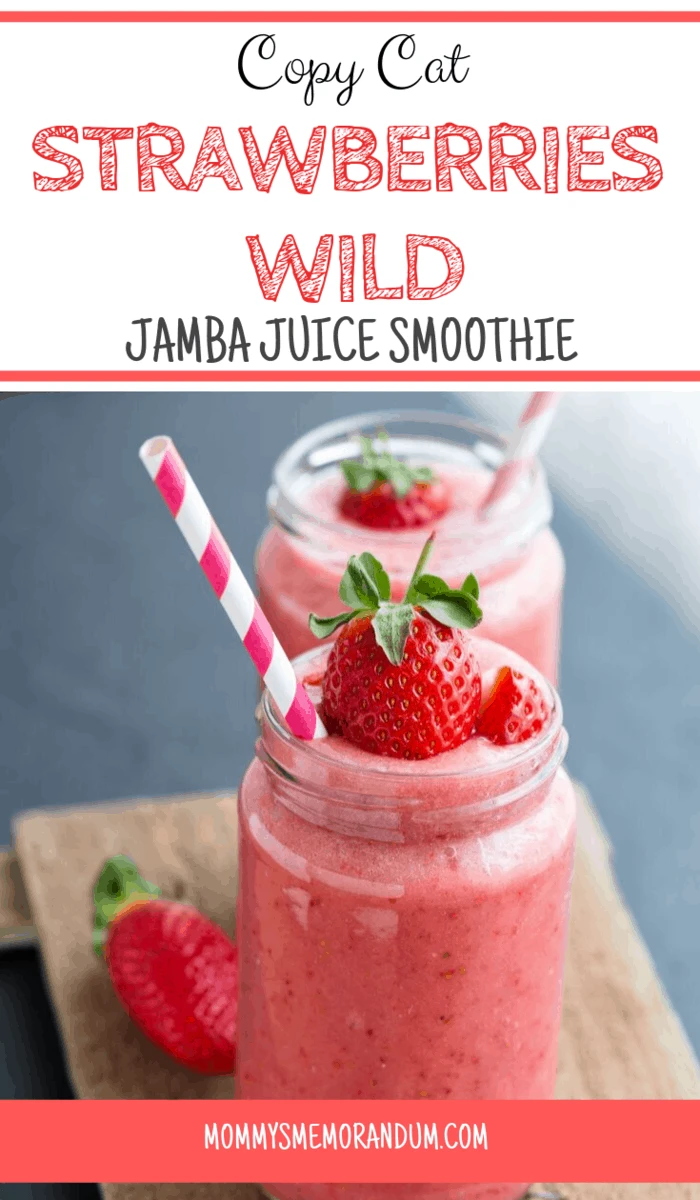 Its freshness will remind you why you are a Jamba Juice Junkie; making it at home is budget-friendly and I promise this one is so close in taste to the original that you won't need Jamba Juice to get your fix.
My kiddos love this smoothie for breakfast for a fruity start and it's one of their favorites as an after-school snack.
It's a wonderful recipe for a hot summer day.
We love that it is easy and quick to make.
Keep life simple and make time for Jamba Juice.
For this recipe, I use frozen strawberries, however, you can use fresh strawberries that have been frozen.
We have a lot of roadside stands and when it's the strawberry season, we'll buy a bunch and then wash and slice them, bag them in freezer bags and freeze them.
Fresh fruit in Jamba Juice Smoothies–yum!
Did you know?
Here are some fun facts about strawberries:
Strawberries are not actually berries, they are a type of fruit called an "aggregate fruit".
The average strawberry has around 200 seeds on its exterior.
Strawberries are the first fruit to ripen each spring.
California produces more than 80% of the strawberries grown in the United States.
Strawberries are high in vitamin C and antioxidants and are also low in calories.
The ancient Romans believed that strawberries had medicinal powers and used them to treat everything from depression to fever.
The strawberry is the only fruit that has its seeds on the outside.
Strawberries were originally called "strewberries" because they appeared to be strewn across the ground.
The world's largest strawberry shortcake weighed over 21,000 pounds and was made in the town of La Trinidad, the Philippines in 2004.
The most popular strawberry variety is the "Fragaria × ananassa", which is a hybrid species that was first cultivated in the 1700s.
But let's face it, we're here because of how the strawberry smoothie tastes!
Am I right?!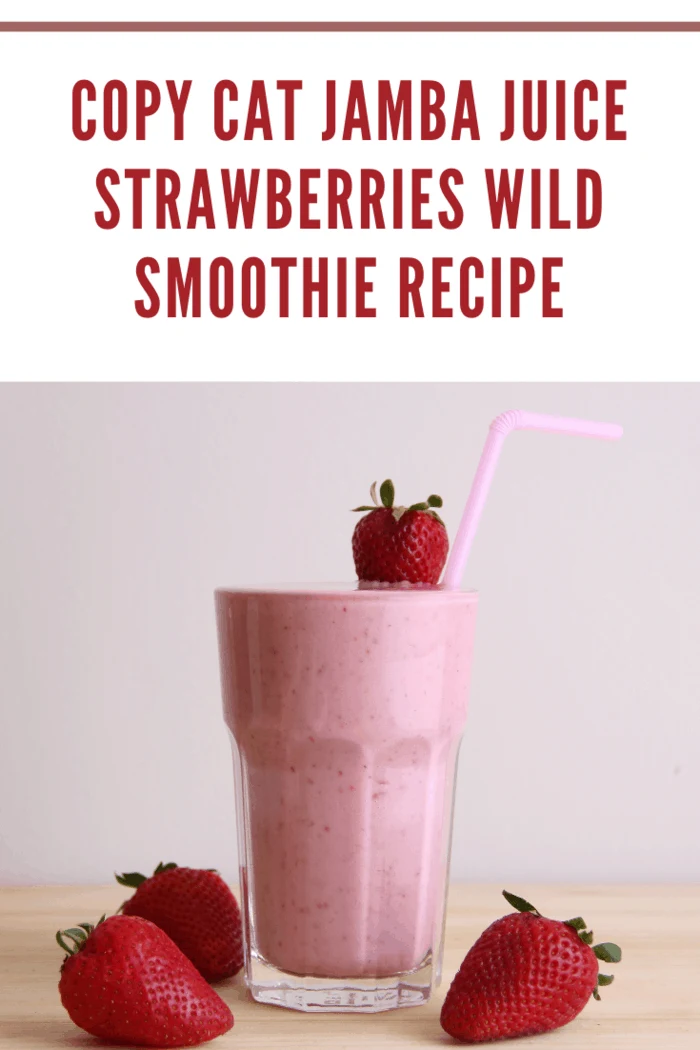 Plan Ahead
Because I know my kiddos love this copycat smoothie recipe, I'll bag a few 1 cup bags so they can grab and go.
If I have bananas getting ripe, I'll open the bag of strawberries, add banana slices, and place them back in the freezer.
Strawberries also help reduce inflammation.
A study conducted by the Harvard School of Public Health shows that women who eat 16 or more strawberries per week are 14 percent less likely to have elevated levels of C-reactive protein (CRP) — an indication of inflammation in the body.
Then the bag just can be taken out and the ingredients put into the blender for even quicker preparation.
If you're looking to reduce the calories, without sacrificing the flavor, instead of using a high-calorie frozen yogurt, try using a nonfat vanilla greek yogurt or even regular non-greek plain or vanilla yogurt.
I find it best to add the liquid to the blender before adding the fruit.
This seems to make it a quicker process with a more smoothly blended texture.
Use less liquid for a delicious smoothie bowl.
Add freshly sliced strawberries and bananas for a chunky strawberry bowl.
The original Jamba Juice Strawberries Wild calls for simple ingredients:
♥ Apple Strawberry Juice Blend
♥ Fat-Free Vanilla Frozen Yogurt
♥ Strawberries
♥ Bananas.
Those same simple ingredients are in this delicious strawberries wild copy cat.
Jamba Juice no longer is near us, so we use this recipe for a taste of their famous smoothies.
We make smoothies at home now.
This recipe is for all home cooks and you'll love how it enables you to save money and we control the ingredients.
Strawberries Wild Smoothie has to be what put Jamba Juice on the map.
It's a brilliant combination of flavors that's simple, completely satisfying, and oh, so good.
I mean strawberries and bananas with frozen yogurt!
Hello!?
What are you waiting for?
You probably have the ingredients.
right.
now.
You're just 5 ingredients away from the BEST tasting Strawberries Wild Jamba Juice copycat!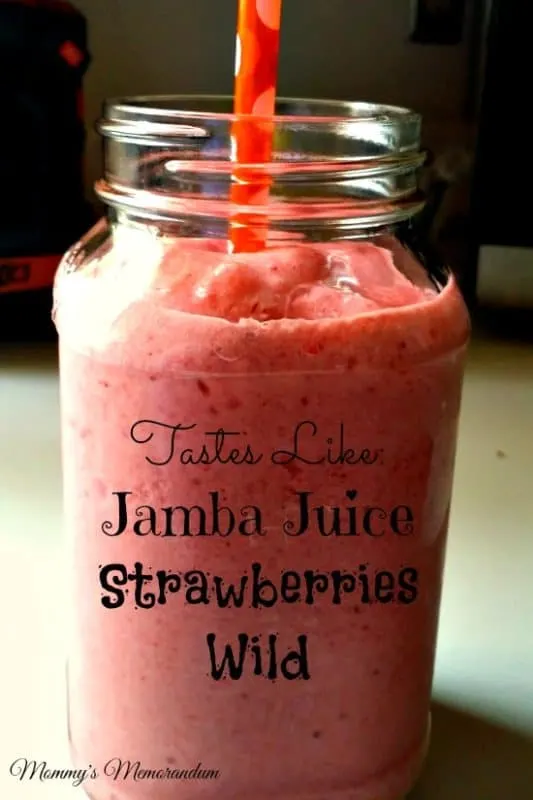 Copy Cat Jamba Juice Strawberries Wild Smoothie Recipe
Strawberry Smoothie Ingredients:
1 cup of each of the following:
apple juice
strawberries, frozen or fresh
sliced banana
non-fat vanilla frozen yogurt
ice cubes
How to Make Jamba Juice Strawberries Wild Smoothie:
Add all ingredients to the blender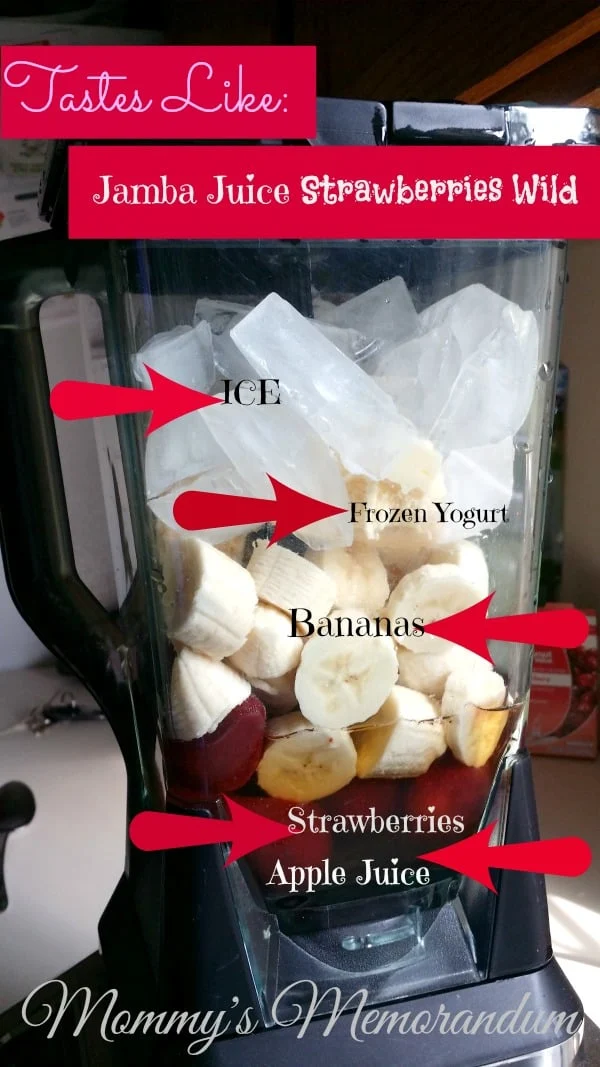 Blend completely.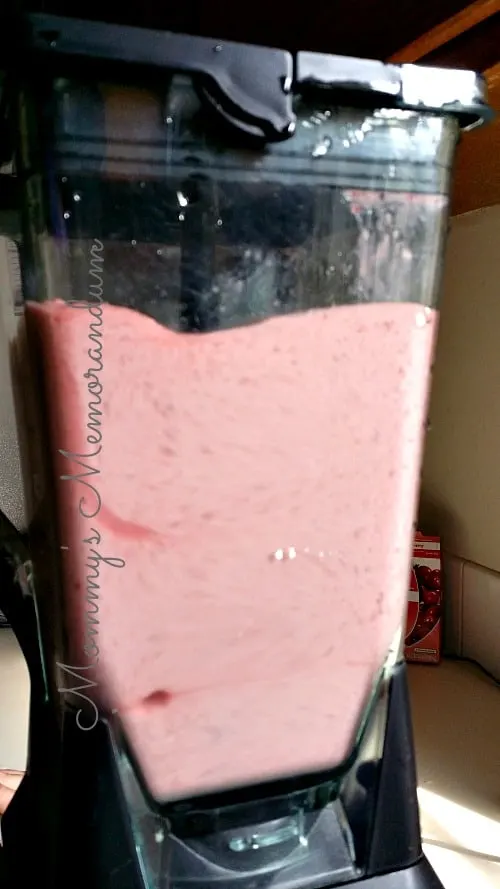 Pour into glass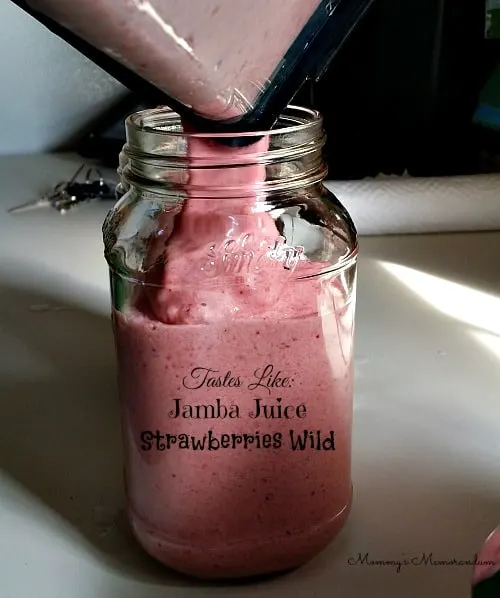 Just like the original size, this recipe makes 24 ounces, approximately
Four reasons to make this Jamba Juice Strawberries Wild smoothie recipe at home are it so easy, totally effortless, delicious, and so much cheaper.
Go ahead, make yourself one and celebrate the deliciousness and all the health benefits of strawberries in this copycat Jamba Juice Strawberries Wild.
We hope you enjoy this scrumptious strawberry smoothie; it is s favorite Jamba Juice copycat recipe from our recipe box.
How to Store Leftover Jamba Juice Strawberries Wild Smoothie:
If you have leftover Jamba Juice Strawberries Wild Smoothie, it's best to store it in an airtight container in the refrigerator.
Here are some tips for storing it properly:
Pour the smoothie into an airtight container.
Leave some space at the top of the container for expansion, as the smoothie will expand when frozen.
Place the container in the refrigerator as soon as possible.
If you are not going to consume the smoothie within a day or two, you can freeze it for later use.
To freeze the smoothie, pour it into a freezer-safe container, leaving about an inch of space at the top.
Seal the container and place it in the freezer.
To thaw the smoothie, move it to the refrigerator overnight, or you can leave it on the counter for a few hours until it reaches room temperature.
Keep in mind that the texture of the smoothie may change after it has been frozen and thawed, so it's best to consume it as soon as possible after it has been prepared.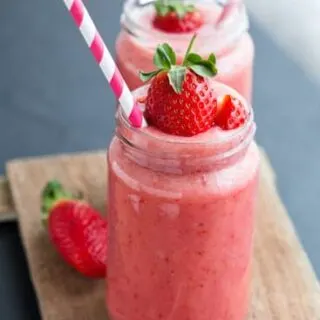 Copy Cat Jamba Juice Strawberries Wild Smoothie Recipe
This Jamba Juice Strawberries Wild Smoothie Recipe Copy Cat is close to the original. It's easy to make and is a delicious treat on the go, and best when shared!
Ingredients
1 cup apple juice
1 cup frozen strawberries
1 sliced banana
1 cup non-fat vanilla frozen yogurt
1 cup ice
Instructions
Add all ingredients to blender
Blend completely.
Pour into glass
Makes 24 ounces, approximately
Notes
For best results, add liquids to blender.
Nutrition Information:
Yield:

2
Serving Size:

1
Amount Per Serving:
Calories:

256
Total Fat:

4g
Saturated Fat:

3g
Trans Fat:

0g
Unsaturated Fat:

1g
Cholesterol:

1mg
Sodium:

71mg
Carbohydrates:

53g
Fiber:

4g
Sugar:

41g
Protein:

4g
Nutrition information isn't always accurate.