I received coupons for a discount on Jennie-O Oven Ready Frozen Turkey in exchange for this post. All opinions are my own.
Jennie-O might be my new hero. They offer turkeys that go from freezer to oven. I'm not kidding. This means you don't have to take up all the space in your refrigerator for days, defrosting a turkey. It means you don't have to remember to do anything with the turkey, aside from removing it from the freezer, remove it from the Jennie-O outside bag, place it in a pan, slide into the oven, and walk away. It's Jennie-O Oven Ready Turkey.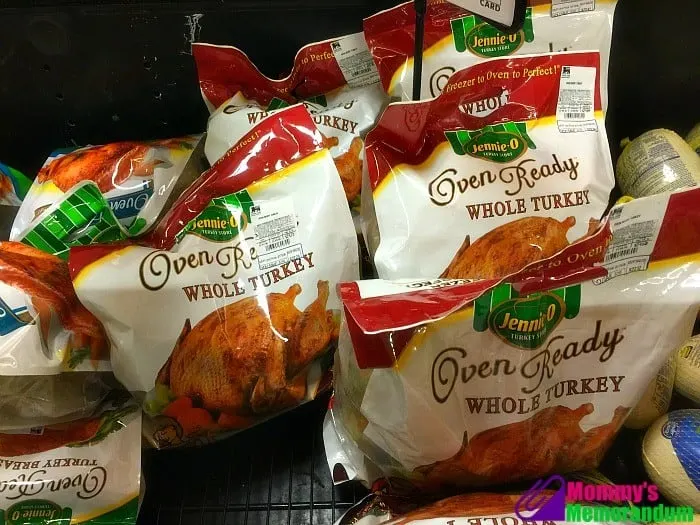 The outer packaging reminds me of the bag from which you get the rotisserie chickens at the supermarket. I caution you not to attempt to carry the 12-15 pound bird by the handle for any great distance; my handle broke–but no harm done. I brought it home and shoved it in my freezer.
Sunday, we needed dinner, and I thought, "I'm just going to do it; I'm going to cook the turkey now, so I don't ruin anyone's Thanksgiving." Trust me; I've been solely responsible at least twice in my life for ruining someone or a group of someone's Thanksgiving. The first time was when I cooked a turkey that, out of the oven, resembled more charcoal briquettes on bones than turkey. The second time was when I didn't know how to make gravy, so I skipped it, and my dad complained through the meal until my grandmother told him, "I suppose we lose something from our traditions with each generation."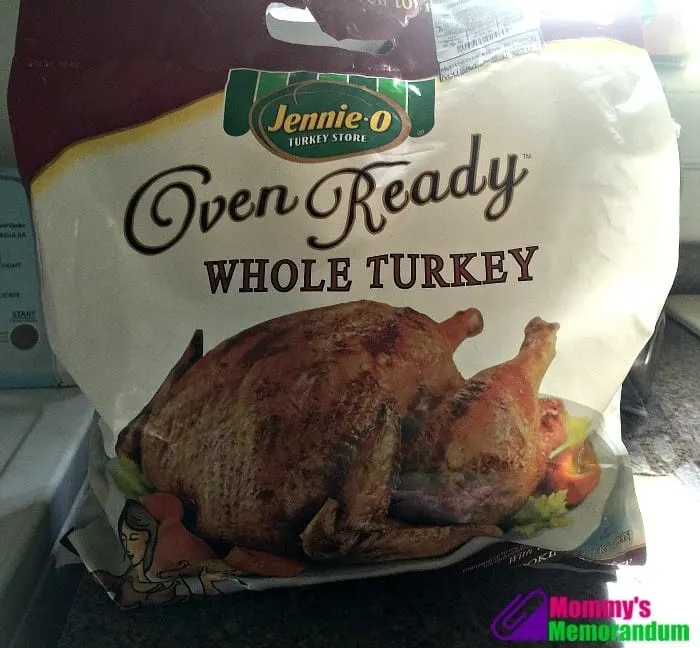 I took the turkey out of the "fancy" bag and found the frozen turkey in another bag. It's not attractive, but neither is raw turkey outside of a bag. I plopped it into a foil pan (not included) with at least 2-inch sides, cut six slits along the top, per the instructions. I should note that the words "fool-proof" appear on this packaging.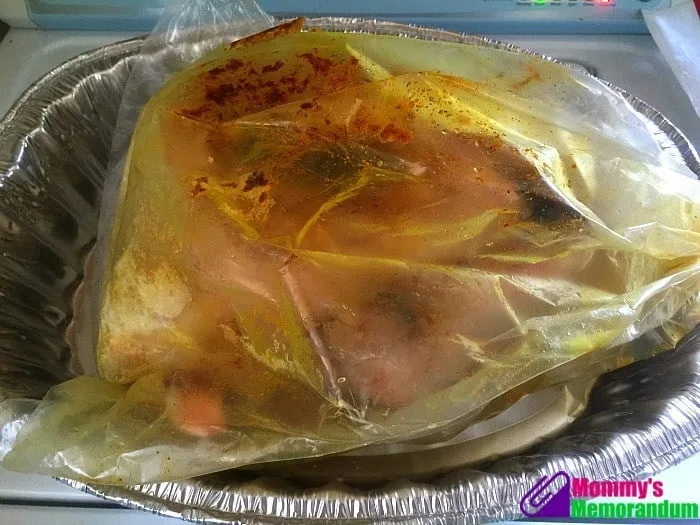 Jennie-O Oven Ready Turkey is Easy and Delicious!
I preheated my oven to 375-degrees and then slid the turkey, in the bag, in the oven.
Four hours later, my turkey was done.
I made the gravy that's included in the bag. (See Grandma, Gravy is back to being part of our tradition!)
My house smelled amazing, and my kiddos rushed to the kitchen; my husband wanted to know when I thawed the turkey. It was beautiful–and I would have like to have taken a photo of it done, but my kids skinned it, and my husband carved it, and then it was plated before I had dinner rolls out of the oven.
I can tell you the skin was lovely, and the entire turkey had so much flavor. The meat fell off the bones and was moist and delicious (I didn't even cook it breast side down).
I'm never going back to frozen turkey that requires thawing. Jennie-O Oven Ready Turkey is effortless and tastes great! No fussing. No days of labor. No planning, thawing, brining, roasting–just delicious. It's time-saving, space-saving, and the easiest way to do the turkey!
If your turkey's still frozen, switch the game to Jennie-O Oven Ready Turkey
So? While you're laboring over your turkey, I'm going to put my feet up, play board games with my kiddos and reflect on what I have to be thankful for this year. If your turkey's still frozen, it's not too late to switch the game to Jennie-O Oven Ready Turkey. Pick one up anyway, and discover the flavor and ease of Jennie-O Oven Ready Turkey!