For me, despite my Danish heritage, I had no idea what an ebelskiver was when I saw 150 Best Ebelskiver Recipes. It piqued my curiosity, and soon I realized that ebleskivers are traditional Danish pancakes that are distinctive as they are in the shape of a sphere. Think our traditional pancakes with the lighter, fluffier texture of a popover.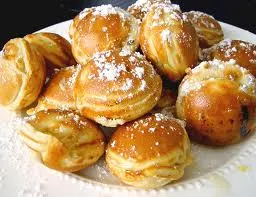 They have apparently been savored for centuries and now are celebrating a rival.
These petite puffs are sweet and finding their way into restaurants across North America; Farmer's Markets and shelves see pans sell out. I'm not kidding; the pans have been a best-selling item for Williams-Sonoma for five years running and a top-selling kitchen pan for Amazon.
They are classic and yet offer a modern appeal for any home cook. They boast an ideal shape and size for a variety of occasions. They range from simple to sophisticated. There's the classic ebelskiver, innovative breakfast option, make-ahead appetizers, snacks, and decadent desserts. All can be made within minutes and without even turning on an oven.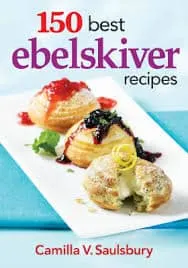 In 150 Best Ebelskiver Recipes, readers will find recipes and helpful information on equipment and advice on ingredients. There are plenty of tips on making perfect ebelskivers every time.
The book extends familiar recipes that are comforting to exotic and intriguing recipes allowing many options and a variety of international cuisines. Flavors vary, but the results are always delicious.
Inside the covers of this unique cookbook are recipes for:
Multi-Seed Ebelskivers, page 57
Raspberry Blintz Ebelskivers, page 78
Cocoa Banana Ebelskivers, page 81
Caramel Chocolate Pecan Ebelskivers, page 92
Peach Melba Ebelskivers, page 116
Zucchini Dill Ebelskivers, page 170
Antipasto Puffs, page 186
Mayan Chocolate Puffs, page 197
Buckwheat Blini Puffs, page 209
Pa Jeon, page 243
and so many more.
Introduce your family to new food and discover the variety available and simplicity of ebelskivers!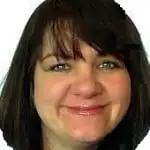 Julee is a quirky, dorky North Carolina Transplant with an appetite to taste the world, meet its desserts, and blog about them. When she's not behind the computer, you can find her playing with her family, reading a good book, being a Bon Jovi fangirl, and celebrating the little things.
Disclosure of Material Connection: I received one or more of the products or services mentioned above for free in the hope of mentioning them on my blog. Regardless, I only recommend products or services I use personally and believe will be good for my readers. I am disclosing this in accordance with the Federal Trade Commission's 16 CFR, Part 255: "Guides Concerning the Use of Endorsements and Testimonials in Advertising.".Julee Morrison