The $15 Grilled Cheese, created by the renowned Ontario chef and restaurant owner Randy Feltis, is an elevated take on the classic grilled cheese sandwich. This decadent masterpiece features a blend of brie, asiago, aged cheddar, and Havarti cheeses nestled between slices of fresh-baked bread. It's a culinary indulgence that takes your taste buds on a delightful journey.
The Ultimate $15 Grilled Cheese
Prep Time: 15 minutes
Cooking Time: 10 minutes
Servings: 4
Ingredients:
1/2 cup (120 ml) butter, softened
3–4 garlic cloves, crushed
1/4 cup (60 ml) chopped fresh parsley
8 slices of fresh-baked bread, 1/2 inch to 1 1/2 inches thick (choose from Italian, potato, sourdough, cheese, whole-grain, or light rye bread)
8 slices of brie cheese
8 slices of aged cheddar cheese
8 slices of Asiago cheese
8 slices of Havarti cheese
Expert Tips:
Use high-quality, fresh-baked bread for the best results.
Make sure your butter is at room temperature to ensure even spreading.
Experiment with different bread varieties to suit your preferences.
How to Make the $15 Grill Cheese Sandwich:
Prep Your Ingredients:

In a small bowl, combine the softened butter, crushed garlic, and chopped fresh parsley. This creates a flavorful garlic herb butter spread.

Build the Grilled Cheese:

Lay out 8 slices of your chosen bread.
Spread a generous amount of the garlic herb butter on one side of each slice.
On the non-buttered side of 4 slices, layer the brie, asiago, aged cheddar, and havarti cheeses.

Assemble the Sandwiches:

Top each cheese-loaded slice with a second slice of bread, buttered side facing out.

Grill to Perfection:

Heat a non-stick skillet or griddle over medium heat.
Place the assembled sandwiches on the skillet and cook until the bread turns golden brown and the cheese starts to melt. This usually takes about 4-5 minutes per side.

Serve and Enjoy:

Once the sandwiches are crispy and the cheese is gooey, remove them from the heat.
Cut each sandwich in half diagonally and serve immediately.
Storage and Leftovers:
These grilled cheese sandwiches are best enjoyed fresh, but if you have leftovers, store them in an airtight container in the refrigerator. To reheat, use a toaster oven or skillet to preserve the crispy texture.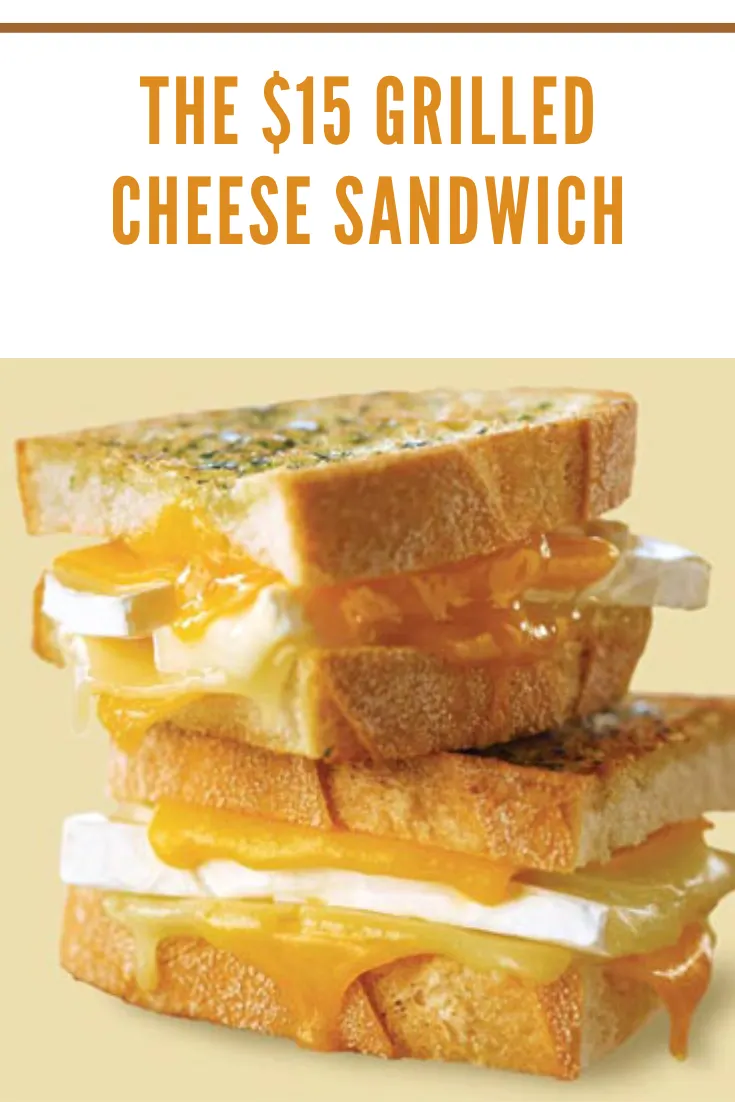 FAQs for the Recipe:
Can I use different cheese varieties? Absolutely! Feel free to experiment with your favorite cheeses or any combinations you prefer.
What's the best bread for this grilled cheese? You can choose from Italian, potato, sourdough, cheese, whole-grain, or light rye bread, based on your taste and texture preferences.
How do I prevent the bread from becoming soggy? Using garlic herb butter on the outside of the bread helps create a barrier that keeps the bread crispy while the cheese melts.
Can I add other ingredients like bacon or tomatoes? Yes, you can customize your $15 Grilled Cheese by adding ingredients like crispy bacon, sliced tomatoes, or even caramelized onions for extra flavor.
Alternate Names for the Recipe:
Gourmet Grilled Cheese
Chef's Special Grilled Cheese
Ultimate Four-Cheese Grilled Sandwich
Indulge in the rich, cheesy goodness of the $15 Grilled Cheese, a culinary masterpiece that takes a classic sandwich to a whole new level. Whether it's for a quick meal or a special treat, this recipe will satisfy your cravings for comfort food with a gourmet twist.