Microsoft has become one of the most trusted providers of cloud computing platforms today. And it was only a question of time before business owners implemented these technologies to help them manage their systems. However, once more companies decided to utilize these tools, the demand for proper specialists like Azure Administrators increased too.
What do Azure Administrators do?
These individuals take pride in being the go-to professionals that help companies choose the right approach in using cloud solutions and manage the related processes.
They can perform tasks such as Microsoft Teams tenant to tenant migration provisioned by authorized Azure Windows Virtual Desktop to minimize such errors.
Sounds appealing, right?
So, if you want to join this interesting field, this post got you covered.
Below, we're going to tell you more about this role, the benefits of earning the corresponding Microsoft Certified: Azure Administrator Associate badge, and the details to know about the AZ-104 exam that you have to pass to obtain it.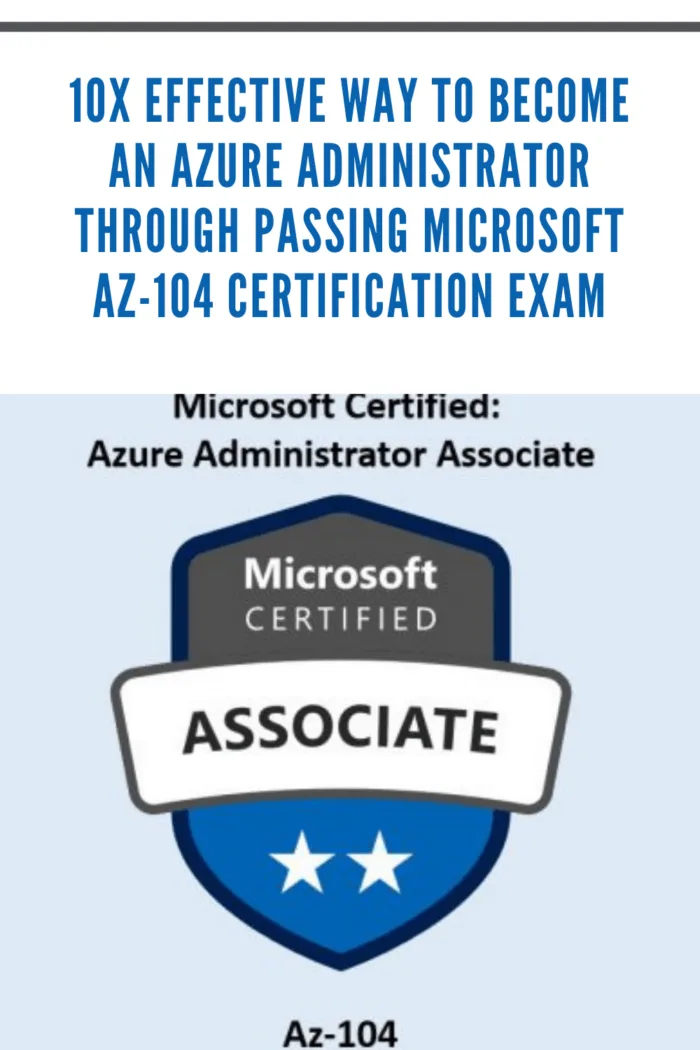 Who Is an Azure Administrator?
Azure Administrators recommend the most effective services and technical advice to assist organizations in achieving optimal performance and scalability. In today's digitally connected world, these specialists' responsibilities involve implementing, managing, and monitoring cloud infrastructure and the relevant components. Besides, they also provide and adjust resources to suit the needs of the company's infrastructure.
Why Should You Attain the Azure Administrator Certification?
First of all, with a credential from a renowned vendor, you prove your skills and have validation of your competence. Also, it can affect your income since a recent report from PayScale.com states that an average Systems Administrator that completed Microsoft Azure training can earn up to $88k annually.
Here are some more perks of attaining this badge:
You work with a flexible platform that is demanded worldwide;
You gain job security due to your Azure management skills;
You learn to use efficient tools and easily adapt to innovations because of a good knowledge base
What Is the Microsoft AZ-104 Exam?
Test AZ-104: Microsoft Azure Administrator is a new role-based assessment released to replace AZ-103 that retired recently. It is a suitable option for candidates that have at least 6 months of practical experience in Azure-related areas including workload administration and security.
Today, to sit for it, you need to pay a fee of $165. Its primary highlight is the fact it covers the latest Azure technologies and qualifies learners for the Azure Administrator job role.
Passing this exam is one of the most valuable steps for getting associate-level skills, verifying them, and upgrading your resume. Acing it, you prove your proficiency in configuring virtual networks, implementing storage solutions, managing Azure governance and identities, and many more.
The Bottom Line
As you set new goals for 2020, remember that attaining a Microsoft badge is one of the shortest routes to a fulfilling life. Especially now when cloud technologies are so popular, passing AZ-104 and becoming the Azure Administrator would be an excellent choice. Having the relevant technical knowledge and practical experience, you not only crack the exam easily anytime but also update your skills and get eligible for the mentioned position more than your non-certified competitors. So, grab the opportunity today and stay abreast of the latest trends!
---
Resources:
http://www.exam-labs.com/dumps/70-740
https://www.o365cloudexperts.com/blog/teams-migration-from-one-tenant-to-another
https://www.apps4rent.com/windows-virtual-desktop-azure/
https://www.exam-labs.com/dumps/70-742
https://www.exam-labs.com/dumps/98-364
http://www.exam-labs.com/dumps/MS-100
http://www.exam-labs.com/dumps/70-764
http://www.exam-labs.com/dumps/MD-101