Beyond doubts, your bedroom is the room that best portrays your taste, color, preference, and specific other attributes that make up your personality. If you so much cherish your private life, you may have to go the extra mile in choosing the best bedroom design tips that align with your personality.
Considering that your bedroom is the haven for relaxation or suitable isolation from other people, it becomes necessary to make it a soothing place for yourself at all times. You've probably done it when you bought your home, but maybe it's time for a change. If you're a tenant and don't own a house, hopefully, your landlord lets you
paint the interior
. If not, Scott of Advanced Asset Management suggests you discuss it with them.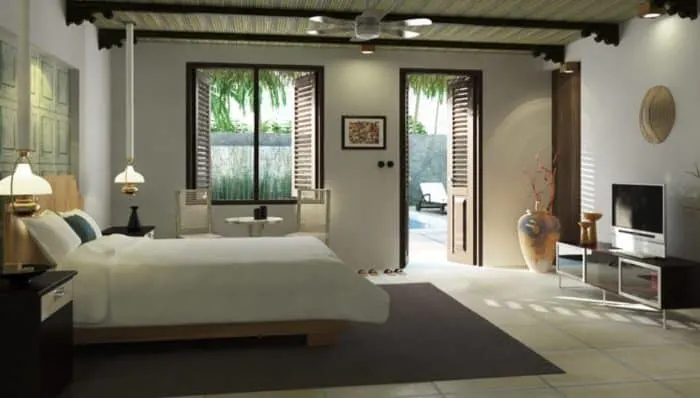 Play with Odd Color Combinations
With the unexpected combination of certain colors, you could give your bedroom the stylish feel it deserves. You could try out an uncommon mixture of caramel brown and bright baby blue for such bedroom items as coverlets, bedclothes, and pillows. Besides bringing amazement into your bedroom space, this design tip is damn great for anyone who's fed up with any of the overly common bedroom design ideas out there.
Go Natural
If you're really dying to have a bedroom space that packs both coziness and nature, the odds are that incorporating natural textures into your bedroom is the way out. You can choose to go the natural way by sprucing up your bedroom with velvety shades and alpaca pillows. If you are from Malibu, you may want to replicate a natural interior design in Malibu for your home.
Keep Furniture to the Minimal
Items of furniture can, in no small measure, spice up the character of your bedroom, but again, it's best to get low on them if you really don't want to end up with a cluttered space. Particularly if you've got a small bedroom, you should avoid cramming it up with fixtures or fitments. In smaller bedrooms,space-friendly bedroom furniture such as Bed Kingdom's triple bunk beds or beds with built-in drawers can be a smart solution, it's crucial to maximize space by choosing multi-functional furniture pieces. Opt for beds with built-in storage drawers or under-bed trundles to make the most of available space. Stick to not-too-high beds and nightstands, ensuring you're leaving enough space for the chic beauty of your other bedroom features (such as walls and rug) to pop out.
Go the Sexy Way
Although some people consider it frightening, black is likely one of the best hues you could use to add sexiness to your bedroom space. To make the best out of this design tip, add some white bedroom items to avoid darkening your bedroom excessively. Perhaps this idea will turn into a harmonious blend of white and black as you could have white bedclothes and pillows. Meanwhile, ensure the space is well lit if you want to use this idea well.
Use One Chic Theme All Through
If you hope to have a bedroom space that suits just the liking of your kids, choose an exciting theme that obviously matches the design scheme of your bedroom. Endeavor to align the colors of bedroom features and items (including walls, pillows, rug, bedding, etc.) with the design scheme you have in mind for your kids. Advisably, avoid dangling from one theme to another. If you are from Santa Monica, Santa Monica interior designers can help you design your home with a chic theme.
Make Fun with Bold Wallpaper
While some people may consider bold colors somewhat overwhelming for bedroom wallpaper, they're still very great for boosting the overall character of bedroom space. To make the most out of this idea, endeavor to bring in white bedding and antique furniture. This will cancel out the overwhelming impact the bold wallpaper is likely to have on your bedroom space.
Combine Elegance and Boldness
If you're craving to have a bold bedroom space without any compromise on elegance, having black walls around colorful bedding could be the way out. On the one hand, the bedding would add modern chic to your bedroom, while on the other, the black walls would incorporate a classic feel into the overall ambiance. Coziness is guaranteed with this design tip, ensuring that your bedroom is the nicest haven for relaxation.
Give Your Space a Beach-like Feel
Provided you're a fan of beach adventures or love the soothing natural feel aroused by the sight of a beach, you could make your bedroom a quasi-beach through this design tip. All you need is lighting up your bedroom space with chic coastal patterns, and before you know it, you'll have turned it into something very little short of a beach. Also, for your bedding, do well to use colors that resonate with the look of a beach.
Brighten up with Wallpaper
The wallpaper of your bedroom should be meant to serve a fun purpose to brighten up the bedroom space. If you feel certain bedroom areas look overwhelming, perhaps because they have bold hues, you could balance out their impacts by bringing some wallpaper with light patterns.
Incorporate a Chic Motif into Your Space
Choosing a lovely motif is one sure way you can boost the aesthetic feel of your bedroom. If you're a fun lover of artistic elements, you could try out packing your space with cool textiles, stylishly designed cushions, and drawings portraying animals.