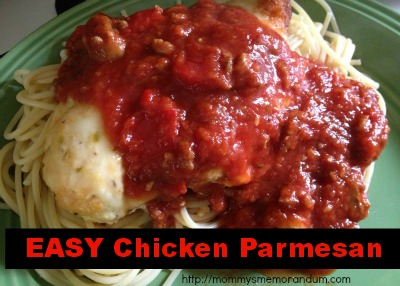 Ingredients:
2-4 boneless, skinless chicken breast halves
1/2 cup Italian Seasoned Bread Crumbs*
1/4 cup Parmesan Cheese
1/4 t black pepper
1/4 t  salt
1 TBSP Olive Oil
1 egg, beaten
sliced cheese**
favorite  marinara sauce***
Directions:
Spread the 1 TBSP of olive oil into the bottom of your slow cooker.
Beat the egg with a fork in a separate bowl.
Mix the bread crumbs with the seasonings and the Parmesan cheese in another separate dish.
Dip the chicken into the egg, then into the bread crumb mixture, coating both sides with crumbs, cheese and seasonings.
Place the chicken breast pieces in the bottom of the slow cooker.
Layer 2-3 slices or 1-2 cups of mozzarella cheese on top.
Cover chicken and cheese with entire jar of marinara sauce.
Close lid and cook on low for 5-6 hours or high for 3.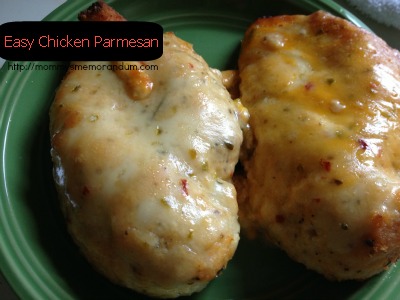 Serve with your favorite pasta.
*I use the food processor to turn those chip crumbs into the coating. We love Snikiddy's Cheddar Cheese Fries
**Sliced Cheese–try Pepper Jack or Cheddar for a change
***I LOVE this marinara sauce if you have time to make your own.

Julee is the writer behind the blog, Mommy's Memorandum. She vents her emotions through flour and butter. While she realizes there are the tried and true endorphin-inducers like exercise, being thankful and eating healthy, she prefers to live in the fast lane: real butter, a new recipe with a gazillion calories and laughing until she sobs…and of course blogging. She's perky, quirky, dorky. A Utah native and NC transplant with an appetitie to taste the world, meet its desserts!