Are you ready to face the ultimate survival challenge? Jeff Probst, the iconic host of Survivor, presents "Stranded 2: Trial By Fire."
Immerse yourself in the most thrilling, heart-pounding adventure of your life. This is no ordinary game – it's a test of your strength, resilience, and strategic thinking.
In Stranded 2: Trial By Fire, you'll be marooned on a remote island, surrounded by treacherous terrain and unpredictable elements. Your only lifeline is fire, and you must master its art to survive.
Can you brave the scorching heat, the relentless storms, and the unforgiving wilderness? Will you outsmart your fellow contestants, forming alliances or betraying them for your own gain?
With Jeff Probst as your guide, every decision counts. Will you rise to the challenge, proving yourself as the ultimate survivor? Or will the flames of defeat consume you?
Stranded 2: Trial By Fire is not just a game. It's an adrenaline-fueled journey that will push you to your limits, testing your physical and mental strength like never before.
Do you have what it takes to conquer the island? Join Jeff Probst and a cast of fearless contestants in Stranded 2: Trial By Fire and find out.
Survive. Adapt. Triumph.
Exclusive Jeff Probst Interview:
Jeff Probst, Emmy-award winning host of Survivor and New York Times bestselling author is back with an exciting new entry in the STRANDED series: TRIAL BY FIRE!
My name is "Miss M" and I'm nine. The highlight of my summer has been getting to interview Jeff Probst about his new book.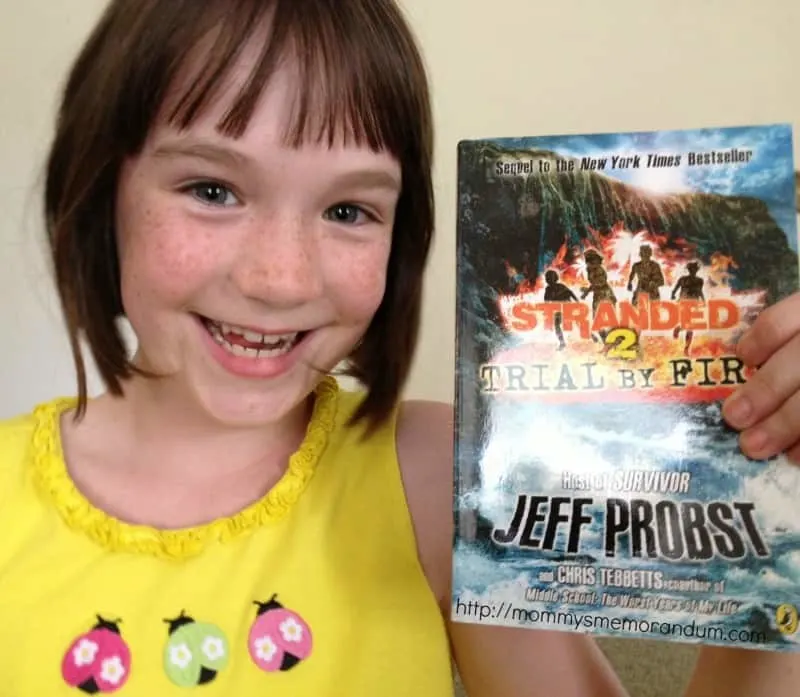 I hope you enjoy my question-and-answer session with Jeff Probst.
#1: Do your wife's kids call you "Dad" or refer to you as their "step" dad?
DAD! All the way! It was very fun to watch it slowly evolve over time. It's clear now looking back that they wanted to call me Dad and weren't sure how best to do it. For a while it was "Jeff Dad 2" which suited me just fine. But everything changed when we got married. The wedding was in our backyard and they were a part of the ceremony. The moment our friends announced us as married, Michael looked up at me and said, "I love you, Dad." It's been "Dad" from there on out and it is the greatest feeling in the world!
#2: Are the siblings in your book based off of real Survivor contestants? if so, can you tell me who?
They are not based on any single individuals from the game – more on archetypes. For instance, Cochran represents the fish out of water and so we looked at him for Buzz. But Buzz isn't based on Cochran. We also took traits from kids we knew and infused them into the characters. The result is hopefully four kids who represent archetypes – leader, fish out of water, the jock, the smart one – but are their own people trying to survive in this crazy adventure.
#3: I heard you keep the tool that puts the torch out on Survivor from each season; what does your book's family have as their tradition? Is it something the kids did before they became a blended family, or something you started as a new family?
Yes I keep the "snuffers" from each season. I now have 26 and am currently using 27 as we are filming Survivor right now. The kids in the Stranded family are pretty new – they're just starting their traditions. I think you bring up a great point for books 4, 5 and 6. We can begin to see their traditions grow as they spend more time together. Great idea! We have lots of traditions in our real family – Ava and I dance together most nights after dinner. We watch Shark Tank and all negotiate with each other about the ideas we see and whether we believe in them enough to invest our own money. We do "gross food eating" challenges when our cousins visit – where all the kids put Survivor buffs over their eyes and have to eat whatever I put in their hands. Lots of fun traditions!
#4: Since some of the scenarios in your book are based from Survivor challenges, what is your all time favorite Survivor Challenge and why?
Ah, that's a great question. I don't know if I have a specific one that stands out from the rest. I tend to love the individual challenge we do after we merge the tribes into one group. Those fascinate me because they are often based on sheer willpower or desire to win. Challenges where people have to hold onto a pole or stand with their hand in the air and a bucket of water over their head. I like it when the pain comes, and you have to fight through it because when it is over, you have proven to yourself you are capable of more than you imagined. That's one of the key points of Stranded – you are capable of so much more than you know.
#5: What is the one personality trait all Survivor contestants have in common and did you make this a strength or weakness in your book?
Well let me qualify that – the one common trait that successful Survivor contestants have is a belief in themselves. You have to believe you can do "it" or it won't happen. I see it all the time on this show. People how give up on themselves and are quickly voted out. Survivor gives you the opportunity early on to prove to yourself that you can withstand the punishment that is coming – and if you don't stand up and say "I'm ready for this, then you are done." The kids in the book all learn – often the hard way- that they can do "it". They can withstand being STRANDED on an island alone. It doesn't mean you will always be successful. You can still fall short as nobody is perfect – but you never get to the end without believing you can.
Thanks for the interview!
About Jeff Probst:
Jeff Probst is a renowned television personality, best known for his role as the host of the hit reality show Survivor. Born on November 4, 1961, in Wichita, Kansas, Probst developed a passion for entertainment from an early age. He attended Seattle Pacific University, where he studied film and journalism, honing his skills in storytelling and on-camera presence.
In 2000, Probst landed the opportunity of a lifetime when he was chosen as the host of Survivor, a groundbreaking reality show that stranded a group of contestants on a remote island, challenging them to outwit, outplay, and outlast each other for a chance to win a million-dollar prize. Probst's charismatic and engaging hosting style quickly became a hallmark of the show, earning him critical acclaim and a dedicated fan following.
As the face of Survivor, Probst has presided over every season of the show, guiding contestants through intense physical and mental challenges while providing insightful commentary and facilitating the strategic gameplay. His ability to connect with the contestants and the audience has made him an integral part of the show's success, and he has won multiple Primetime Emmy Awards for Outstanding Host for a Reality or Reality-Competition Program.
Beyond Survivor, Probst has made appearances in various television shows and films, including guest roles in How I Met Your Mother and Two and a Half Men. He has also ventured into directing, co-writing and directing the film "Finder's Fee" in 2001. He is the author of the three book Stranded series.
Jeff Probst's enduring presence on Survivor and his passion for adventure, competition, and storytelling have solidified him as an influential figure in the world of reality television. His genuine enthusiasm, insightful interviews, and ability to keep viewers on the edge of their seats have made him a beloved and iconic host in the industry.